Easy Italian Pear Cake Recipe (Torta di Pere), a simple moist dessert, breakfast or served as an afternoon tea cake. Made with creamy yogurt, luscious butter, and fresh pears this cake will soon become a family favorite!
You will also love these easy and simple cakes Soft Italian Chocolate Cake (torta al ciocolato) , Simple Italian Apple Cake (one bowl), Italian Crumble Cake Pastry Cream Filling.
Why I love this Italian Pear Cake
Italian desserts are made with simple ingredients. They aren't too sweet and make the perfect treat without the guilt. You will rarely see frosting or ice cream served with any true Italian cake. No judgments if you add them to this cake!
At most, there is a dusting of powdered sugar or cacao and a dollop of freshly whipped cream. This cake is fluffy, lightly sweetened, and sure to satisfy any sweet tooth craving. It is a simple and moist dessert that can't be beaten!
Jump to:
Delicious Italian Pear Cake Recipe
It is one of those cakes that make the perfect breakfast cake, or afternoon tea cake. It satisfies any sweet tooth and it is truly one of the best cakes. This old-fashioned favorite Italian pear cake recipe is a great way to enjoy juicy pears. We love it any time of the year. Don't delay and make this cake today!
Besides- who can refuse the tasty combination of creamy yogurt and pears in a soft cake? This lovely cake keeps for a couple of days at room temperature (if it last that long!). Store in the fridge after that.
Simple Ingredients
I recommend using the best quality ingredients for this super simple cake.
Fresh pears, (I find the best pears are Bosc pears, Anjou pears, or Barlett pears)
All-purpose flour
Baking powder
Salt
Granulated sugar
Whole milk yogurt
Melted butter
Eggs, room temperature
Vanilla extract
Powdered sugar for dusting
freshly whipped heavy cream, if desired
See the recipe card for quantities.
How to make Easy Italian Pear Cake Recipe
If you want step-by-step photos for this fresh pear cake recipe.
A few key steps make this easy Italian pear cake recipe stand out from the rest!
The first step in this cake recipe is whipping the eggs and sugar until a thick creamy consistency. I do this with an electric or stand mixer. This step creates a light and airy texture in the final product.
Next, the melted (and cooled) butter adds a luxurious richness to the cake.
Finally, the yogurt. You will find many Italian cakes with yogurt. When adding yogurt to cakes it adds an extra soft component without weighing it down too much. As a result, yogurt adds moisture and fat in the cake batter, making the cake extra moist. A cake baked with yogurt is never dry. It's always so soft, moist, and absolutely delicious.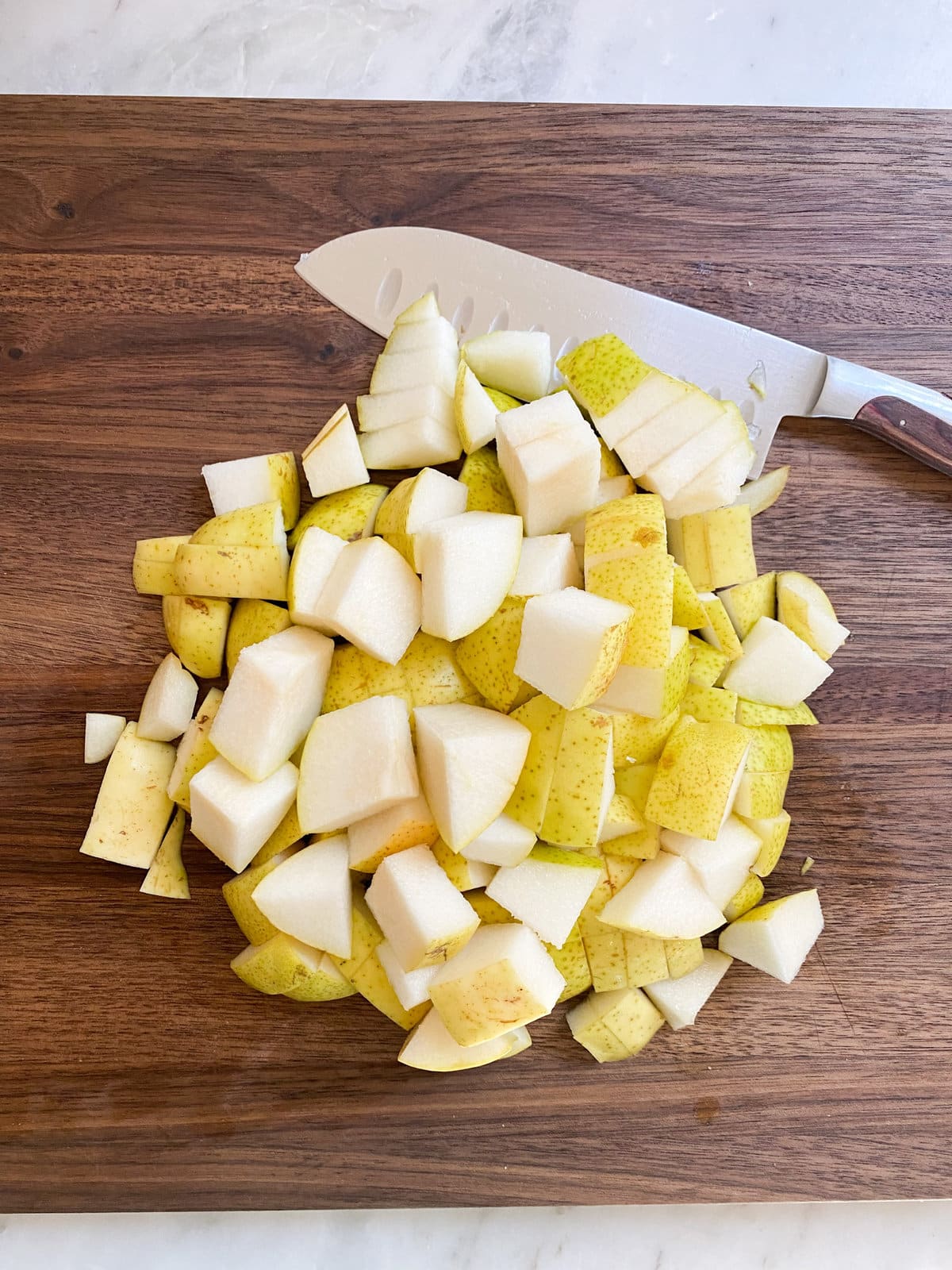 Here is the round 9" spring form pan I love! BUY THIS ONE .
The best Italian Pear Cake Recipe
Thick slices of juicy pear burst through the soft and tender cake. It's a cake you must make! Enjoy the perfect slice for breakfast, dessert, or with a cup of tea.
Variations
The first time you make this recipe try the original recipe! The next time you make it you can try one of these variations.
Cake variations
Gluten-Free Option - If you are making this simple Italian apple cake gluten-free you can use this flour and it will turn out delicious!
Low-fat yogurt - low-fat dairy products are often filled with "junk" to stabilize the texture. As long as the brand of non-fat yogurt doesn't have any fillers it will work fine. One brand I recommend is Chobani nonfat yogurt as an alternative.
Brown sugar - I love the idea of doing half-brown sugar and white sugar to add a little extra richness. I've tried this and it changes the taste a bit, but I like it!
Sour Cream - you can substitute the same amount of sour cream for yogurt in this recipe.
Warm Spices - This cake is simple and pure without the addition of any spices (I prefer it this way). If you like try adding cinnamon, cardamon, or allspice.
Lemon juice - add 1 teaspoon of lemon juice to add a zing to the cake and complement the sweetness of the pears.
Vegetable oil - You can add vegetable oil or any mild flavored oil in place of the butter in this pear cake recipe. You will still achieve a tender crumb. The oil makes the cake a little less dense and airier than when it is made with only butter. I've made it both ways and love them both equally!
You will also love these cake recipes: Italian Olive Oil Cake Orange Honey (easy) and Easy Lemon Yogurt Loaf Cake.
Serving variations
Try this delicious cake with a scoop of ice cream or whipped cream.
Add caramel sauce for an extra indulgent twist.
Make a light cream cheese frosting and spread it over the cooled cake.
If you want to decorate the cake by adding extra pear slices in a pattern on top of the cake for a pretty presentation.
Any way you make or serve this easy pear cake recipe it is one that everyone is sure to love.
The secret to adding yogurt to cake
What does yogurt do in a cake? Yogurt adds moisture and fat to a cake batter, making the cake moist. A cake baked with yogurt is never dry. It's always so soft, moist, and absolutely delicious.
Another bonus to adding yogurt to cakes is the acidity of the yogurt works with the baking powder to leaven the cake and make it extra tall and super fluffy. You don't taste the yogurt at all! It simply serves as a secret weapon to add moistness and help your cake rise. Adding yogurt to this cake makes it an extra moist and great recipe!
How to serve Italian pear cake
A little dollop of freshly whipped cream goes a long way and adds the perfect touch. In Italy, we don't serve whipped cream with cake, but I thought...why not!
After just one bite you'll be surprised how distinct the flavors are in this pear cake. We love its soft, tender texture, and the chunks of fresh, sweet pear. It's a cake that will keep you wanting more!
Easy Italian Pear Cake Story
This recipe is adapted from one of my mamma's relatives. When my mother was a teenager she would go visit her relatives in Oristano, a small town in Sardegna.
They had three children the same ages as my mother and her siblings. They lived in a beautiful Italian villa with an orchard of pear trees.
Every summer, my mamma, along with her siblings, visited the family and had the most wonderful time.
In the morning, they would play outside and gather pears from the orchard.
In the afternoon, when the sun blazed and it was too hot outside, the oldest girl taught them how to make this simple pear cake.
The house smelled like a bakery the rest of the afternoon. The cake was always done in time for "merenda" afternoon snack time.
They joked and laughed as they enjoyed a warm slice of pear cake in the small town of Oristano. Doesn't that sound like a dream...
Made with Amore, Elena
Cake pan recommendation
I like to use a springform pan so it is easy to take out the cake. You can use a regular 9.5/10-inch round pan as well. Make sure to let the cake cool completely after baking and before slicing.
It is worth the wait to let the cake set! This cake is even better the next day.
More Delicious Desserts for YOU
Traditional Italian Tiramisù (no alcohol)
Sweet Focaccia with Raspberries and Balsamic Glaze
Easy Almond Sponge Cake with Italian Cream
Make sure to leave a ⭐️star rating on the recipe card and comment below if you make the recipe. I love to connect with you through my recipes.
I would love for you to tag me on Instagram @cucinabyelena so I can see your delicious Italian recipes. To get more ideas, follow me on Pinterest.
Print
Easy Italian Pear Cake Recipe (Torta di Pere)
Easy Italian pear cake, a simple moist cake that is perfect for breakfast, dessert, or served as an afternoon tea cake. Made with creamy yogurt, butter, and fresh pears all in one bowl. This cake will be a hit with all your family and friends! 
Total Time:

60 minutes

Yield:

8

servings

1

x
3

large peeled (

4

small), firm ripe pears, (Bosc or Barlett), cut into pieces

2 cups

(

240 g

) all-purpose flour

3 teaspoons

(

14 g

) baking powder

¾ teaspoon

(pinch) kosher salt

1 ¼ cup

(200 g) granulated sugar

1 cup

whole milk yogurt

½ cup

(

113 g

) butter, melted and cooled

2

large eggs, room temperature

½ teaspoon

(

2 grams

) vanilla extract
Confectioner sugar for dusting
freshly whipped heavy cream, if desired
Instructions
Line a 9.5-inch round baking pan (springform pan or bundt pan) with parchment paper, or spray with cooking spray. 
Preheat the oven to 350 degrees F. 
In a large mixing bowl, with an electric mixer on medium speed, whip the sugar and eggs until you obtain a creamy and fluffy texture. You can also use a stand mixer with a large bowl. 
Stir in the yogurt, butter, and vanilla extract. Use a fork or spatula to combine until smooth (not the electric mixer). 
In a separate bowl mix the dry ingredients: flour, baking powder, and salt.
Sift the dry ingredients into the wet mixture. Stir gently until well combined. Add the pears and mix gently. Pour the batter into the prepared pan. Bake for 50 minutes or until a toothpick comes out clean. If the cake starts to brown too much on the top tent the top with foil during the last 10 minutes of cooking. 
Let the cake cool on a wire rack. Before serving dust the cake with confectioner sugar. If desired, serve with freshly whipped cream, or ice cream.  
Notes
I like to use a springform pan
TOP TIP: Use room temperature ingredients. This will make the cake tall and fluffy. 
Author:

Elena Davis

Prep Time:

10 min

Cook Time:

50 min

Category:

Sweet/ Dessert

Method:

Italian

Cuisine:

Italian
Keywords: pear cake, dessert, Italian cake, easy dessert, pears, yogurt, cake