Soft and Delicious Simple Italian Apple Cake (one bowl)- torta a le mele, a simple moist dessert, breakfast, or served as an afternoon tea cake. Made with creamy yogurt, butter, and fresh apples with a little cinnamon for spice.
This is a recipe the entire family will love. Every Italian Nonna has a recipe for this recipe and here is my nonna's for you!
You will also love these easy and simple cakes Soft Italian Chocolate Cake (torta al ciocolato), Easy Italian Pear Cake (Torta di Pere), and Easy Almond Sponge Cake with Italian Cream
After years of making this family recipe, this is a tried and true recipe everyone loves. Italian Apple Cake, also know as Torta di Mele is a moist and slightly cake that is perfectly sweetened.
Classic Italian Dessert- Simple Italian Apple Cake (one bowl)
Italian desserts are made with simple ingredients. They aren't too sweet and make the perfect sweet bite indulgence without the guilt.
Rarely will you see frosting or ice cream served with any true Italian cake. At most, there is a dusting of powdered sugar or cacao and a dollop of freshly whipped cream.
This cake is fluffy, lightly sweetened, and sure to satisfy any sweet tooth craving without leaving you feeling too heavy. Enjoy!
Simple Ingredients
apples
flour
baking powder
cinnamon
sugar
eggs (room temperature)
yogurt
butter
See recipe card for quantities.
You likely have all of these ingredients to make this cake today!
What's a 'torta di mele'?
Torta di mele is an easy Italian apple cake that my nonna and many other nonnas' make all the time! Why everyone loves this recipe:
It's light and fluffy, and packed full of apple slices
There are only a few ingredients and very simple ingredients
It only takes 10 minutes to prepare, but it looks and tastes like you spent hours in the kitchen
It is always a crowd pleaser. Who doesn't like apple cake?
What Apples are Best for Cakes?
Honeycrisp It is shatteringly crisp texture is guaranteed to hold firm.
Pink Lady Balanced between sweet and tart. It will retain its distinct shape when used in this cake.
Granny Smith apples are always a safe bet as far as a baking apple.
Jonagold Tart with a honeyed sweetness, Jonagolds hold up exceptionally well in the oven.
The number of apples changes a bit depending on the size. If they're small apples, 4 is about right. Large apples- two and a half apples will do. Medium apples, 3 is right!
Cutting apples for Simple Italian Apple Cake
I love to dice my apples into small pieces. I like to get plenty of apples in every bite and this gives the best apple to cake ratio! You can certainly cut them into slices if you want bigger pieces.
You can also decorate the top with pretty apple slices to show the cake has apple in it. I sometimes do this extra step when taking it to a neighbor or friend. If I am making it just for us at home I use the diced apple pieces.
It is also easier to eat it this way for the children since the apples are already cut small. Either way it is delicious!
Secret to Adding Yogurt in Italian Cakes
What does yogurt do in a cake? Yogurt adds moisture and fat in a cake batter, making the cake moist. A cake baked with yogurt is never dry. It's always so soft, moist and absolutely delicious.
Another, aspect to adding yogurt in cakes is the acidity of the yogurt works with the baking powder to leaven the cake and make it extra tall and fluffy.
You don't taste the yogurt at all! It simple serves as a secret weapon to add moistness and help your cake rise!
Substitutions for this Simple Italian Apple Cake
Low-Fat Yogurt?
It depends! Low fat dairy products are often filled with "junk" to stabilize the texture. As long as the brand of non fat yogurt doesn't have any fillers it will work fine. One brand I recommend is Chobani non fat yogurt as an alternative.
Oil Instead of Butter?
Absolutely! You will use the same amount of oil as the melted butter. The cake will have a different flavor, and be a little lighter in the crumb. Try olive oil for a deep and rich flavor! If you prefer to keep it neutral use a non flavor oil such as, avocado oil.
Try this Italian Olive Oil Cake Orange Honey (easy).
Gluten-Free Option
I've had quite a few readers ask about using gluten-free flour in this Apple Cake Recipe. I've only made the recipe as written, but readers have reported success using either Bob's Red Mill Gluten-Free Flour or Cup4Cup gluten-free flour.
I can't say for sure if using a gluten-free flour will work, but this is what readers have recommended!
How to make Simple Italian Apple Cake (one bowl) Step by Step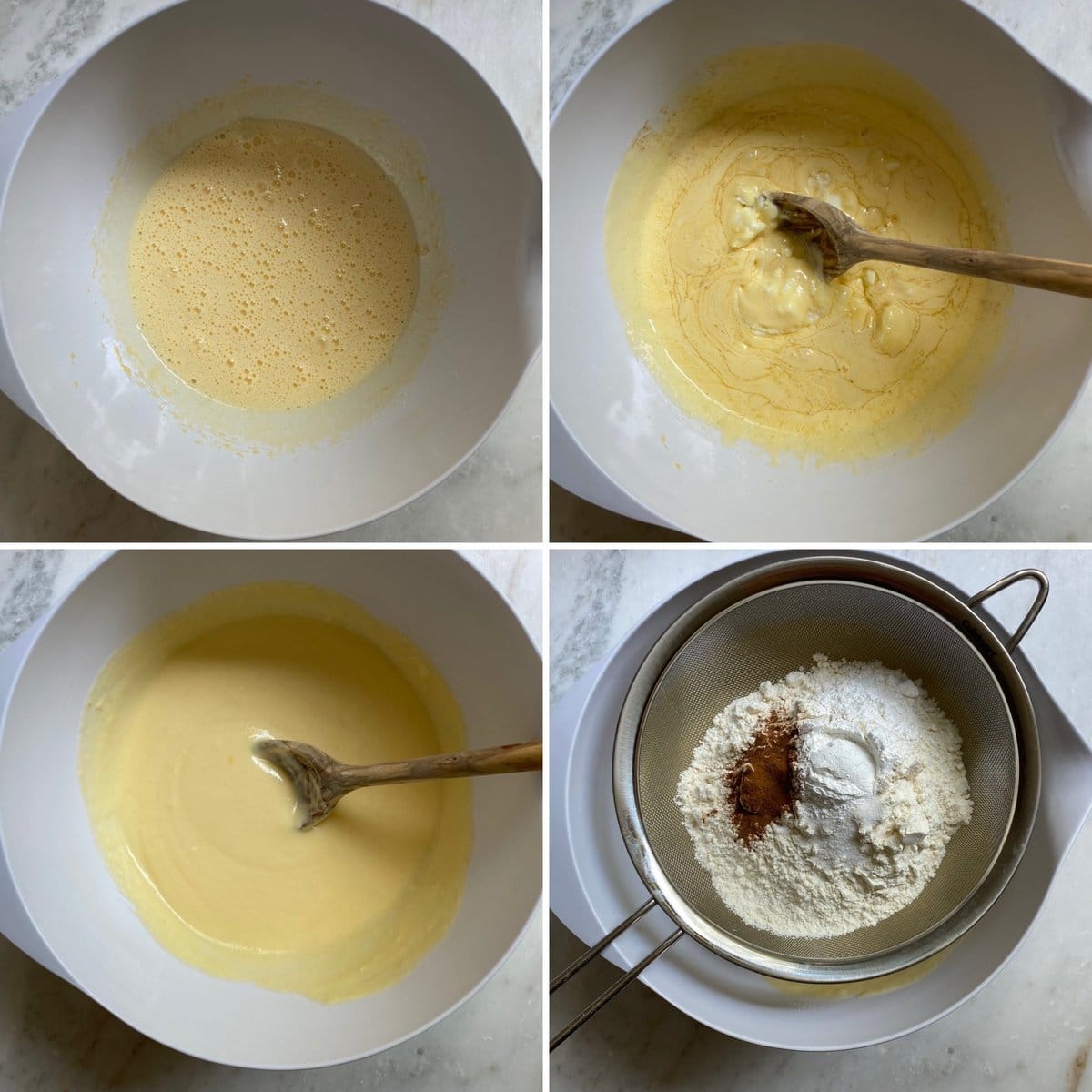 With a few simple steps and only one bowl you are on your way to enjoy the most delicious Italian apple cake!
When the kids come home from school and the house smells of cinnamon and apples they know what's coming! It is a perfect afternoon snack. It is simple to make and easy to enjoy!
Cake pan recommendation
I like to use a springform pan so it is easy to take out the cake. You can use a regular 9.5/10 inch round pan as well. Make sure to let the cake cool completely after baking and before slicing. It is worth the wait to let the cake set! This cake is even better the next day.
Go ahead... let your guests think you spent all day making this apple cake. It will be your go to for bringing to a dinner party since it is easy to transport.
Cake Baking Question: Why Do Cakes Sink in the Middle?
UNDER BAKED. The most common reason why cakes sink in the middle is that they're under baked. If a cake isn't fully baked through, the center doesn't have a chance to set and it will sink. This creates a doughy, dense texture in the center of your cake layer.
TOO MUCH LEAVENING. Too much leavening agent like baking soda or powder can cause a cake to rise too high too quickly. The gas from the leavening agents builds up and escapes before the cake bakes through in the center.
This causes the center to collapse and makes your cake layers sink in the middle. Another reason is- the leaving is expired and the cake couldn't rise properly.
NOT WEIGHING THE FLOUR. A gram is always a gram, but a cup is not always a cup. When in doubt measuring your ingredients by grams to ensure the correct ratios.
OPENING THE OVEN DOOR. If the oven door is opened and slammed after it's opened, it can cause partially baked cakes to sink in the middle.
If the center isn't set as the oven door is slammed, it can collapse and won't be able to rise up properly again. Opening the oven door will also cause a draft and decrease in temperature in the inside of the oven.
From my cucina to your table... Mangia! Mangia! (Eat!)
Made with Amore, Elena
More Italian Desserts you will love
Kefir Honey Panna Cotta Italian Recipe (Easy)
Italian Crostata Recipe (Jam filled Tart)
Easy Almond Sponge Cake with Italian Cream
Vanilla Cake Roll with Cream and Berries
Italian Crumble Cake with Jam Filling
Puff Pastry filled with Italian Cream
Easy Italian Pear Cake (Torta con le Pere) Easy
Have you checked out my NEW CBE PRODUCTS? Take a look at the 2-in-1 cutting and charcuterie board, gorgeous apron, and unique pasta server that you that you absolutely need. The wood products are all handmade in Salt Lake City, Utah. They make great gifts as well!
I know you will love this Easy Italian Apple Cake Recipe! It is one we make often in our home!
Make sure to leave a star review below!
Make sure to tag me on Instagram @cucinabyelena. I hope you loved it! To get more ideas follow me on Pinterest.
Print
Simple Italian Apple Cake (one bowl)
Easy Italian Apple Cake (torta a le mele), a simple moist dessert, breakfast, or served as an afternoon tea cake. Made with creamy yogurt, butter, and fresh apples with a little cinnamon for spice. This is a recipe the entire family will love. Every Italian Nonna has a recipe for this recipe and here is my nonna's for you!
Total Time:

60 minutes

Yield:

12

servings

1

x
3

large peeled (if desired) apples, cut into pieces

2

cups

(240 g) all-purpose flour

3 teaspoons

(

14 g

) baking powder

1 teaspoon

ground cinnamon

¾ teaspoon

(pinch) kosher salt

1

cup

(200 g) granulated sugar

1

cup

whole milk yogurt

½

cup

(113 g) butter, melted and cooled

2

large eggs

½ teaspoon

(

2 g

) vanilla extract
Confectioner sugar for dusting
Instructions
Line a 9.5 inch round baking pan with parchment paper, or spray with cooking spray. Preheat oven at 350 degrees F
In a large mixing bowl, with an electric mixer, cream the sugar and eggs until you obtain a creamy and fluffy texture. About 5-8 minutes.
Stir in the yogurt, butter, and vanilla extract. Use a fork or spatula to combine until smooth (not the electric mixer).
In a separated bowl mix the dry ingredients: flour, baking powder, cinnamon, and salt.
Add the dry ingredients to the wet mixture. Stir gently until well combined. Add the apples and mix gently. Place the batter into the prepared pan. Bake 45 minutes or until a toothpick comes out clean*. If the cake starts to brown too much on top tent with the top with foil during the last 10 minutes of cooking.
Cool and dust cake with confectioner sugar. If desired, serve with freshly whipped cream. Enjoy!
Notes
*The moisture of the apples may vary the cooking time a bit. You may need to add 10 minutes depending on how juicy the apples are.
Author:

Elena Davis

Prep Time:

15 min

Cook Time:

45 minutes

Category:

Sweet

Method:

Italian

Cuisine:

Italian
Keywords: apple, cake, easy cake, one bowl cake, yogurt, butter, cinnamon, Italian cake, Italian recipe, apple cake, dessert