Orzo vs. Risotto: What's the difference? Did you know that orzo and risotto aren't the same thing, even if they look similar? Keep reading to learn all about these two dishes and find some great recipes to try!
What is Orzo?
Orzo is a form of pasta that is shaped like long-grain rice. Orzo is usually made from flour but can also be made from whole grains or wheat semolina flour. It is not clear when or (by whom) orzo pasta was first invented. It has, however, been a staple in Italy and other Mediterranean countries for centuries.
How to Cook Orzo
Bring a large pot of salted water to a boil on medium-high heat, add the orzo, and cook according to package directions. You can adjust cooking time according to your preferences. If you want it al dente, cook for about 9 minutes. For a softer texture, boil the orzo pasta for longer. If you need more information, you should check out my post on how to boil pasta. 
How to Add Flavor to Orzo
Because orzo is a plain, small pasta, you can add different flavors or sauces with a variety of ingredients. One of my favorite ways to eat orzo is to mix it with seasonal vegetables and parmesan cheese. 
You can add many ingredients to orzo during or after cooking to flavor it. You can cook it in a flavored liquid like vegetable broth or chicken stock or salted water with lemon zest and lemon juice. After cooking, try adding fresh herbs, browned garlic cloves, sauteed mushrooms, and melted butter. 
There are many different ways to add flavor to orzo. You can add cooked vegetables and fresh thyme for a healthier option.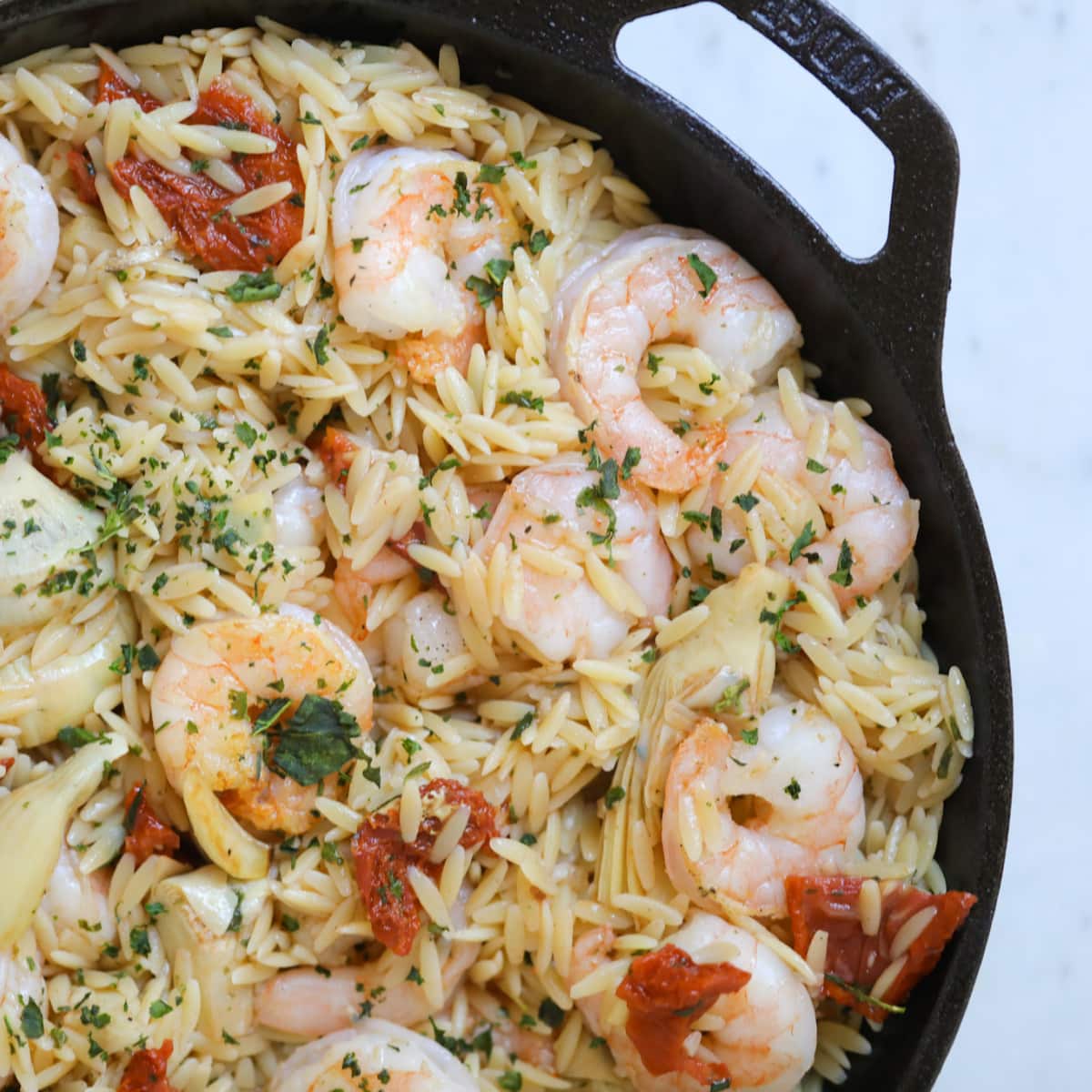 Orzo Recipes to Try
Orzo with Roasted Vegetables - A perfect combination of seasoned and roasted vegetables in a light lemon dressing with a sprinkle of fresh basil and parmigiano shavings.
Spinach and Lemon Orzo - A quick, easy, 20-minute, creamy spinach and lemon orzo recipe with butter and parmesan cheese sauce. Top with your choice of protein, and this transforms into the perfect main dish.
Orzo Skillet with Shrimp and Sundried Tomatoes - Plump seared shrimp with savory marinated artichokes and sun-dried tomatoes meet orzo.
What is Risotto?
Risotto is a traditional Italian dish made from short-grain arborio rice and broth. This is one of Italy's most common ways to make white rice. Many risotto recipes include butter, yellow onion, white wine, and parmesan cheese.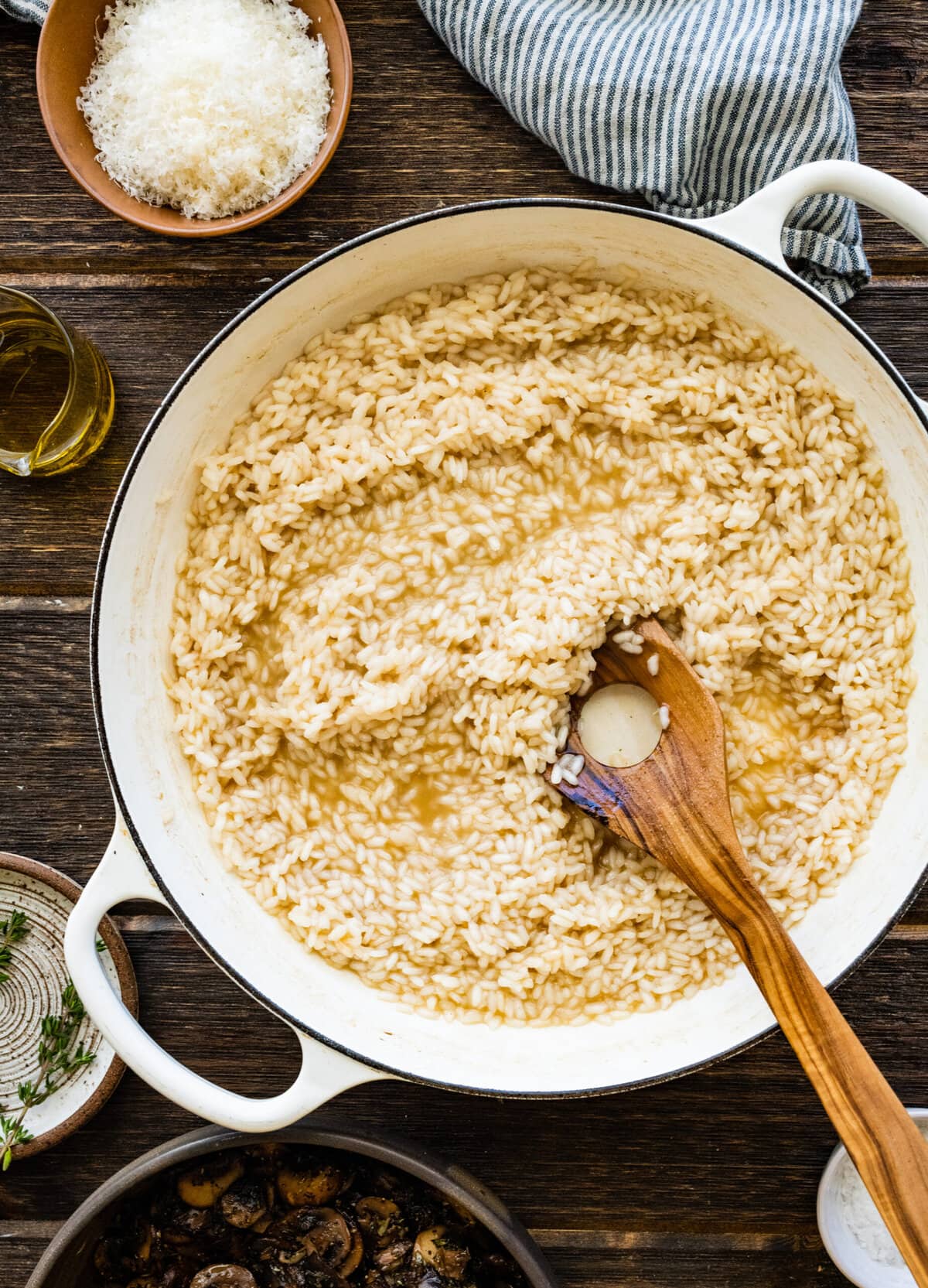 Authentic Italian risotto recipes use arborio rice. Arborio rice is high in starch, and when cooked, releases the starch into the stock, creating a smooth, creamy texture. It is named after the town Arborio in the Po River valley in Northern Italy. 
Rice is a staple dish in many countries around the world but risotto made with traditional arborio rice is the most popular way to eat it in Italian cuisine. Mushroom risotto is a very popular variation of this traditional Italian rice dish.
How to Cook Risotto
Cooking risotto is quite different from cooking orzo. It is a longer process with more steps because it is a dish rather than just an ingredient.
In a medium pot simmer stock on medium heat.
Heat olive oil or butter in a separate pan. Then add onions and garlic, cook until onions are translucent.
Next, add the risotto to the pan with onion and garlic then toast for 1-2 minutes or until orzo is gently browned.
Add one ladle of the warmed stock to the risotto and cook (while gently stirring) until all the stock is absorbed.
Repeat this process until the rice is tender but not mushy.
Stir in parmesan cheese and pepper then serve while hot.
Types of Rice to Use for Risotto
Risotto rice contains the perfect amount of starch required for a creamy texture and luxurious sauce. Italy grows multiple rice types, which are ideal for making risotto. The highest Italian risotto rice grade is superfino, fino, semi-fino, and commune. These varieties differ in length and starch content.
Arborio is the most popular short-grain rice for risotto. It can absorb a lot of liquid and produce a creamy risotto. It is also more tender and can easily go from al dente to sticky if you cook too long or stir too much.
Carnaroli is a fatter, larger grain of rice with high starch content. Many cooks use this rice because it has a 'nice bite' and yields a creamy consistency. Carnaroli holds up well to longer cooking time and more stirring than arborio. 
Vialone Nano is thicker and shorter than the other options. It has a high amylose content that keeps the shape of the rice during cooking and quickly absorbs a lot of liquid.
Risotto Recipes to Try
Roasted Butternut Squash Risotto - Creamy risotto made the authentic Italian way, delicious and flavorful. This makes a perfect side dish but has enough flavor to be a main course!
Asparagus Risotto - Vegetarian asparagus risotto cooked in mushroom broth to add a hearty undertone that pairs perfectly with the fresh asparagus.
Mushroom Risotto-
Orzo vs. Risotto - What's the Difference?
The main difference between orzo and risotto is that orzo is an ingredient (rice-shaped pasta), and risotto is a dish made with rice, a type of grain. The cooking methods are also quite different. Orzo is boiled until you get the texture you desire. Risotto is cooked slowly by gradually adding liquid and stirring until the rice absorbs it. 
So, how would you answer the question: orzo vs. risotto if you had to choose?
Are orzo and risotto the same thing?
No. Orzo is a small, short pasta made from wheat flour or whole grain flour. Traditional risotto is a rice dish made by slowly cooking the rice in stock and gradually adding more until it forms a thick, creamy sauce.
What is healthier risotto vs orzo?
They both contain significant nutrients like proteins and carbs, but orzo has them at a higher concentration, so it could be considered 'healthier'. This greatly depends on what ingredients you prepare them with or add to the final dish.
Can you substitute orzo for risotto?
No, they are not the same thing. Orzo is a small pasta (ingredient), and risotto is a dish made from rice slowly absorbing liquid. You could try to make risotto with orzo but it would be a different process. If you cooked orzo as slowly and as long as arborio rice it would probably fall apart and become mushy.
Make sure to leave a ⭐️star rating and a comment on any recipes that you try! I love to connect with you through my recipes.
I would love for you to tag me on Instagram @cucinabyelena so I can see your delicious Italian recipes. To get more ideas, follow me on Pinterest.