Parsley is a common herb used in cooking as a garnish to add freshness to various dishes. Italian parsley, also known as flat-leaf parsley, is one of the main varieties used in cooking and as a garnish. The other is curly parsley (which has ruffled leaves)—learning about the different types of parsley is simple with this complete guide.
Parsley vs. Italian Parsley: What's the Difference?
On your shopping list, you see that you need to grab some parsley for tonight. The fresh herb section of your grocery store offers up a few options; one label says "Italian" parsley, the other says "curly" parsley, and depending on what store you are in, you may even see "flat-leaf" parsley. Which one to choose?
Parsley is one of those cooking staples that doesn't give the dish its defining flavor but is noticeable if it's missing.
Italian parsley, also known as flat-leaf parsley, is one of the main varieties used in cooking and as a garnish. The other is curly parsley, which has ruffled leaves. Italian parsley originated in Italy and is a staple ingredient in many Italian dishes, such as Italian seafood and vegetable sauces, pasta sauce, and soups.
We can think of parsley in two ways; a compliment to other flavors in the dish and/or as a finishing touch, adding a pop of freshness and color.
Parsley is a powerful antioxidant and an excellent source of vitamins C and K and is available year-round. Freshness is everything! When shopping for parsley, choose bright green leaves free from yellowing, wilted, or soggy.
3 Key Differences between Parsley vs. Italian Parsley
Although curly and Italian parsley belongs to the same biological family, Umbelliferae, these leafy herbs have different textures, colors, and flavors.
Here are 3 key differences between curly parsley vs Italian (flat-leaf) parsley:
Appearance- They look different! Italian (flat-leaf) parsley has broad, flat leaves, whereas curly parsley has thicker and curly leaves.
Taste and Texture- Italian parsley has a smoother texture and stronger flavor than curly parsley, which has a more muted flavor and a brighter, more vibrant color.
Use- Italian parsley is more versatile and used as a building block to flavor many dishes and garnish.
Jump to:
When to use Italian Parsley
Italian (flat-leaf) parsley will be your go-to when adding flavor to your dishes. Its fresh, slightly bitter, slightly peppery flavor has a unifying quality.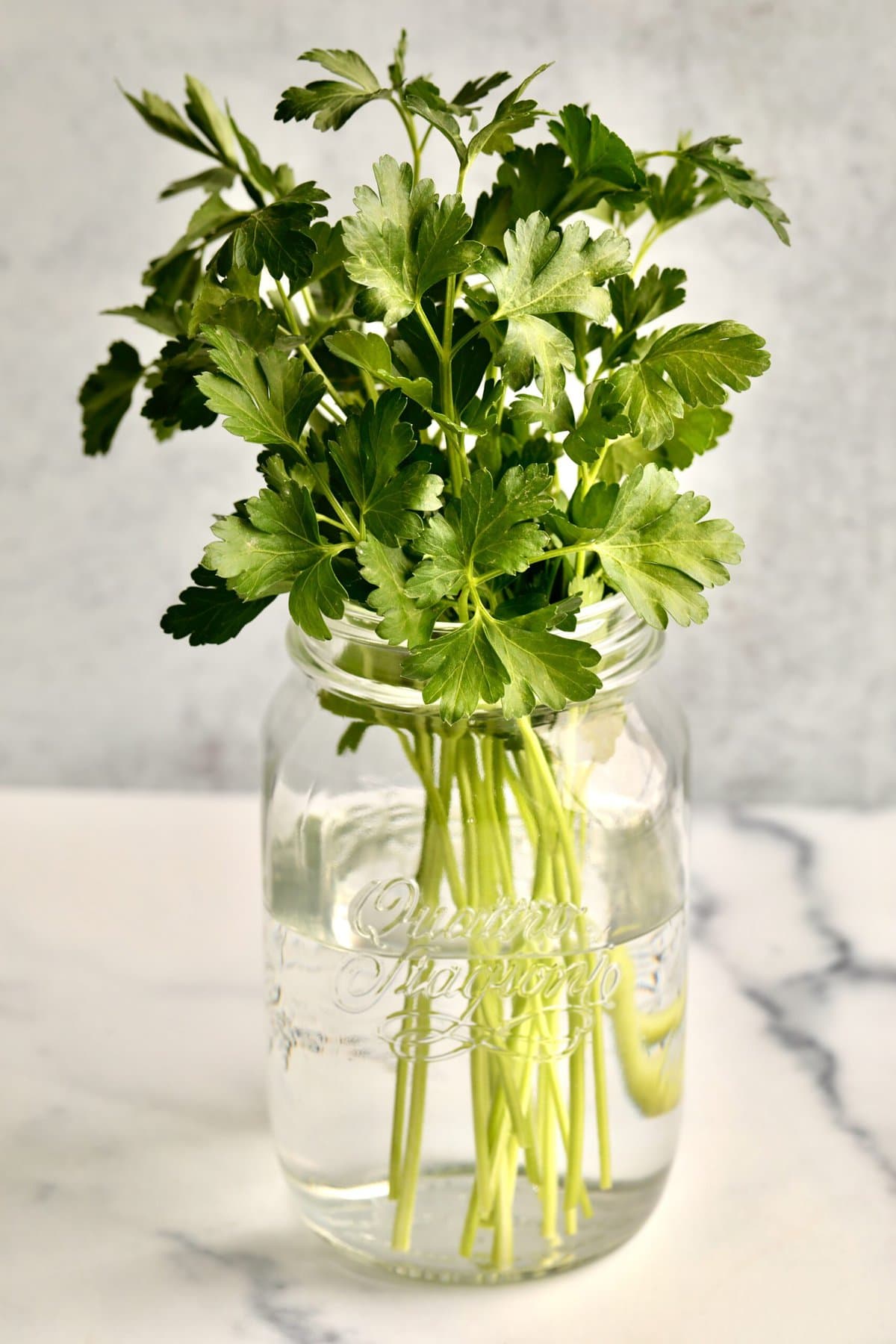 Aside from being used as a garnish, Italian parsley can be an anchor for basic ingredient dishes such as this unforgettable Steamed Mussels and Clams Recipe (with Wine and Garlic). Try it in pasta dishes like this Shrimp Scampi Pasta Recipe (with Fettuccine) and the BEST Lobster Ravioli Sauce with Lemon Brown Butter.
When to use Curly Parsley
Curly parsley is more commonly used as a garnish since it has no intense flavor. It is also more aesthetically pleasing, with its bright color and interesting leaves. Adding parsley as a finishing step is an easy way to add a pop of fresh flavor and brilliant color.
Seeing Italian parsley leaves atop a steamy dish brings up that feeling of satisfaction after prepping a wholesome meal. When it's all finally ready, I grab that little dish of chopped parsley, sprinkle some on top, and hear myself say, "Buon appetito!"
Use parsley as a garnish in these recipes to add that perfect final touch, such as my Fried Butterfly Shrimp Recipe (Easy and Crunchy) or my Crispy Baked Cod with Panko Recipe.
Make our Grilled Tri-Tip Steak with Chimichurri Sauce.
How to Cook with Parsley
Cooking with parsley is easy! Simply remove the stems as best you can and rough chop. This herb is not often used as a main ingredient. Instead, it complements many other herbs, spices, and flavors; it is versatile and can be used in various dishes, from salads to soups. It can also be found in French cuisine in any given bouquet garni.
When using parsley as a garnish, be sure to add the parsley at the end, as the delicate leaves will lose their visual appeal if overcooked.
Try this Trottole Pasta Recipe with Tomato Sauce and Shrimp.
When to Use Fresh Parsley or Dried Parsley?
The answer is it depends! I recommend using fresh parsley for your dishes; however, if you only have dried parsley, remember that dried herbs are usually more potent than fresh herbs.
So, as a rule of thumb, use one-third the amount of dried herb in place of the fresh herb called for in the recipe. However, do not expect the same robust flavor or color when using dried parsley.
Try our Authentic Spinach and Ricotta Lasagna with Tomato Sauce!
FAQs
Parsley vs. Italian parsley, do they taste the same?
Most of us think of Italian (flat-leaf) parsley when we think of parsley with a clean, slightly peppery taste. In contrast, curly parsley tastes similar, but the flavor is much more muted.
Which kind of parsley has more flavor? 
Italian (flat-leaf) parsley is known for its more robust flavor and is the better option for cooking. Curly parsley has a fainter flavor and does better as a fresh garnish.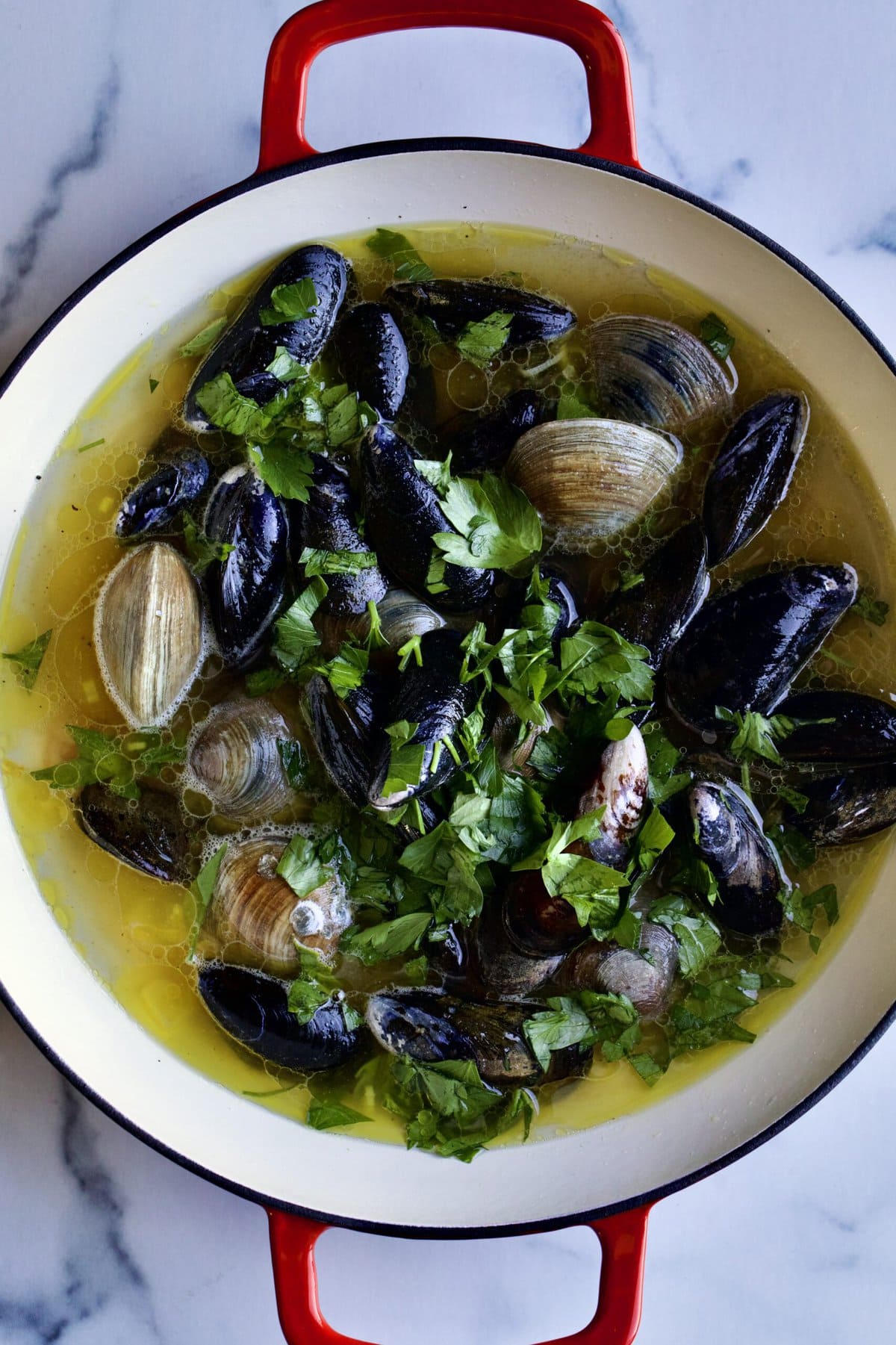 Parsley vs. Italian parsley, which is better for cooking?
If your recipe requires parsley to be more than just a finishing touch, Italian (flat-leaf) parsley has a more potent flavor and would be the preferred choice in cooking. Try it with BEST Salmon Piccata (Lemon Butter Caper Sauce).

Are parsley and cilantro the same?
No, parsley and cilantro are not the same, and the two are not interchangeable in cooking. The two may look similar but have completely different flavors. Cilantro has a more citrusy (or even soapy!) flavor, whereas parsley is described as having a more subtle, slightly bitter, and peppery taste. 

How to store parsley? 
Parsley can easily be stored in the refrigerator or frozen. If you keep parsley in the fridge, place it in a plastic bag with a damp paper towel in the refrigerator. Alternatively, you can trim the stems and keep them upright in a jar, glass of w or container with some water. Using a freezer bag, freeze parsley to use in sauces, soups, or stews.


More of my delicious Italian recipes using parsley:
Related
Looking for other recipes like this? Try these: