This is the BEST Italian-style Braised Short Rib Ragu recipe. It makes for the ultimate Italian comfort food meal! Try making your own Authentic Homemade Pappardelle Pasta Recipe to achieve the most authentic Italian experience!
If you love Italian ragu sauce, another excellent recipe is Classic Italian Ragu Recipe (Meat Sauce), Osso Buco Recipe, or Italian Braciole Recipe (Stuffed Beef with Sauce).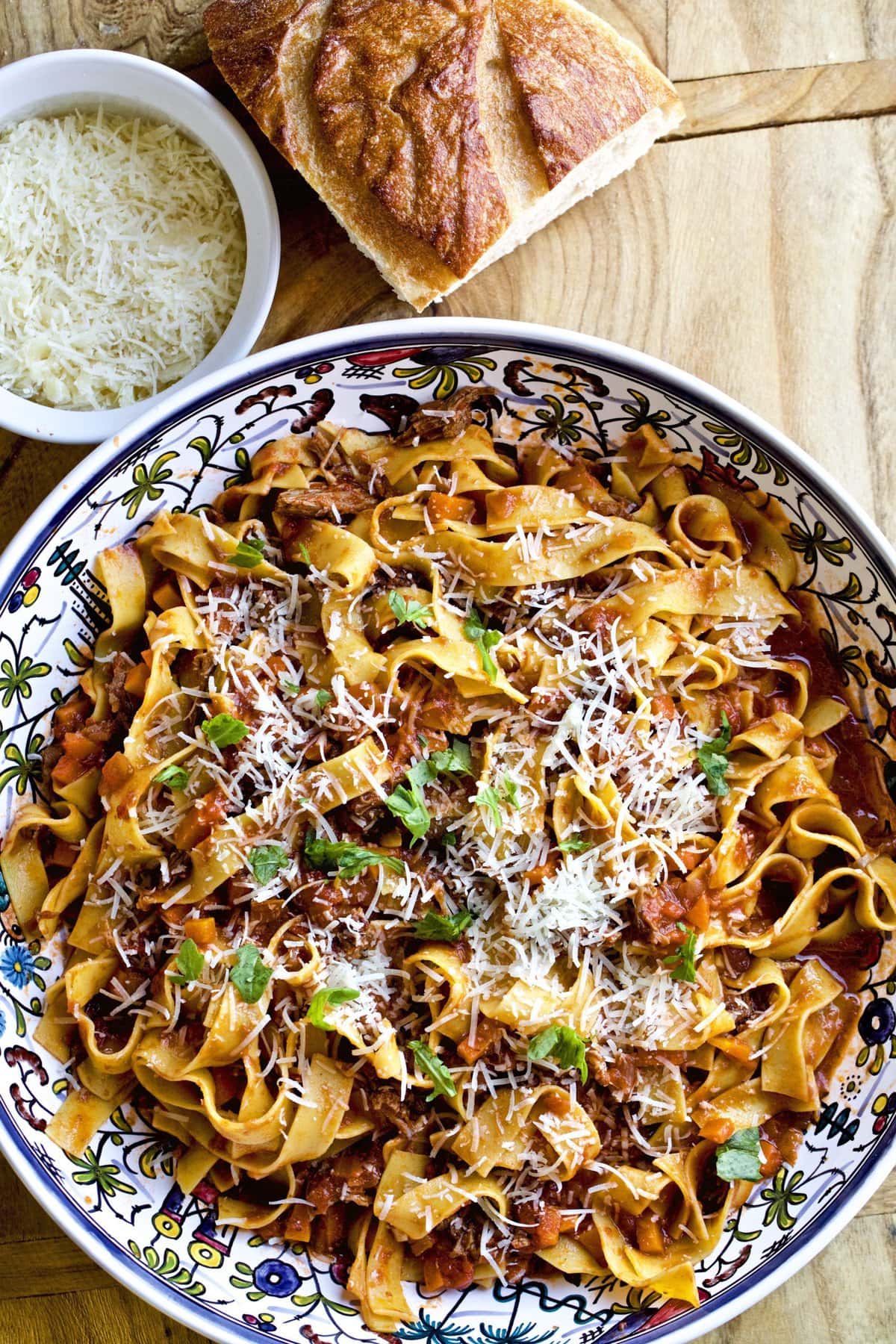 BEST Italian Beef Short Rib Ragu
This beef short rib ragu is richly flavored from slow-cooked short ribs, finely diced vegetables, herbs, garlic, shallots, and red wine. Let it simmer on the stove while you relax and wait for the most fantastic dinner!
Also, try- How to Cook Steak in a Pan (Perfect Recipe) and How to Cook a Small Prime Rib Roast Recipe.
Italian Comfort Meal- Ragu
Regarding comfort food, nothing tops tender Braised Short Ribs Ragu served in a big bowl with pasta or polenta- don't you agree?
Short rib Ragu is the perfect meal to impress your guest and mimic a high-end Italian restaurant.
This is a great winter weekend recipe. Let the savory and rich sauce stew on the stove while you read a book by the fire. You will love this classic Italian short rib ragu recipe!
Simple Ingredients
Beef short ribs
Kosher salt
Ground black pepper
Olive oil
Onion
Shallot
Carrot
Garlic
Tomato paste
Red wine
Crushed tomato
Beef stock
Bay leaves
Fresh thyme
Fresh rosemary
Pappardelle pasta
Parsley
Parmigiano cheese
About Braised Short Rib Ragu
Beef short ribs are slowly braised until fall-apart tender with simple vegetables, fresh herbs, tomatoes, & red wine, creating a hearty & boldly flavored homemade ragu sauce. Toss it into homemade or store-bought pappardelle or any pasta you love! You can also serve it on top of polenta or gnocchi for a rich & comforting meal.
Easy enough for a lazy Sunday dinner yet delicious enough for any special occasion meal – date night, Christmas dinner, Valentine's, you name it! – this beef short rib ragu recipe will be one you come back to time & time again!
Like all of my traditional Italian recipes, this short rib ragu is simple to prepare – it's all about using high-quality ingredients & letting them shine.
Serving Suggestions
I love a thick and glorious egg pasta such as pappardelle to go with this rich ragu sauce. You can make the pasta from scratch if you like, or purchase fresh pappardelle or another wide pasta to make this meal extra special.
Here is my complete guide to making your own Pappardelle Pasta.
If you don't want pasta, try serving it over Easy Polenta Recipe Authentic Italian Style
This hearty ragu is just as satisfying over pasta as it is over polenta or even Homemade Focaccia Bread.
Top Tips
The biggest mistake I see American home cooks make when serving pasta at home? Simply plopping their beautifully braised ragu atop a pile of pasta. My Italian heart cringes at this! Please don't do this!
Al dente pasta should always cook with the sauce on the stovetop for a couple of minutes, allowing the two separate components to come together as one cohesive dish. If your pasta never turns out as good as it does in a restaurant, this simple step goes a long way to add a special touch!
How To Finish the Short Rib Ragu
Add the cooked pasta straight into the simmering ragu, tossing to combine well. Adjust as needed, so the ragu coats the pasta evenly.
If it's too thick, toss in some of the reserved pasta water; if the mixture is too loose, toss in an extra handful of parmigiano cheese.
Cook for a couple of minutes more, allowing the pasta to marry with & absorb some of the sauce.
How to Make Braised Short Rib Ragu
The work in making this dish is all up front; the rest is sitting back and letting it simmer.
Cooking this braised short rib ragu is a straightforward process consisting of 3 main steps: browning, deglazing, & simmering.
The process is time (but you aren't doing any of the work)-intensive since the goal is to tenderize a tough cut of meat & pull big flavors out of relatively simple ingredients.
The process is mostly hands-off! So, set a timer and take a nap, and your ragu will be ready.
FIRST, SEAR THE SHORT RIBS.
Browning creates the base flavor upon which the rest of the short rib ragu is built, so it's incredibly important to take the time to sear the short ribs well.
The short ribs need to be completely dry. Moisture is the natural enemy of a good, hard sear, so use paper towels to pat them as dry as you possibly can.
You need a good, heavy-bottomed pot or Dutch oven which retains its heat well & distributes it evenly.
NEXT, BROWN THE SOFFRITTO and AROMATICS.
Add the 'soffritto' veggies – carrots, celery, & onion – to the same pot used to brown the short ribs. This is the first step in building layers to the flavor of this dish. This step lets them get a bit brown as you release their flavors.
DEGLAZE and BUILD THE SHORT RIB RAGU SAUCE.
Deglaze the pot by adding in the red wine, using a wooden spoon to scrape up the browned bits developed on the bottom of the pan by browning the short ribs & soffritto. This adds richness and depth to the sauce.
SLOWLY BRAISE THE BEEF RAGU SAUCE.
Now for the fun part – letting the sauce simmer! Nestle the browned short ribs into the braising liquid, bring the pot to a boil, then reduce to a low simmer. Cover the pot & let it cook until the short ribs are fall-apart tender – your kitchen will smell like absolute Italian comfort food heaven.
Short Ribs
Beef ribs are cut into 3 to 4-inch sections consisting of meat, fat, and bone. Short ribs are cut from the chuck and plate primal sections. They have a lot of flavors but are fatty and fairly tough.
For best results, short ribs should be simmered with moist heat. This is the perfect recipe for beef short ribs! They fall off the bone tender when simmered in the braising liquid and tomato sauce. So delicious!
What is Ragu?
Before we dive into this braised short rib ragu recipe, let's define the broad term- ragu. The "What is ragu?!" is a question I get asked a lot since there seems to be a wide variety of dishes named 'ragu'.
"Ragu" is a broad term used to describe a rich, slowly cooked Italian meat sauce. It's hearty, intensely flavorful, & unlike a slowly simmered tomato sauce (sugo al pomodoro), ragu is all about the meat. In that sense, it's almost stew-like than what may come to mind when you think of Italian sauces. However, like marinara or tomato sauce, ragu is traditionally served with pasta, gnocchi, or polenta. I am sure you've enjoyed my nonna's famous ragu – Classic Italian Ragu!
The best part about getting familiar with making ragu is that it is very versatile. You can make a beautiful ragu using almost any meaty ingredient that lends well to a slow braise: pork, ground turkey or chicken, wild boar, duck, lamb, mushrooms, or eggplant for a vegetarian ragu, or, of course, beef short ribs.
Why Braise Meat?
This is a very important step you don't want to skip in this recipe. Braising is simply a cooking method that involves browning meat or vegetables in oil, then cooking it in a small amount of liquid in a covered pan, either on the stovetop or in the oven.
The long, slow cook time helps develop flavor and turn even the toughest of meat cuts fork-tender.
Can you Freeze Short Rib Ragu?
Yes! You can freeze this short bib ragu! I doubt there will be any leftovers, but just in case you want to save the leftovers ragu here is what you need to do- allow the sauce to cool to room temperature before transferring to an airtight container or heavy-duty freezer bag.
Ragu will keep in the freezer for up to 3 months.
Make-Ahead Short Rib Ragu
Transfer the cooled short rib ragu sauce to an airtight container & store in the refrigerator for 4-5 days. To serve, all you have to do is heat it & toss it with your pasta of choice – easy!
Made with Amore, Elena
From my Cucina to your Table, Mangia! Mangia! (Eat!)
More delicious recipes for you…
Italian Style Osso Buco (Tuscan Recipe)
Pappardelle in Creamy Mascarpone Mushroom Sauce
Classic Italian Ragu Recipe (Meat Sauce)
Smashed Garlicky Herb Potatoes and Aioli Sauce
Oven Roasted Potatoes (Italian Style)
Roasted Butternut Squash Risotto Brown Butter
Have you checked out my NEW CBE PRODUCTS? Take a look at the 2-in-1 cutting and charcuterie board, gorgeous apron, and unique pasta server that you absolutely need. The wood products are all handmade in Salt Lake City, Utah. They make great gifts as well!
Classic Short Rib Ragu Recipe
This is hearty Short Rib Ragu comfort meal feeds a crowd! Make it for Sunday dinner for friends and family, a special dinner party, or a fancy meal for the holidays. It is a show stopper every time.
Print
Short Rib Ragu with Pappardelle Pasta
This ragu is richly flavored from slow-cooked short ribs, finely diced vegetables, herbs, garlic, shallots, and red wine. It is the perfect meal to impress your guest and mimic a high end Italian restaurant. This is a great winter weekend recipe. Let the savory and rich sauce stew on the stove while you read a book by the fire. You will love this classic Italian short rib ragu recipe! 
Total Time:

4 hours 30 minutes

Yield:

4

-

6

servings

1

x
2

lb

bone-in beef short rib, cut into 2-inch (5-cm) pieces

3 teaspoons

kosher salt, divided, plus more to taste

3 teaspoons

freshly ground black pepper, divided, plus more to taste

1 tablespoon

olive oil

1

cup

yellow onion, diced

1

shallot, diced

1 ½

cups

carrot, diced

2

cloves garlic, minced

2 tablespoons

tomato paste

2

cups

port or red wine

28

oz

crushed tomato,

1

can

3 ½

cups

beef stock

2

bay leaves

5

sprigs fresh thyme

2

sprigs fresh rosemary

2

lb

pappardelle pasta (or 1 batch homemade pappardelle pasta recipe)
fresh parsley, finely chopped, for garnish
freshly grated parmigiano cheese, for garnish
Instructions
Pat the short ribs with paper towels to remove any excess moisture, then season generously with 2 teaspoons kosher salt.
Add the olive oil to a Dutch oven or large, heavy-bottomed pot and heat over high heat until shimmering. Add half the short ribs and sear on each side until deep brown, about 10 minutes total. Remove from the pan and set aside. Repeat with the remaining short ribs.
Add the onion, shallot, carrot, garlic, 1 teaspoon of salt, and 1 teaspoon of pepper. Sauté over medium heat until the vegetables are softened and browned, about 15 minutes. Add the tomato paste and sauté for a few more minutes, until darkened and thickened.
Pour in the wine (the alcohol will burn off at this point). Use a wooden spoon to scrape any browned bits from the bottom and sides of the pan. Reduce the liquid by half, about 15 minutes.
Add the crushed tomatoes, beef stock, bay leaves, rosemary, and thyme to the pot. Stir to combine.
Add the short ribs, making sure the meat is submerged. Bring to a boil, then reduce the heat to low and cover. Simmer for about 31/2- 4 hours, stirring occasionally. Skim excess fat off the top as needed. The short ribs are done when the meat pulls apart easily.
Discard any bones that the meat has fallen off of, as well as all the herb stems. Pull out any remaining bones and discard. Using two forks, shred the meat in the pot (you can also take the meat out onto a cutting board to shred and add it back into the pot. 
Add salt and pepper to taste. Simmer for 15 minutes over low heat.
Cook the pasta according to the package instructions. If making homemade pappardelle cook about 5 minutes until al dente. Strain pasta and add to the pot of ragu sauce. Turn gently to incorporate all the pasta with the sauce. 
Garnish with finely chopped parsley and freshly grated parmigiano cheese. Mangia! 
Author:

Elena Davis

Prep Time:

15 min

Cook Time:

3 ½- 4 hours

Category:

Savory

Method:

Italian

Cuisine:

Italian
Keywords: beef, short ribs, main meal, braised meat, pappardelle pasta, short rib ragu, ragu sauce