Get ready for a weeknight/weekend side you can make over and over and over and ...you get the idea. It's simply delicious with any meal. It makes a perfect side to juicy steak, smoked or fresh salmon , and pares well with roasted veggies. Whatever you are having smashed garlicky herb potatoes would like to join your party. Why do we smash the potatoes? It creates cracks in the potatoes and they get crispier edges since there is more surface area. Oh, one more thing, if you are feeling extra special make the homemade aioli sauce to dip, dip, dip. What is aioli sauce? The name is a mix of these two words- "garlic and oil". Think creamy thick dipping sauce that is mild with a bold garlic taste. Yes, garlic on garlic- I know. You might not want to smoosh your hot date after eating these. Or, if you're like me, you do anyway ;).
Made with Amore,
Elena
Smashed Potatoes
Ingredients:
About 15-20 small Yukon Gold Potatoes
2 tablespoons Kosher salt for potato water
Garlic and Herb Marinade-
1 cup good quality olive oil
2 tablespoons freshly chopped parsley
1 tablespoon thyme (fresh or dry)
1 tablespoon freshly crushed garlic
1 tablespoon coarse sea salt
fresh ground pepper (to taste- see recipe notes)
Instructions:
Preheat oven to 450 degrees F
Mix the marinade ingredients in a small glass bowl and whisk until combined, set aside.
Wash and dry potatoes and set aside on kitchen towel
Heat a large pot of water and bring to a roaring boil
Once the water starts to boil add 2 Tablespoons of Kosher salt and plunge potatoes into hot water. If water boils too much lower heat to medium high.
Let cook about 10 minutes or until fork tender (not falling apart)
Drain potatoes and place in rows (as seen in picture) on a large baking sheet
Use the back of a spoon, a small cup, to smash each individual potato- as seen in above picture. Apply gentle pressure and then push down with more force to create the smashed look.
Bake for 20 minutes until crispy
With a spoon or brush slather the potatoes with the garlic and oil marinade
Aioli Sauce (courtesy of Bon Appetite)
There are A LOT of aioli recipes out there and this one is as authentic and pure as the come just like my nonna used to make.
Ingredients
1 large egg yolk, room temp
4 medium garlic cloves, finely grated
½ teaspoon kosher salt
½ cup olive oil
Instructions
Whisk egg yolk, garlic, and salt in a medium bowl to combine.
Mix in 1 tsp. water. Whisking constantly, add oil, drop by drop at first, then ⅛-teaspoonful at a time as mixture emulsifies and thickens. (Do not add oil too quickly or aioli will break and oil will separate.)
Whisk until oil is incorporated and aioli is stiff enough to hold its shape when spooned.
Do Ahead: Aioli can be made 1 day ahead. Cover and chill.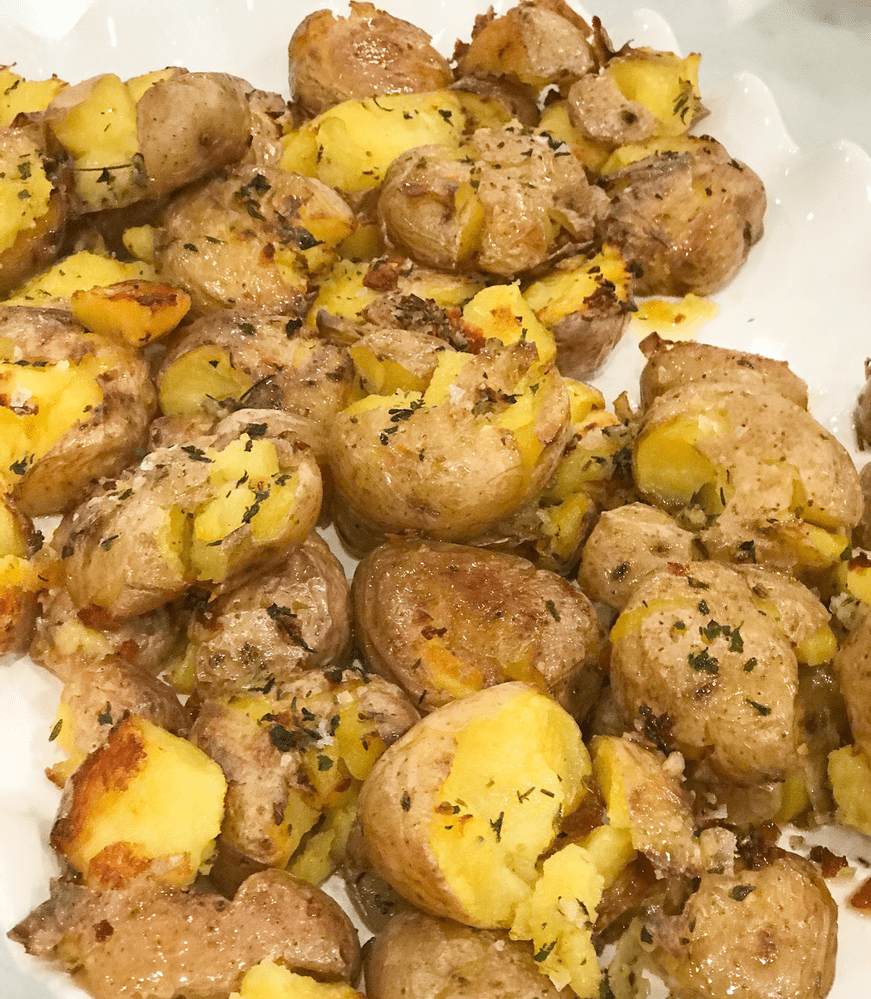 If you make this recipe please write a comment to tell me your thoughts! I want to connect with all of you through your experience with my recipes.
Love, Elena