These Creamy Frozen Lemon Bars with Graham Cracker Crust are the perfect sweet summer treat! They will cool your taste buds and make you pucker with excitement. Truly a perfect finale to any BBQ or late night summer sweet tooth craving!
The best dessert to serve after EASY Garlic Honey Lemon Grilled Chicken or Dad's Famous Dry Rub Pork Ribs (EASY).
No bake sweet-tart-treat perfect for hot hot summer days when you don't want to turn on the oven. More no bake recipes: Authentic Easy Italian Tiramisu Recipe and Panna Cotta Italian Recipe (Easy).
Why I love this recipe
This dessert tastes like lemon gelato with a graham cracker crunch that replaces an ice cream cone.
It's light, refreshing, the perfect silky smooth texture and is perfect for breakfast, lunch, and midnight snack. The whipped cream makes these creamy lemon squares irresistible.
If you need ONE go-to dessert this summer this is your gal or pal. Let me know if you try it. You can thank the Davis family for this delicious recipe.
These are hands down the best lemon bars and you can hold me to it!
Jump to:
Ingredients for Frozen Lemon Bars
All you need is simple ingredients for this luscious lemon dessert!
Fresh whipping cream
Lemons (fresh lemon juice and lemon zest)
Eggs (separate egg yolks and egg whites)
Graham crackers
Butter
Sugar
Salt
See recipe card for quantities.
How to make Frozen Lemon Bars (step by step with photos)
Making this sweet and tangy frozen treat only requires a few simple steps.
Make the graham cracker mixture and press into the bottom of a rectangular pan. Reserve a little graham cracker mixture for sprinkling on top.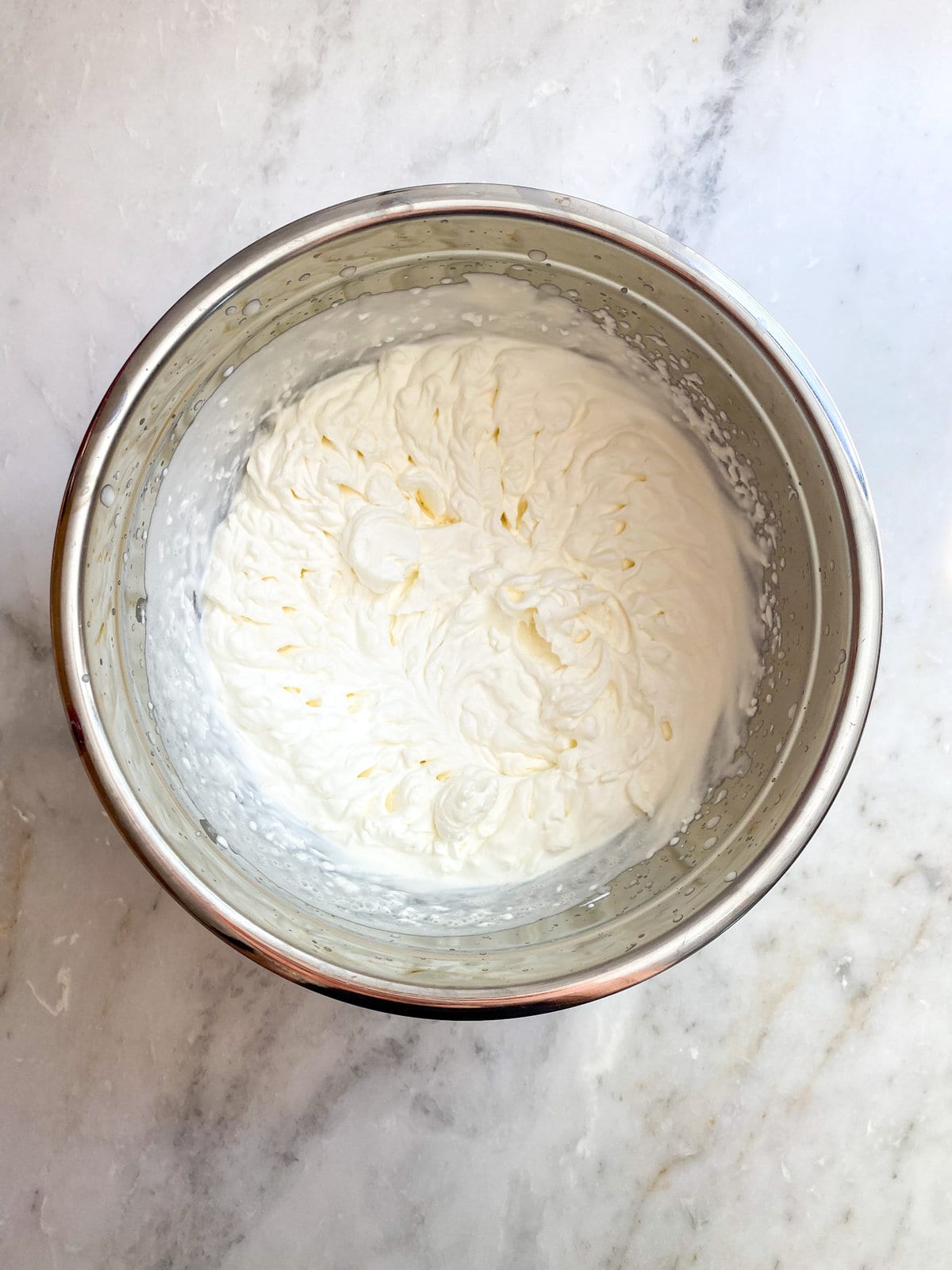 Whip the cream in a medium bowl until stiff peaks with a stand mixer or hand held beaters and set aside.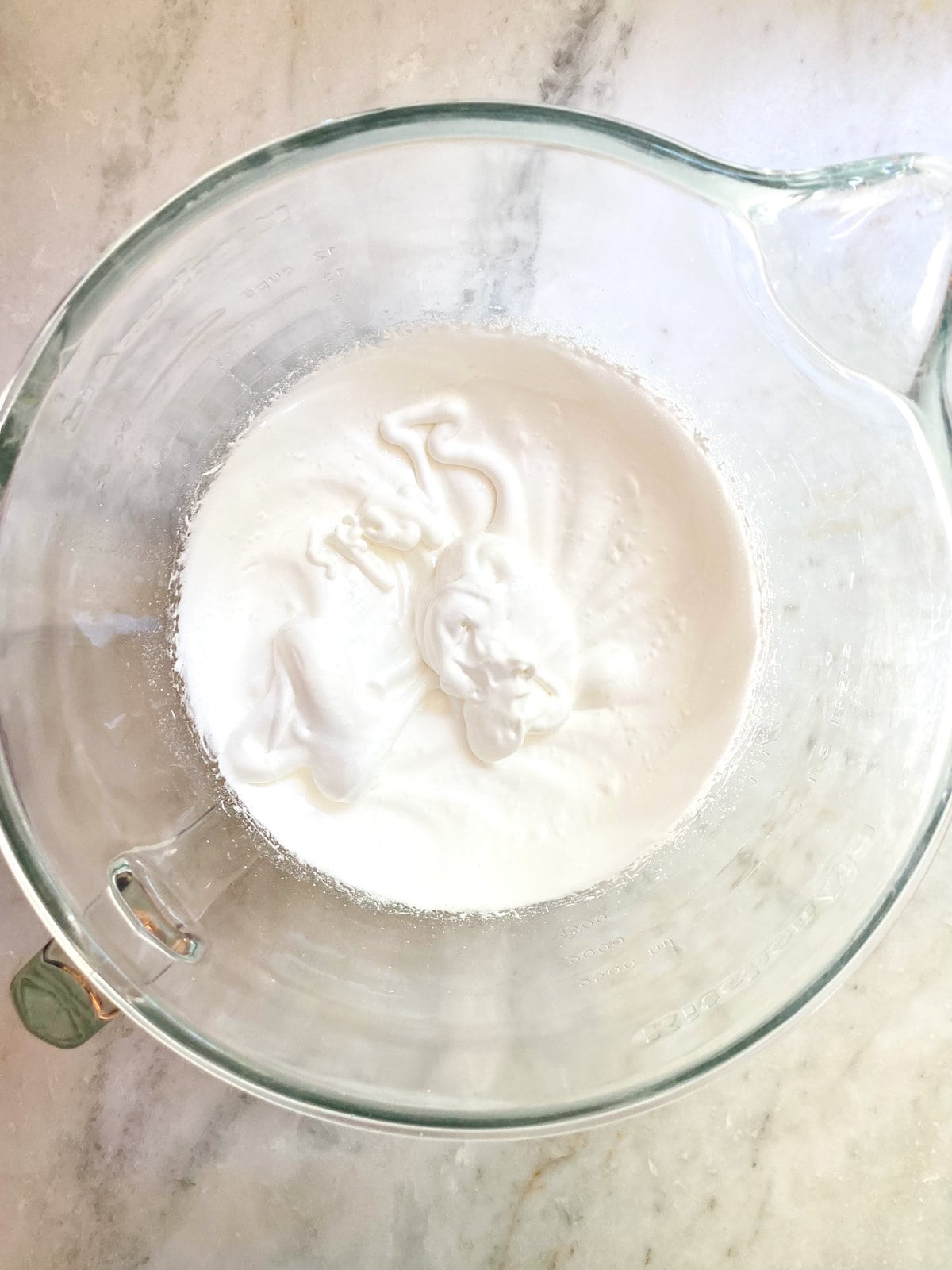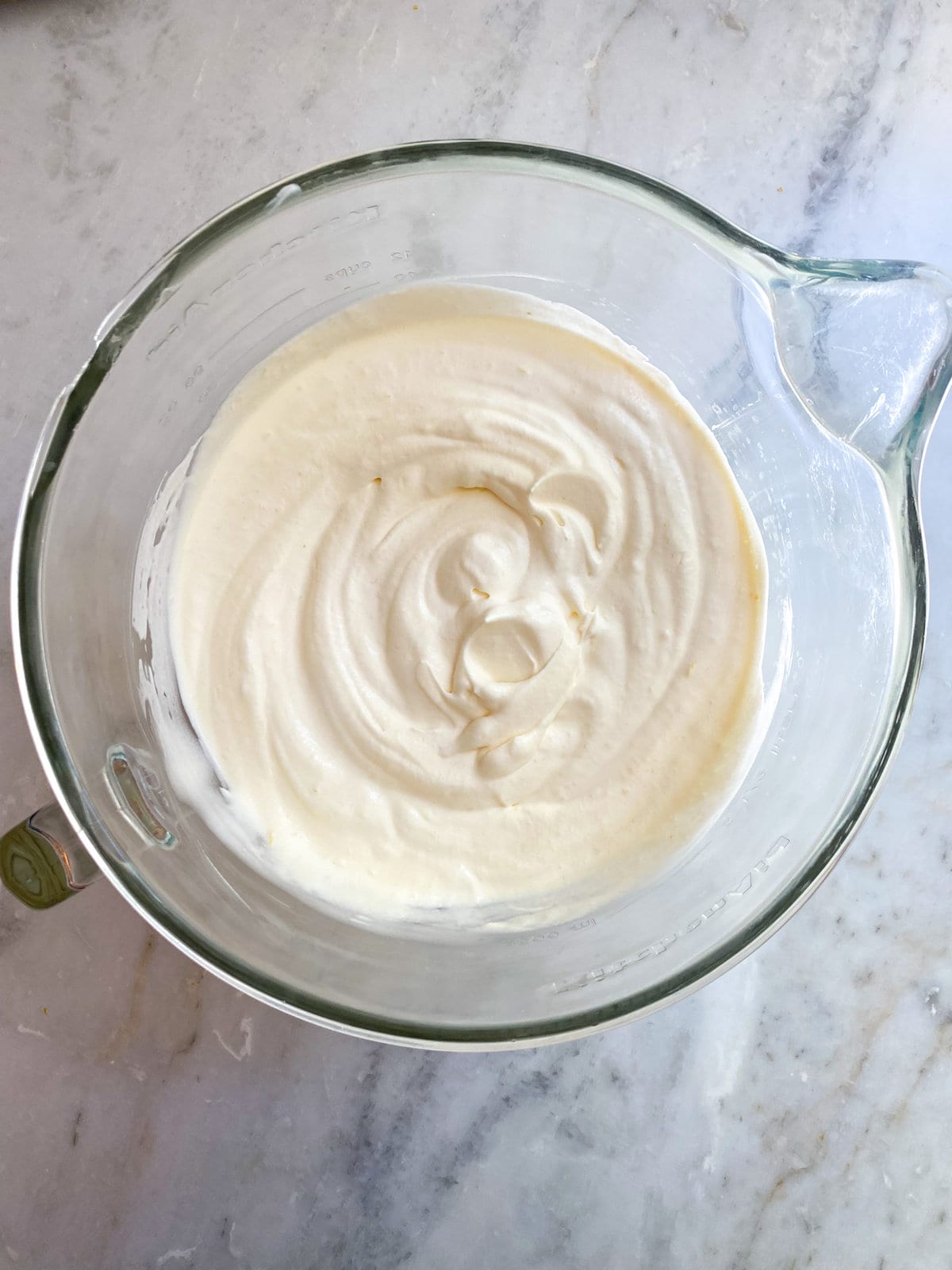 Combine the egg white and egg yolk mixture, using a rubber spatula, by gently folding together. Keep folding until completely incorporated.
Gently fold the whipped cream with the egg mixture until combined.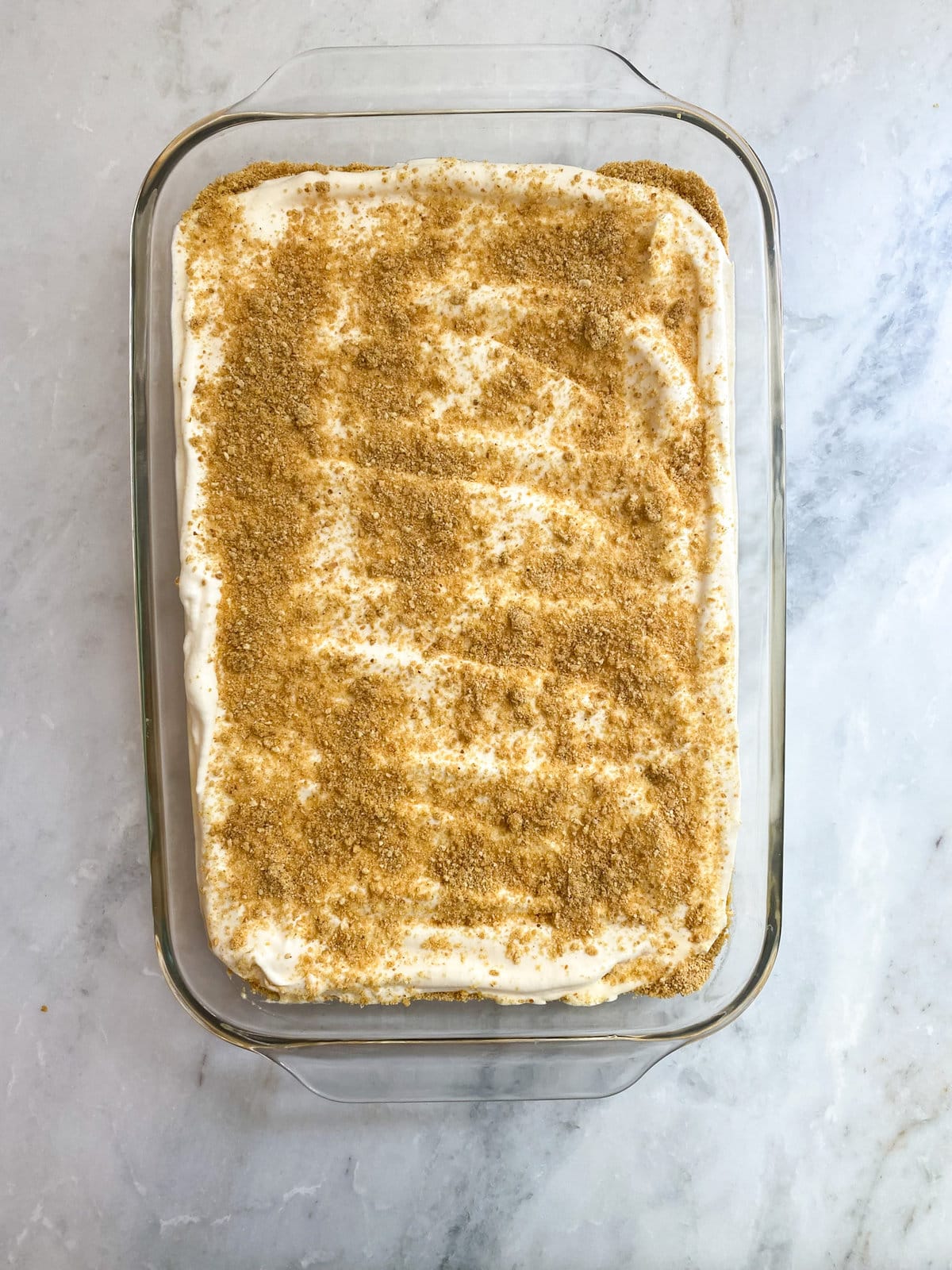 Place the filling on top of the graham cracker crust. Top with the extra graham cracker mixture, cover with plastic wrap and place in the freezer to set. The hard part is waiting for it to freeze! It is so delicious- I highly recommend licking your spatula :).
HINT: do not over mix the final mixture. Gently fold for a smooth, light, and fluffy creamy mixture.
How to make graham cracker crumbs at home
There are a few ways to make graham cracker crumbs to make the crust for this recipe.
Food Processor - break up the graham crackers with your hands and place in a food processor. Pulse until the the graham crackers are desired consistency
Plastic bag and rolling pin - place the whole graham crackers in a zip
Pre-made - if you want to go the easy route you can buy the pre-made graham cracker crumbs from the grocery store.
Lemon bars with a buttery graham cracker crust are a no pressure dessert! You can't fail on presentation with a graham crust! They are easy to cut and serve, and you don't have to worry about that crust caving in. If you want pie recipes I have those too!
Start with this crust recipe: Ultimate All Butter Pie Crust. If you want a lemony pie try: Ricotta Pie Recipe that is made with an Italian pasta frolla crust (also hard to mess up!)
Creamy Frozen Lemon Bars
Irresistibly light, creamy, and refreshing LEMON DESSERT! This creamy frozen lemon dessert is an addicting sweet, tart, light treat you will make and crave all summer long (we even make them year around!).
Make this lovely lemon dessert for you and yours all summer long! Calling all lemon lovers- this is the perfect dessert for you! The best part is they are easy to make and they will be your absolute favorite bars after you try them.
They freeze very well, and the texture is something between a lemon mousse or custard. It's lighter than cheesecake, and very refreshing!
Variations for Frozen Lemon Bars
Honestly, this recipe is perfect as it is! Here are some variations to try:
Mix it up- try making a lime variation by using the same amount of lime as you would lemon. Try using meyer lemons for a unique lemon flavor.
Crust- use a shortbread crust like in this recipe: Best Lemon Bars with Shortbread Crust.
Sugar- try using brown sugar in the graham cracker crust for a deeper molasses taste.
Extra touch- add a dollop of whipped cream and fresh raspberries on top right before serving these creamy lemon bars.
If you love this frozen dessert you must try homemade pistachio gelato!
What to serve with frozen lemon bars
This is the perfect dessert to serve at a summer gathering, party, or activity. It is a refreshing treat that goes well after a delicious summer pasta salad.
We actually eat this in the winter as well despite that it is a frozen dessert. It goes well after a hearty Classic Italian Lasagna Bolognese with Bechamel Sauce or BEST Italian Beef Short Rib Ragu.
If you love lemon try: Easy Lemon Yogurt Loaf Cake.
History of Creamy Frozen Lemon Bars
This dessert ages back 30 years in the Davis family. My husband remembers big family BBQ's at his grandparents home in Idaho.
They would enjoy prime steaks an assortment of sides and ALWAYS end the meal with this frozen lemon dessert. Everyone, from ages baby to 80, absolutely loved this refreshing summer dessert.
My husband recalls his mother always had a pan of this in the freezer during the summer. He would steal a small square after hours of playing outside in the hot summer heat.
It is the perfect balance of sweet, tart, and a tasty crumble of graham cracker crumbs to add texture. When I joined the family I remember thinking this tasted like a virgin frozen limoncello drink.
This will soon become one of your family favorite lemon desserts too!
Frozen Lemon Bar with graham cracker crust FAQ's
How to store lemon bars
These frozen lemon bars are best stored in a glass or metal pan or baking sheet and covered well with plastic wrap. You can also individually store the lemon squares in an airtight container (after the bars are frozen and cut) and keep them in the freezer for about 2 months.
From my Cucina to your Table, Mangia! Mangia! (Eat!)
More Delicious Desserts for YOU...
Vanilla Cake Roll with Cream and Berries
Italian Crumble Cake with Jam Filling
Heavenly Angel Food Cake (Strawberries and Cream)
The Best Biscuit Strawberry Shortcake Recipe
Fresh Strawberry Rhubarb Biscuit Cobbler
Bring these frozen lemon squares to wedding or baby showers and everyone will love you for it. Next time someone asks you to bring dessert make this frozen lemon bar recipe!
Make sure to leave a ⭐️star rating on the recipe card and comment below if you make the recipe. I love to connect with you through my recipes.
I would love for you to tag me on Instagram @cucinabyelena so I can see your delicious Italian recipes. To get more ideas, follow me on Pinterest.
Print
Frozen Lemon Dessert
Frozen Lemon Dessert! A sweet summer treat that will cool your taste buds and make you pucker with excitement. Truly a perfect finale to any BBQ or late night summer sweet tooth craving!  
Total Time:

20 minutes

Yield:

12

servings

1

x
¼

cup

butter, melted

2

cups

graham crackers (smashed into crumbs)

2 tablespoons

granulated sugar

1 ½

cup

heavy cream

4

large eggs (separated save yolks and whites in separate bowls)

1

cup

sugar

½

cup

fresh lemon juice
Zest of

one

lemon
Instructions
In a medium bowl, combine the first three ingredients (butter, graham cracker crumbs, and 2 tablespoons of sugar) until combined. Press the graham cracker mixture into the bottom of the pan. Use a 9X11 inch baking dish (save a handful of the crumb mixture to sprinkle over the top when finished). 
In a large mixing bowl (or bowl of an electric mixer) whip the whipping cream until stiff peaks, set aside. Separate egg yolks and egg whites (make sure none of the yolks get in the whites or they won't whip properly).
With a stand mixer or handheld mixer- beat the egg whites until soft peeks. Add one cup of sugar and beat until stiff peaks form, set aside. 
Beat egg yolks until creamy and pale yellow. Add lemon juice and lemon zest and beat again until incorporated.
Use a spatula and gently fold in egg yolks to the egg whites, best folding method is up down motion and alternating scraping the sides of the bowl. Fold until uniform. Fold the egg yolks and egg whites into the large bowl of whipped cream. Use the same folding method to incorporate. 
Place the prepared lemon filling in the pan prepared with graham cracker crumbs and spread evenly to cover all the pan. Sprinkle the extra crumbs on top. Cover and freeze 2 hours and up to 2 months. For best results allow to freeze at least 2 hours before serving. 
After the lemon bars are frozen use a sharp knife to cut them into small squares. Serve cold!
Author:

Elena Davis

Prep Time:

20 min

Cook Time:

N/A

Category:

Sweet/ Dessert

Method:

American

Cuisine:

American
Keywords: frozen lemon dessert, lemon dessert, lemon recipe, sweet recipe, dessert, graham cracker, graham cracker crust