Authentic Thick Italian Hot Chocolate- Dense, decadent, and creamy, nothing says winter in Italy like a rich cup of "cioccolata calda" – hot chocolate.
You will feel like you are in an Italian cafe as you sip this glorious drink. Grab a cup and cozy up by the fire on a cold winter day!
If you like a more traditional hot chocolate recipe try our Homemade Chocolate Syrup (hot or cold) We use this for hot and cold chocolate.
Try it for dipping these Italian cookie recipes: Soft AMARETTI Cookies Sardinian Recipe and Basic Italian Biscotti (Cantucci) Dough, or Homemade Italian Ladyfinger Recipe (Savoiardi).
Why I love this recipe
This stuff is gold, made with real chocolate to add a rich flavor, you will crave this glorious chocolate drink all winter long.
This Authentic Thick Italian Hot Chocolate (Cioccolata Calda) is so creamy and delicious you don't need extra toppings.
Since we are a little "extra' around here we still add a little freshly whipped cream. You will love it any way you serve it!
Simple Ingredients
Bittersweet or Unsweetened Chocolate (see recommendations below)
Powdered sugar
Whole Milk*
Cornstarch
Salt
Vanilla
Freshly whipped cream for serving (if desired)
*I've used 2% instead of whole milk and it is still delicious.
Cookies that Pair Well With Thick Italian Hot Chocolate
What is ITALIAN HOT CHOCOLATE?
What makes Italian hot chocolate different from other kinds?
Italian hot chocolate is thicker, creamier, and generally much richer than traditional American hot chocolate, which is less dense and rich.
It is made with a few key ingredients: sugar, chocolate, cornstarch, and milk. It can be served on its own or with a dollop of whipped cream. We love a little whipped cream.
Top Tips
Make sure the milk is warm before you start adding the other ingredients.
Keep the heat on low and stir frequently. Be careful not to burn the bottom.
Do not allow the chocolate to thicken too much before removing it from heat.
If chocolate clumps start to form, remove the mixture from heat and whisk vigorously until it is smooth again.
To achieve that silky pudding-like texture, the hot chocolate is thickened with a little bit of cornstarch and real chocolate- not cocoa powder.
This is an indulgent sipping chocolate, different than chocolate milk or regular hot chocolate.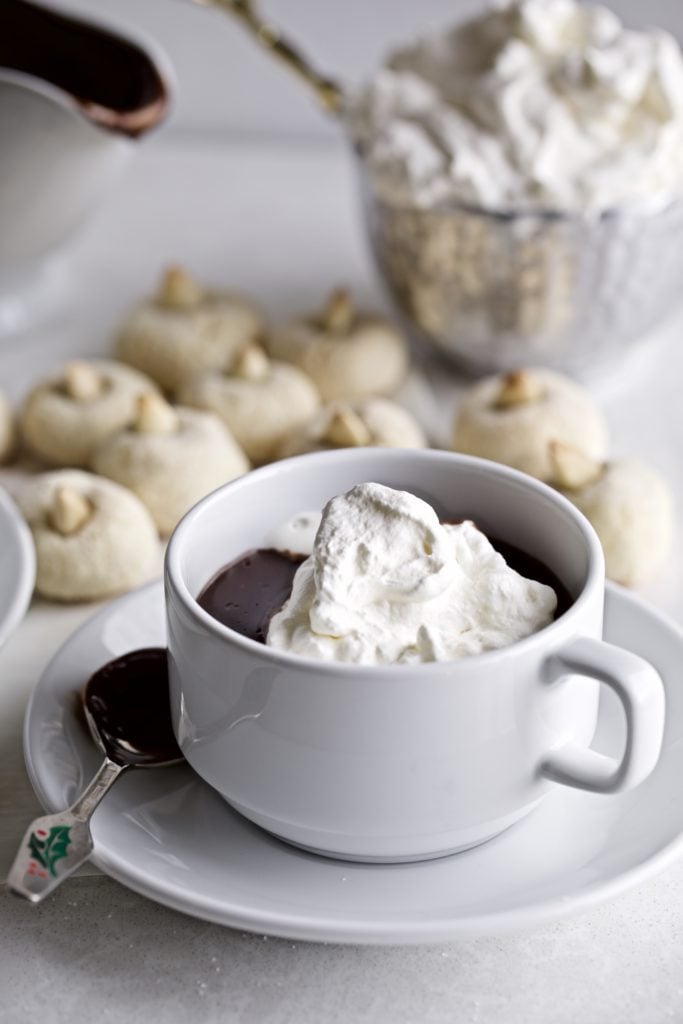 What kind of chocolate is best for making Italian hot chocolate?
Since there few ingredients in this recipe it is important to use good quality chocolate. You can use a chocolate bar and chop the chocolate or use chocolate morsels.
For this Italian sipping chocolate I recommend semisweet or dark chocolate with a cocoa content between 50%-75%.
A higher level of intensity is my favorite; in that way there is a nice balance between milk and dark, so I use these 70% dark chocolate morsels, which makes for a perfectly sweet drink without it being too sweet.
If you prefer a sweeter tasting chocolate, then go with lower cocoa content; something around 50%-60%.
Here is a test for you to decide which chocolate is best for your taste:
If you generally like milk chocolate, go with a 50-60% cocoa
If you generally prefer dark chocolate go with 65% and above, even up to 80% if you are a real intense dark chocolate lover!
Chocolate brands I recommend:
Gygi's melting chocolate
Ghirardelli chocolate bar or chips
Guittard
Godiva
Once you start drinking Italian Hot Chocolate like this you will be hooked! It is an indulgent chocolatey drink every household needs.
Options for flavor add-ins to the hot chocolate
The hot chocolate can be flavored with vanilla, cinnamon, or caramel.
A couple more Italian cookies to satisfy your sweet tooth cravings- Heart Thumbprint Cookies Recipe with Jam and Italian Butter Cookies Recipe (bakery style).
Made with Amore, Elena.
From My Cucina to Your Table. Mangia! Mangia! (Eat!)
More Delicious Sweet Recipes for YOU
St. Lucia Sweet Saffron Rolls (almond filling)
Easy "Crack" Lemon Bars (Winning Recipe)
Easy Almond Sponge Cake with Italian Cream
Italian Crumble Cake with Jam Filling
Puff Pastry filled with Italian Cream
Creme Caramel Custard Flan Italian Recipe
Italian Crumble Cake Pastry Cream Filling
Have you checked out my NEW CBE PRODUCTS? Take a look at the 2-in-1 cutting and charcuterie board, gorgeous apron, and unique pasta server that you that you absolutely need. The wood products are all handmade in Salt Lake City, Utah. They make great gifts as well!
Make sure to leave a ⭐️star rating on the recipe card and comment below if you make the recipe. I love to connect with you through my recipes.
I would love for you to tag me on Instagram @cucinabyelena so I can see your delicious Italian recipes. To get more ideas, follow me on Pinterest.
Print
Thick Italian Hot Chocolate (Cioccolata Calda)
Dense, decadent, and creamy, nothing says winter in Italy like a rich cup of cioccolata calda – hot chocolate. Grab a cup and cozy up by the fire on a cold winter day! 
Total Time:

15 minutes

Yield:

4

servings

1

x
2

cups

(500 ml) whole milk

3.5

oz

(100 g) dark chocolate, 50-75% cacao

2 tablespoons

(

15 g

) cornstarch or potato starch

3 tablespoons

(

25 g

) confectioners sugar

1 teaspoon

pure vanilla extract
pinch of salt
Instructions
Chop the dark chocolate into very small pieces.
 In a bowl mix together cornstarch (or potato starch) and powdered sugar. Set aside. 
Place the milk on low heat. When the milk is hot, but well before it starts to boil (about 3 minutes), add the corn starch and sugar mixture and start stirring, always in the same direction, avoiding the formation of lumps.
Once bubbles start to form on the surface (about 4 minutes), add the chocolate and vanilla and mix until thick and creamy, about 1 minute). The starch will cause it to thicken even when removed from heat, so it's a good idea to remove the chocolate from the heat before it thickens completely (otherwise you run the risk of turning it into a spoon cake!). 
Pour it into two mugs and serve it warm. For a dash of decadence, add a dollop of whipped cream on top!
Author:

Elena Davis

Prep Time:

5 min

Cook Time:

10 minutes

Category:

Sweet

Method:

Italian

Cuisine:

Italian
Keywords: hot chocolate, Italian hot chocolate, thick hot chocolate, dessert, drink, treat