This Classic Italian Almond Biscotti Recipe (Cantucci) is a blank canvas to create a variety of different biscotti flavors. Read all the tips to master this classic and simple Italian biscotti recipe.
Crunchy and sweet biscotti are a lovely treat to dunk into Authentic Thick Italian Hot Chocolate. You will love this Italian family recipe for traditional biscotti!
Italian Classic Almond Biscotti Recipe (Cantucci)
These Italian Almond Biscotti (Cantucci) are easy to make and keep when stored in an airtight container. This basic biscotti dough is ideal for adding any mix-ins you desire.
If you love classic Italian cookies, try these recipes: Easy Italian Lemon Ricotta Cookies, Soft AMARETTI Cookies Sardinian Recipe, Heart Thumbprint Cookies Recipe with Jam, Simple Italian Wedding Cookies (Anginetti), or Homemade Italian Ladyfinger Recipe (Savoiardi), and BEST Italian Pignoli Cookies Recipe (pine nut).
Simple Ingredients for Classic Italian Almond Biscotti (Cantucci)
Flour is the main structure of the biscotti.
Sugar sweetens the cookie.
Baking Powder leavens the biscotti, making it rise.
Eggs bind the biscotti and also help with leavening.
Butter adds tenderness and richness to the biscotti.
Salt, almond, and vanilla extract flavor the biscotti.
Add-ins. See suggestions below.
Easy Biscotti Recipe
Once you master this simple dough and twice-bake technique you can flavor the biscotti with any of your favorite flavors.
Personally, I like to keep it simple! I love simple sweet almond and vanilla-flavored dough.
During the holiday season, it is fun to add cranberries and pistachios for color and festive flavor.
The great thing about biscotti is you can make them your own by adding what you love!
What are Italian Biscotti or Cantucci Cookies?
Cantucci or Biscotti di Prato are crunchy almond cookies from Tuscany. Biscotti literally means twice (bis) cooked (cotti), the word "biscotti" is a generic term for cookies in Italian.
The word biscotti is derived from the Latin biscoctus, meaning twice baked or cooked. The dough is formed into logs, baked, cooled and baked again.
Whereas Italians use the word "biscotti" to refer to various cookies, Americans use the term to refer to the singular long, crisp, twice-baked Italian cookie.
The twice-baked Italian cookies originate from the city of Prato. They are also called cantucci.
Unlike most cookies that form a dough that gets sliced or cut out, biscotti bakes in two oblong-shaped logs.
How to Make Italian Classic Almond Biscotti Recipe (Cantucci)
Step-by-Step Process
Simple: Make the dough, form it into two logs, and bake.
Once they're completely cool—this is an important step!—you slice them with a serrated knife at a slight angle and bake them a second time.
That is why they are "twice baked". Here is the process.
Start by mixing the wet ingredients in a large bowl and sifting in the dry ingredients. You can use a wooden spoon or spatula.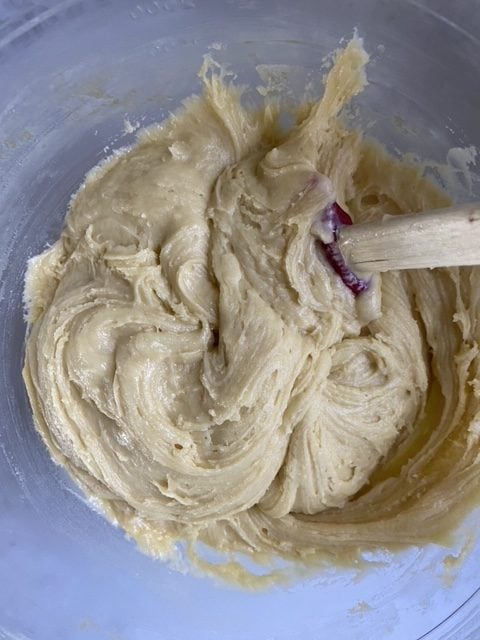 This yields a sticky dough. Divide the dough into two equal parts.
Divide the dough in two and form it into dough logs. If adding mix-ins add them before forming them into logs. Left- plain. Right- with whole almonds.
After the biscotti cookie loaves bake they are nice and puffy with a golden brown top. It is best to let cool for a few minutes but still cut while the cookie loaf is warm or it will be too hard to cut.
Cut the biscotti cookie into slices with a sharp serrated knife and use a sawing motion. I like to cut thick slices. You can cut thinner or to your preference.
Then, they are ready for the final bake. This is the "twice baked" part of the cookie that makes them special and unique.
You will do this process with both loaves.
Bake cookies again until golden brown. If you like the cookies a little more crunchy cook them longer.
I prefer them still slightly soft in the middle with a crunch on the exterior.
Pro Tips for the BEST Italian Biscotti Cookies
These are the most delicious biscotti! They are easy to make with these simple tips.
TIPS, TRICKS, & TECHNIQUES
Use room-temperature eggs and butter. This will help with a smooth dough and the cooking process.
Beat eggs and sugar until very fluffy and pale yellow. This is a step you don't want to skip. It will make the biscotti tender, fluffy, and the perfect consistency for baking again.
If the dough is too sticky to handle after the wet ingredients have been added, then too much moisture is in the dough (this could be because eggs vary in weight and size, or the brand of butter you use). Mix in a small amount of flour until the dough can be handled.
This dough is a blank canvas to flavor with different extracts or to add mix-ins.
The key to making biscotti that aren't so hard you feel like you might chip a tooth is to not bake them too long during the second bake. Pull them out of the oven when the outside feels toasted, but the cookie still has a bit of give when you press down on it.
Storing cookies in an airtight container for up to 1 month. The flavor gets better with time!
Are Italian Biscotti Cookies Supposed to be Hard?
By nature, these Italian biscotti cookies have a crunchy texture. The cookie is hard and crumbly, which makes it perfect for dunking in warm beverages like hot cocoa.
Try our Homemade Chocolate Syrup (hot or cold)
Variations to Canctucci Cookies
So many delicious variations to the classic Italian biscotti cookie.
I love it simple with sliced almonds, but pistachios, pine nuts, raisins or dried cranberries, and chocolate chips are all great mix-ins.
Add spices like cinnamon, nutmeg, or cardamom and even Italian fennel seeds are a classic variation.
This dough is a blank canvas to flavor with different extracts or to add mix-ins. Mini chocolate chips, chopped nuts, or dried fruit can all be added to this dough.
Optional add-ins you can even try mixing a couple:
pistachios
hazelnuts
anise seeds
dried cranberries
raisins
pine nuts
white or regular chocolate chips
chocolate chunks
dip them in melted white or regular chocolate
lemon or orange zest
See the recipe for exact amounts to add to the dough.
Dipping biscotti in melted chocolate
Biscotti are delicious plain.
You can add a little extra by dipping the bottoms in melted chocolate.
White chocolate also works here, as does sprinkling the chocolate with flaky sea salt, or chopped nuts.
Storaging Italian Amond Biscotti Cookies
These homemade biscotti have a long shelf life! They will last up to one month. This is what makes them so great. Store the cookies in an airtight container or tin box.
Gluten- Free Biscotti
One flour I recommend for this recipe is Bob's Red Mill 1:1 Gluten Free Flour. You can find it at most grocery stores or online. You use it cup for cup as you would the regular flour.
From my cucina to your table… Mangia! Mangia! (Eat!)
Made with Amore, Elena
Italian desserts you will also enjoy…
BEST Authentic Sicilian Cannoli Recipe
Simple Italian Apple Cake (one bowl)
Easy Almond Sponge Cake with Italian Cream
Vanilla Cake Roll with Cream and Berries
Easy Italian Pear Cake (Torta di Pere) Easy
Italian Crumble Cake Pastry Cream Filling
LEMON YOGURT LOAF CAKE (blueberries)
Biscotti or Cantucci make the perfect homemade gift for you friends and family any time of the year!
Print
Basic Italian Biscotti (Cantucci) Dough
Cantucci or Biscotti di Prato are crunchy almond cookies from Tuscany. Biscotti literally means twice (bis) cooked (cotti), the word "biscotti" is a generic term for cookies in Italian.Crunchy and sweet biscotti are a lovely treat to dunk into a warm drink. They are easy to make and keep well when stored in an airtight container. This is a basic biscotti dough that is ideal for adding any mix-ins you desire.
Total Time:

50 minutes

Yield:

24

servings

1

x
3

cups

all purpose flour

2 teaspoons

baking powder
pinch salt

4

eggs, room temperature

¾

cup

granulated sugar

½

cup

butter, room temperature

1 teaspoon

vanilla extract

1 teaspoon

almond extract
(optional add ins about ½ for each add in. If doing 2 flavors ¼ cup of each) : cranberries, pistachios, raisins, sliced almonds, chocolate chips, white chocolate chunks, 1 teaspoon for the: lemon zest or orange zest)
Instructions
Preheat oven to 350° F (180° C). Position rack in the center. Line a large 9X13 inch baking sheet lined with parchment paper. 
In a medium bowl, sift together flour, baking powder and salt. Set aside.
In a large bowl, or bowl of electric mixer fitted with whisk attachment beat the eggs on medium speed until light and frothy (about 2-3 minutes). Add the sugar gradually and whisk for another minute or so.
Add the butter and extracts. Whisk for another minute. Incorporate the flour mixture. If adding mix-ins add them and combine. Mix until combined. 
Divide dough in half. Flour hands and form dough into two slightly flattened logs on prepared baking sheets, each approximately 12 inches long and 2 inches wide.
 For the first bake, bake for 30-35 minutes or until slightly firm to the touch. Cool on a baking sheet for 5 minutes.
After the first bake, transfer to a cutting board and cut diagonally into ¾-inch slices. 
Second bake- Place cut slices flat down on parchment-lined baking sheets and bake for about another 5-8 minutes or longer, depending on your preference - the longer they stay in the oven, the crispier they get. Turn the slices over halfway through the second bake to ensure even toasting.
They can be stored at room temperature for a few weeks...if they last that long.
Author:

Elena Davis

Prep Time:

10 min

Cook Time:

45 minutes

Category:

Sweet

Method:

Italian

Cuisine:

Italian