Easy soft Italian No Knead Bread! This easiest recipe packed with extra nutrition- from the flax meal and steel cut oats.
This will easily become your go-to bread recipe that your entire family will love. There are A LOT of bread recipes out there...
This is a tried and true recipe that our family has made for decades. You can trust it and I promise you will love it.
Try more Italian style breads: Fast Italian No Knead Ciabatta Bread and No Knead Italian Focaccia Bread
Ingredients
Warm water (might need a little more)
Instant yeast
Steel cut oats
Ground golden flax meal
All purpose flour (or bread flour)
Salt
Instructions Step by Step with Photos
This Italian No Knead Bread is so easy to make! You mix everything a large bowl. Let it rise. Shape the dough. Let it rise again and bake!
Instructions for making the no knead bread dough
In a large mixing bowl dissolve the yeast into the warm water.
Add the steel cut oats and the flax meal and mix well (I use a fork to mix).
Add flour and salt to the mix and incorporate well.
Dough will be sticky and slightly wet. You may need to add a little more water if it seems dry.
Cover the bowl with saran-wrap and let it rise on kitchen counter for at least 8 hours- up to over night.
The dough will double in size. For best results make sure it is at least 75 degrees F.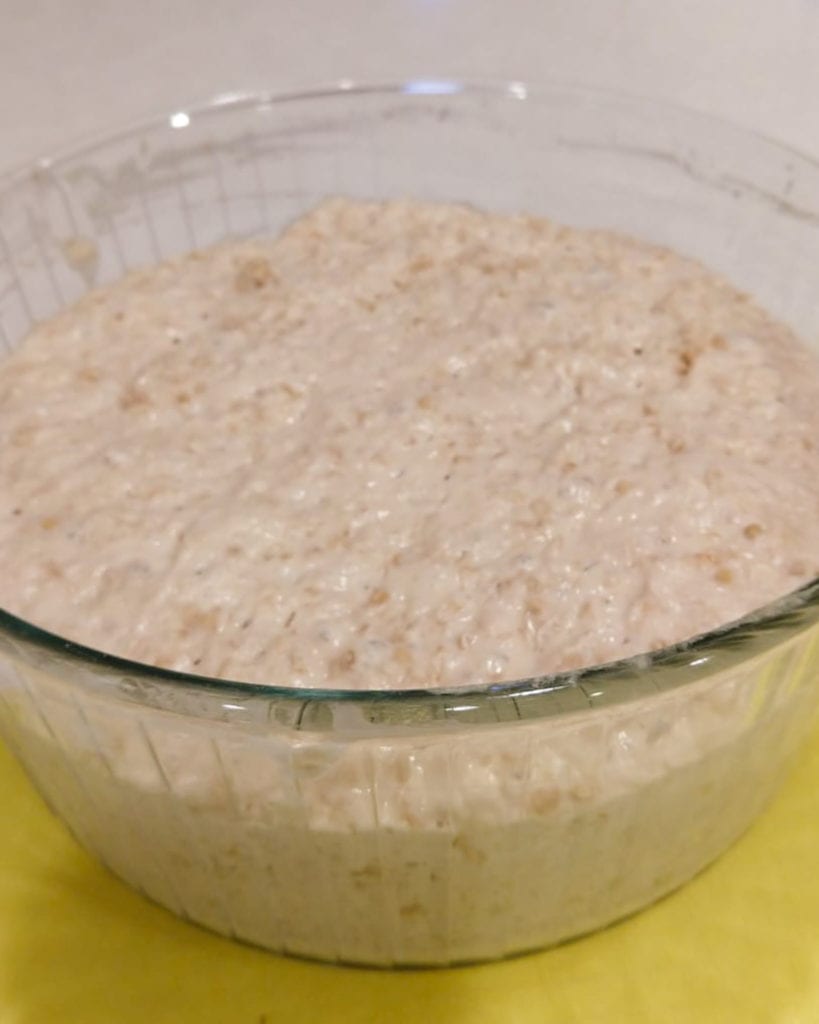 Instructions if you want to add mix-ins to the bread (optional)
Staple Bread Recipe
My mamma makes this bread every week. She usually makes two baguette loaves for Sunday dinner.
We walk into my parents home and the smell of homemade bread fills the air- instantly making our mouths water and feet run towards the kitchen.
Between the adults and the grandchildren the loaves are gobbled up in the same evening.
Using a Dutch Oven Pot
Using a dutch oven or heavy duty oven safe pot to bake this bread gives it a soft interior and perfectly crunchy exterior. When you bake bread in a covered dutch oven type pot it steams as it cooks.
This provides a chewy and perfectly baked loaf. I use a dutch oven to bake the baguette style loaf and solid round loaf.
The baguettes will bake slightly together. I actually love pulling the loaves apart after they are cooled. It reminds me of how we traditionally "break bread" in Italy.
Go big or go home DUTCH OVEN POT (this is the kind my mother and I use. My mom has had hers for 35 years. It is an amazing brand that will last you a lifetime!
This will do for now DUTCH OVEN POT (I actually have this kind as well that was gifted to me. It hold up fine and makes good bread- I do see quality difference from the other brand, but it does the job fine!)
What makes this bread special ...
Steel cut oats
Adding the steel cut oats adds extra fiber and also makes the bread softer as it absorbs the water without weighing down the bread.
Do NOT add regular oats or the bread will change in texture and remain very dense.
You don't actually taste the steel cut oats or even feel them when you eat the bread. They absorb into the dough leaving a moist and delicious texture.
It's the softest bread with the perfect exterior crunch.
Flax meal
Adding ground flax meal makes this bread a little more nutritious without adding the hearty flavor and density of a whole wheat flour.
The flax creates a beautiful crumb and perfect crust, plus the nutrition of flax is unbeatable!
It's another hidden ingredient that makes this bread unique and extra special while still creating the most lovable loaf.
Importance of weighing your ingredients!
A gram is always a gram, but a cup is not always a cup! The amount of flour and water is key to getting this bread recipe, or any baked good recipe, PERFECT!
Baking is a science and it requires all the precision you would expect when doing a chemical experiment.
Your ingredient measurements have to be precise to get the chemical reactions you need and to score that perfect, consistent result every time.
Weigh your ingredients! This will yield to a tender and perfectly hydrated bread. Here is a good and inexpensive scale if you don't have one.
Sure, baking with a scale may require a little extra care in the measuring department, but it is well worth it!
Practice makes perfect and think of all the yummy breads, cakes, and cookies that will come from your kitchen!
Optional Mix-Ins for this bread:
See step-by-step process below for how to add mix-ins.
Optional Toppings for this bread:
If you want to add toppings simple sprinkle the loaves with the topping after the second rise and just before putting in the oven
sesame seeds
pumpkin seeds
poppy seeds
Serving Suggestions
This bread is also delicious with butter and jam for breakfast, as a sandwich bread, or even a plain slice on the go!
Use this bread to soak up this delicious Classic Italian Tomato Sauce (Sugo al Pomodoro)
Who can resist the smell and taste of hot, chewy, tender bread with a perfect crunchy crust? Not me!
From my Cucina to your Table! Mangia! Mangia! (Eat!)
Made with Amore, Elena
More Delicious Recipes for YOU
Have you checked out my NEW CBE PRODUCTS? Take a look at the 2-in-1 cutting and charcuterie board, gorgeous apron, and unique pasta server that you that you absolutely need. The wood products are all handmade in Salt Lake City, Utah. They make great gifts as well!
This Soft Italian No Knead Bread will easily become your go-to bread recipe that your entire family will love.
Print
Easy Soft Italian No Knead Bread
The softest and most delicious homemade no-knead bread recipe. This bread has a few unique ingredients that separate it from hundreds of others. This will soon be your tried and true bread recipe! 
Total Time:

12 hrs 45 min

Yield:

12

servings

1

x
2 ¼

cups

(500 ml) of warm water (might need a little more)

¼ teaspoon

instant yeast

¼

cup

of steel cut oats

¼

cup

ground golden flax meal

4

cups

(500grams) all purpose flour (such as King Arthur brand)

1 ½

teaspoon of salt
Instructions
In a large mixing bowl dissolve the yeast into the warm water
Add the steel cut oats and the flax meal and mix well (I use a fork to mix)
Add flour and salt to the mix and incorporate well.
Dough will be sticky and slightly wet. You may need to add a little more water if it seems dry. 
Cover the bowl with saran-wrap and let it rise on kitchen counter for at least 8 hours- up to over night. The dough will double in size. For best results make sure it is at least 75 degrees F.
After first rise transfer the sticky dough in a floured surface and shape it into one large boule or into two baguette shaped logs. Transfer onto floured parchment paper. Sprinkle with additional flour on top. Cover with a kitchen towel. **If using mix-ins see NOTES.
Let rise again for 50-60 min (on the parchment paper covered with towel)  
With sharp knife score the dough with 2 longitudinal cuts for each baguette OR 2 scores on top of the large round boule
Pre-heat oven to 450 F. Meanwhile, place a 6-quart Dutch oven (or heavy cooking pot with oven-safe lid) in the oven as it preheats.
When oven is preheated to 450 F take out the dutch oven and place the baguettes or the large boule inside (with parchment paper). Place back in oven to bake for 33 min with lid ON. After 33 min check if the top of bread is golden brown. If you like darker brown take the lid off and cook an additional 6-10 min.
Put the bread on a cooling rack and let cool completely. Or, take a slice when still warm and enjoy  🙂
Notes
* Mix-Ins: If using mix ins 1) divide the dough in half  2) roll each dough on a floured surface into a rectangle. Sprinkle desired toppings evenly on the dough 3) fold the dough over on itself about four times (as pictured) 4) this will create two baguettes 4) continue to Step 7 in instructions
Author:

Elena Davis

Prep Time:

10 min

Cook Time:

35

Category:

Savory

Method:

Italian

Cuisine:

Italian/ French
Keywords: homemade bread, no-knead bread, bread, best bread, Italian antipasto, delicious bread