Authentic Spinach and Ricotta Lasagna with Tomato Sauce is an Italian classic you don't want to miss! Made with wholesome ingredients, this is a recipe the whole family will love.
If you prefer meat lasagna, try this recipe, Authentic Lasagna Bolognese with Bechamel Sauce.
More ricotta recipes to try: Italian Frittata Recipe with Peas and Ricotta, Easy Lemon Ricotta Pasta with Capers, and Baked Eggplant with Tomato Sauce and Ricotta.
If you love sweets with ricotta, try these- BEST Authentic Sicilian Cannoli Recipe and Sweet Ricotta Pie!
Other vegetable recipes you will love - Butternut Squash Casserole Recipe!
Why this recipe works
This fresh and flavorful lasagna will leave you feeling satisfied without weighing you down after enjoying it.
This spinach and ricotta lasagna is made of layers of noodles, sautéed spinach, homemade tomato sauce, and three different cheese varieties, all baked to golden brown perfection.
A delicious vegetarian main course option that's perfect for feeding a crowd. You can even make it ahead of time. 
It is an indulgent and healthy all-in-one recipe. This meatless lasagna will please everyone at the table.
Simple Ingredients
Only wholesome and fresh ingredients make the BEST Authentic Spinach and Ricotta Lasagna with Tomato Sauce! 
Lasagna pasta sheets (no boil or cook), or make your own- Authentic Homemade Pasta Recipe
Extra virgin olive oil
Spinach, cooked 
Whole milk ricotta
Egg
Ground nutmeg (optional) 
Mozzarella cheese 
Parmigiano
Basil leaves
Salt and freshly ground black pepper
See recipe card for quantities.  
HOW DO YOU MAKE SPINACH AND RICOTTA LASAGNA?
The process for making lasagna is simple. You can make the filling and sauce ahead of time and assemble them when you are ready to bake!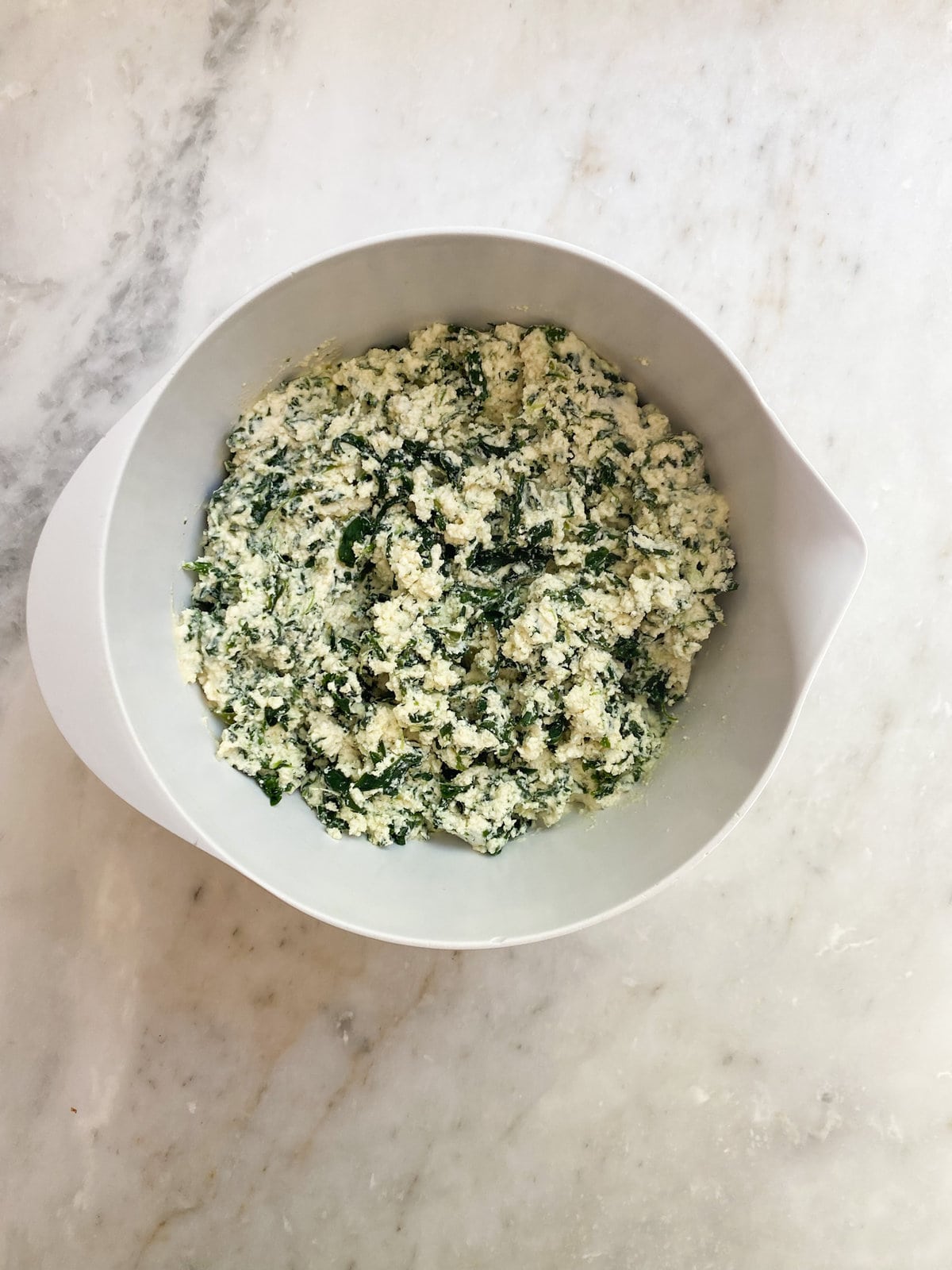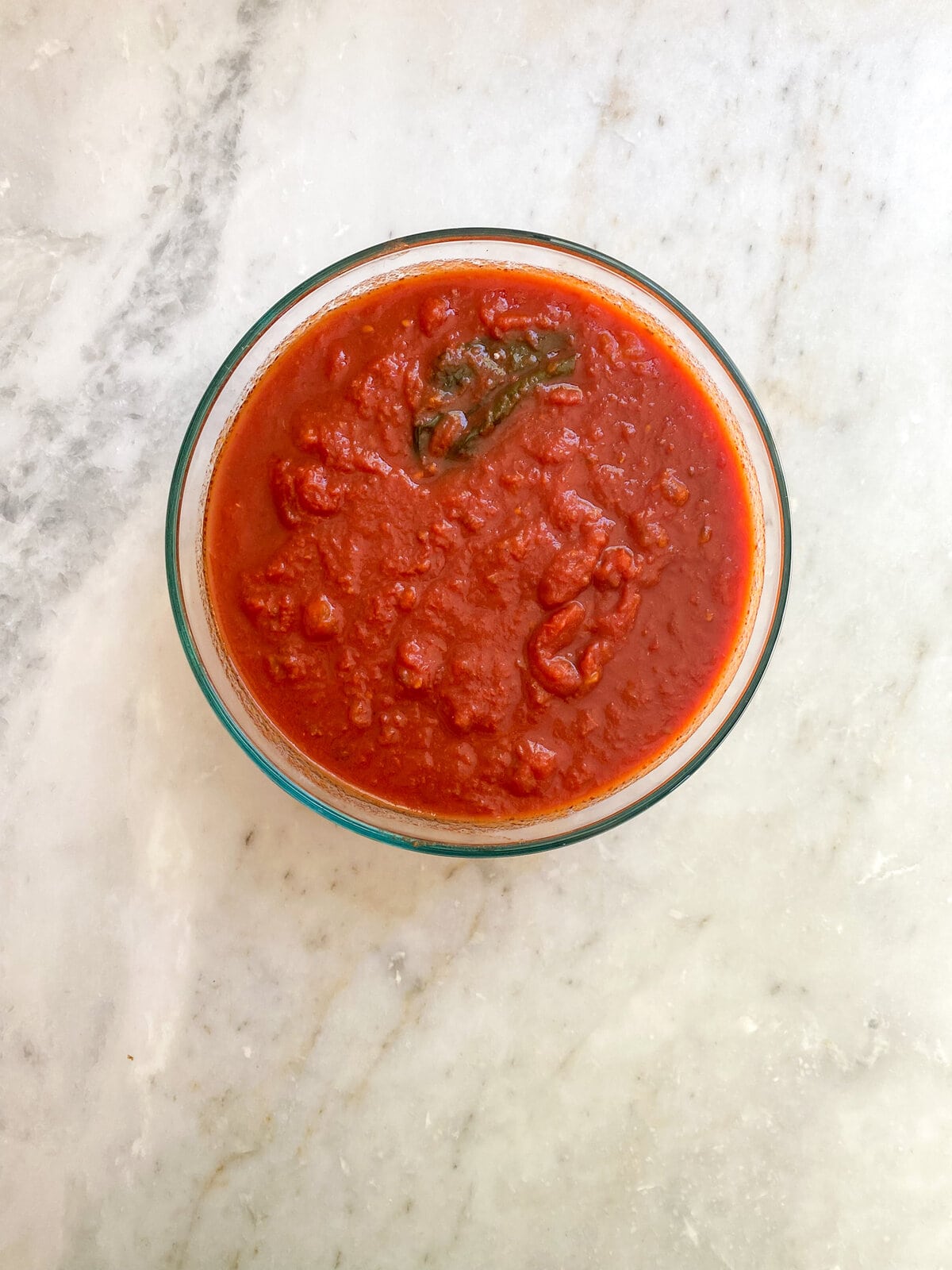 This dish starts with a spinach and ricotta filling, which is a mixture of cooked chopped spinach, ricotta, mozzarella, parmesan cheese, herbs, and spices. Then, a simple tomato sauce.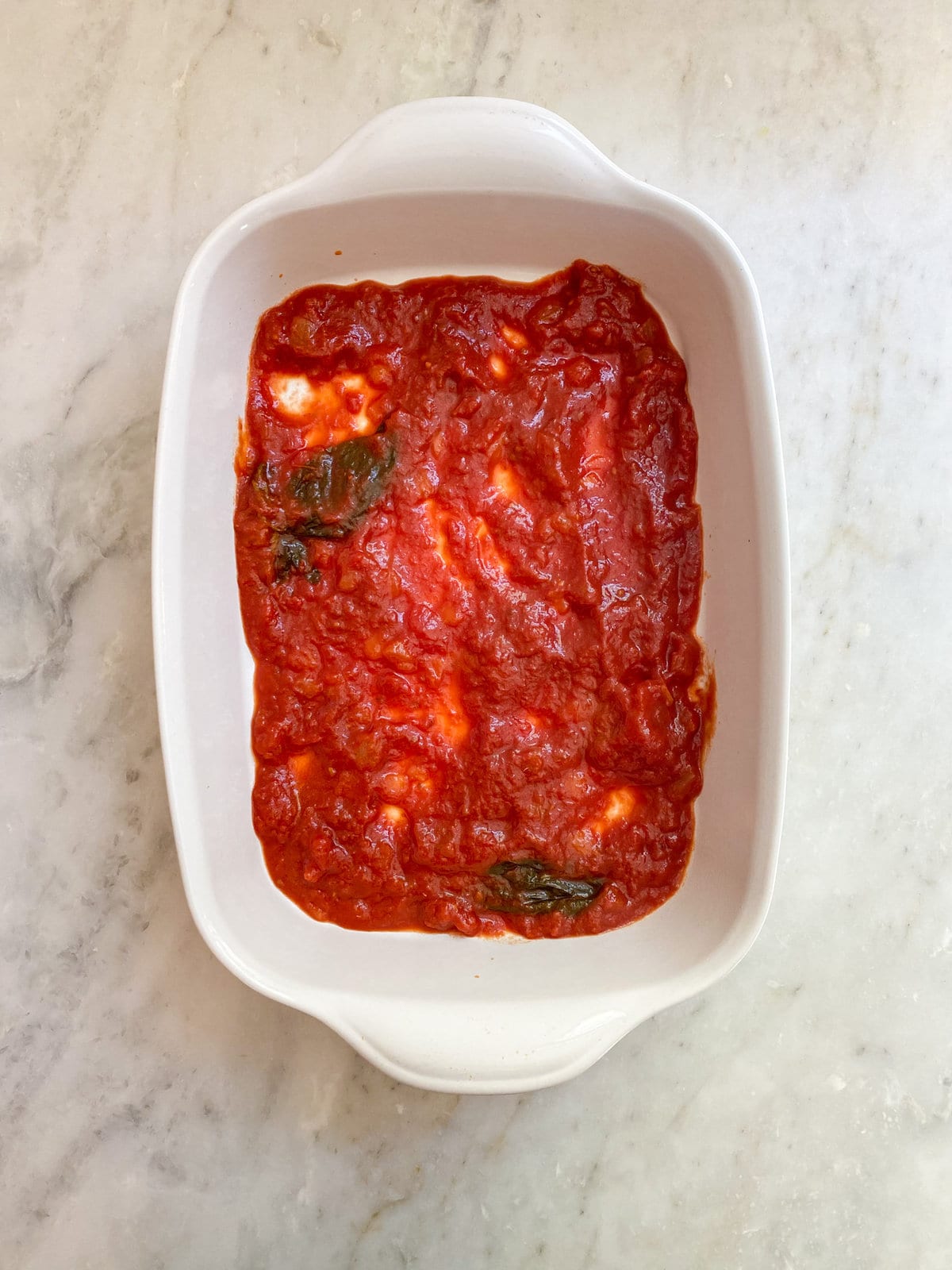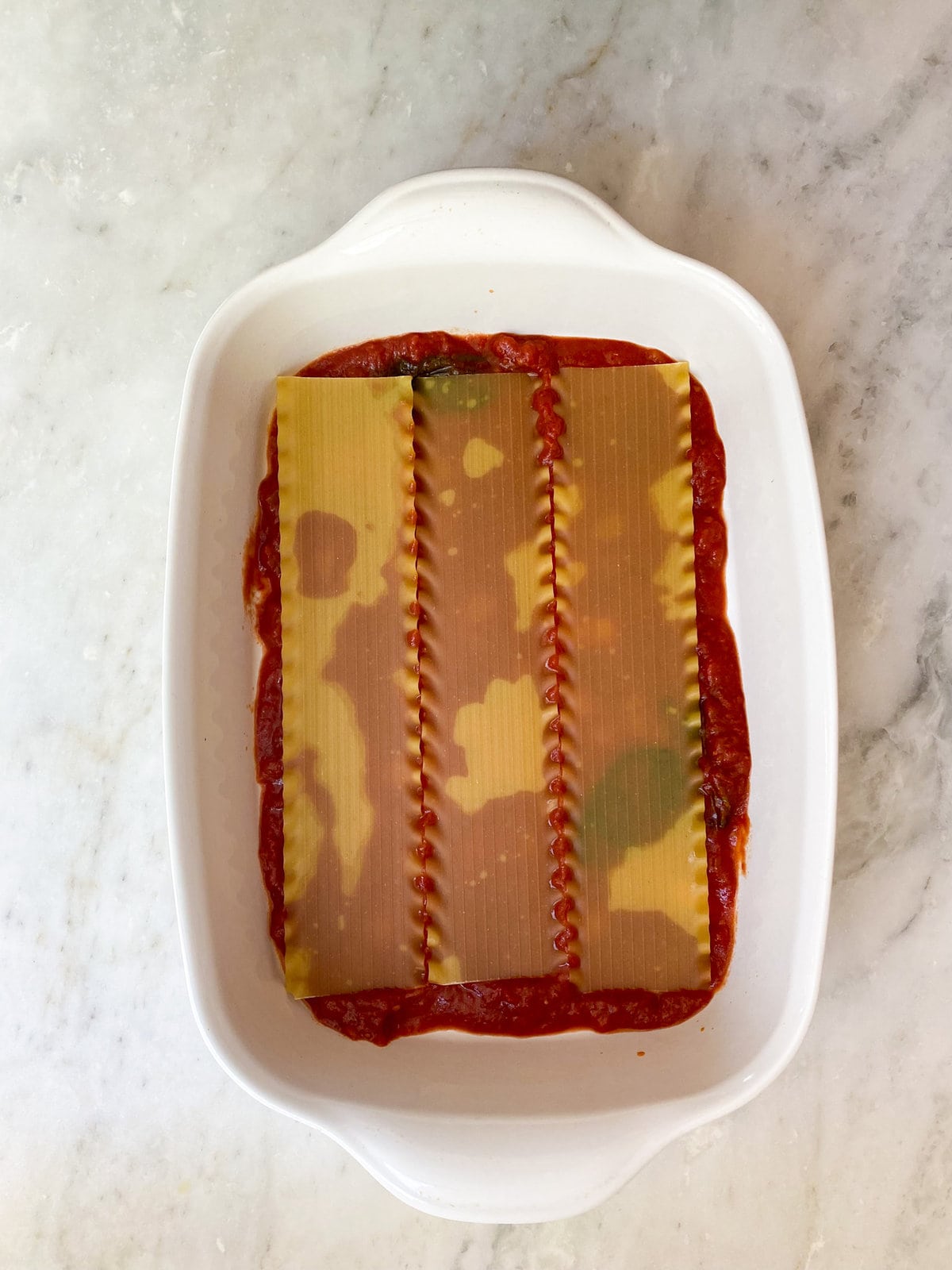 Start layering the lasagna by placing a bit of tomato sauce in the bottom of a baking pan.
Layer the cooked lasagna pasta (see this post if boiling the lasagna noodles) or no-boil pasta noodles (as seen in the photo) on top of the tomato sauce. Either no boil or boil yourself works for this recipe.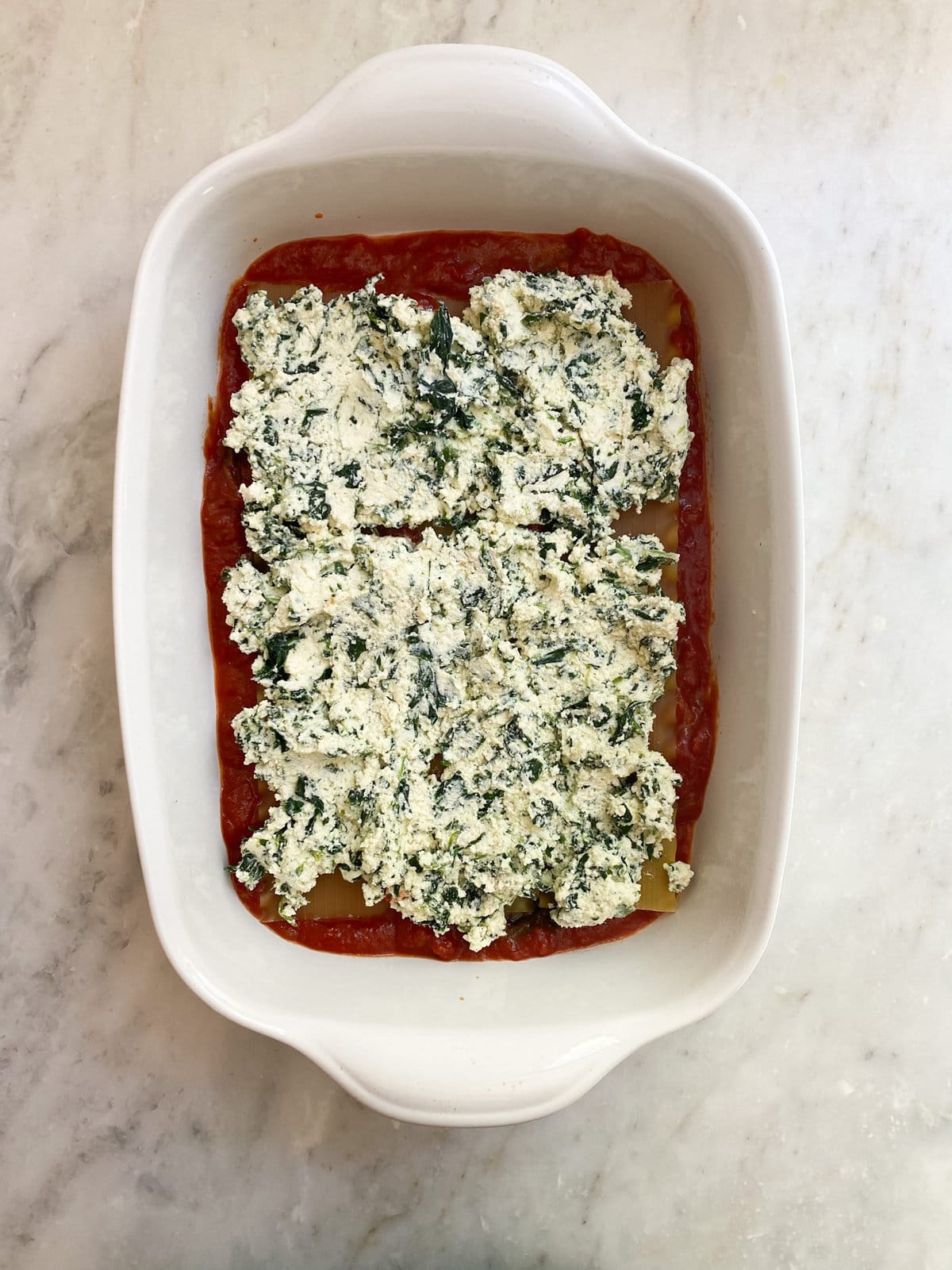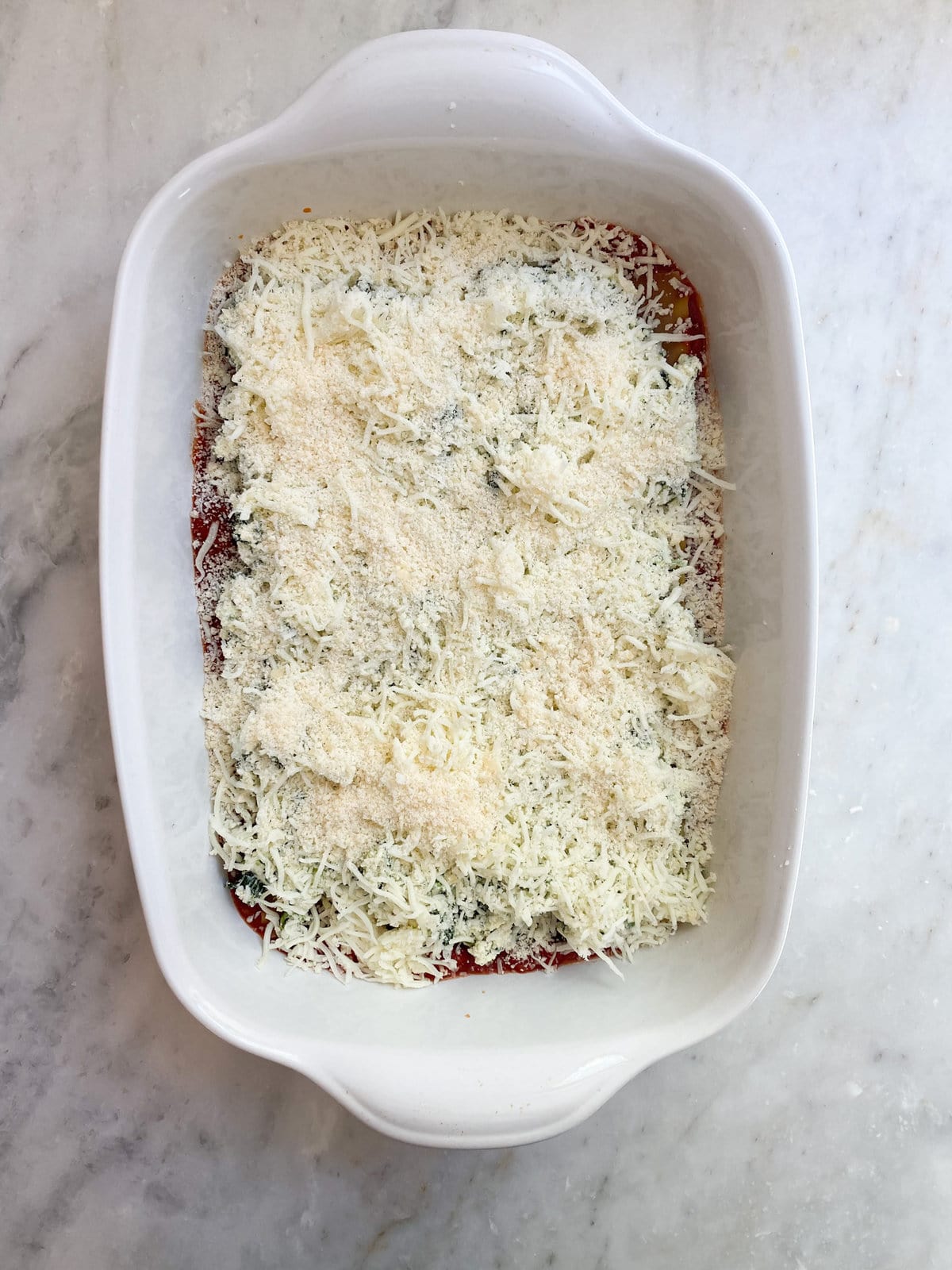 Add part of the spinach-ricotta mixture and then more of the tomato sauce.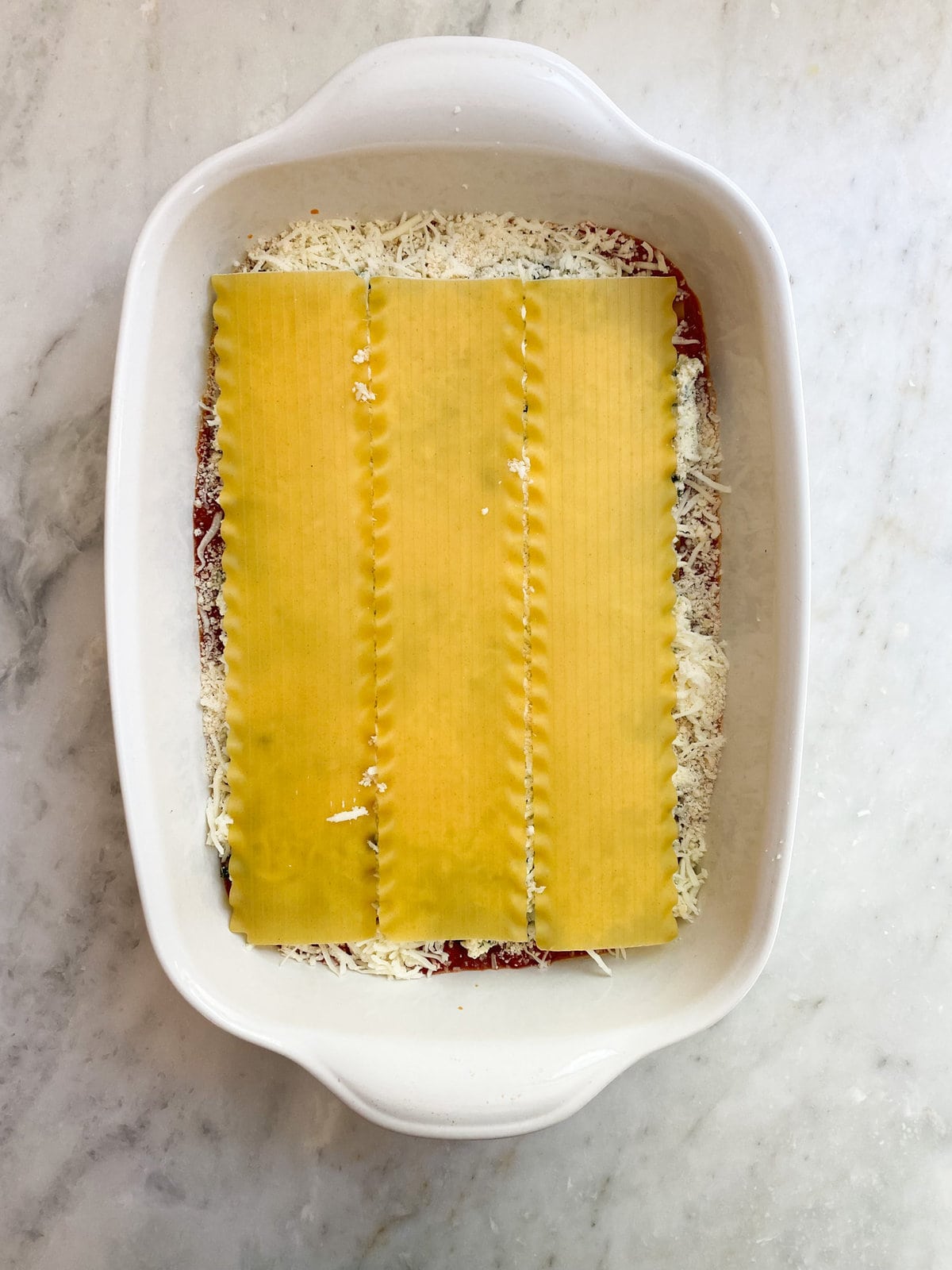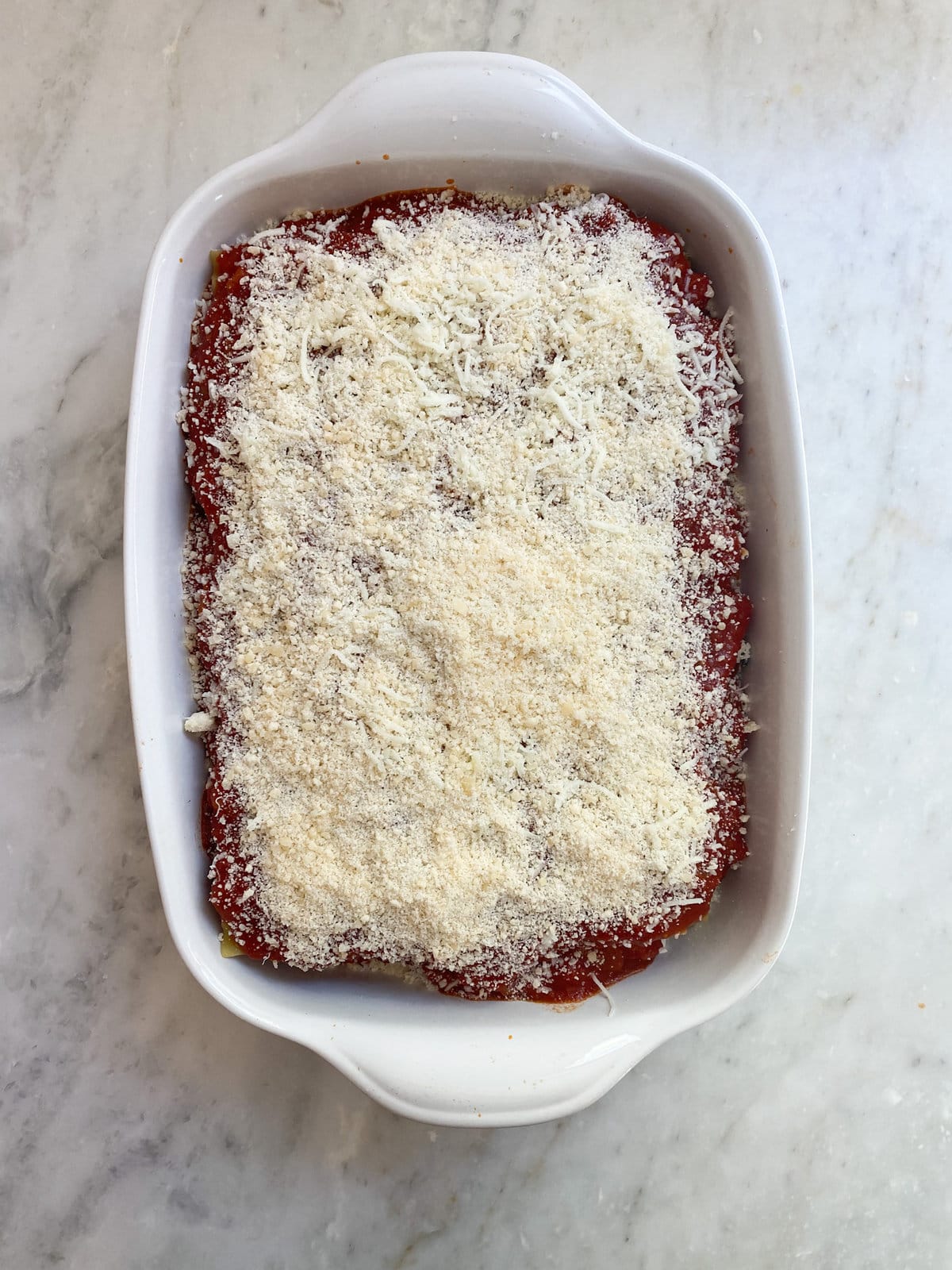 Repeat the layers until the pan is full, making sure that the red sauce is the top layer. Add more cheese and done! Ready to bake the lasagna until the cheese is melted and golden brown.
Once the dish is baked, let it cool a bit, cut into portions, and serve.
At this point, you can cover it with saran wrap and foil and freeze it for a rainy day when you need an oven-ready meal. It is also fabulous to take to a friend or neighbor who needs a meal.
Can I use frozen spinach in this recipe?
Yes, but make sure you squeeze out as much of the liquid as possible so the lasagna doesn't get watery or runny.
Can I use cottage cheese instead of ricotta?
Yes, you can substitute cottage cheese with a 1:1 ratio. Cottage cheese is slightly lighter while using ricotta the lasagna will be thicker and richer.
Why is my lasagna watery?
There are a few reasons your lasagna is watery. If you use frozen spinach, you may not have drained or squeezed as much of the liquid out as possible. Using wet noodles that were not drained properly is another probable cause.
Can I omit the egg?
Yes, but the lasagna may be a little more loose than you're used to but it will taste the same. You can omit altogether or use an egg substitute like cream with cornstarch.
Is this recipe authentic?
This recipe includes: Homemade sugo al pomodoro (tomato sauce), freshly grated cheeses, fresh ricotta cheese, earthy spinach, and a hint of spices. This recipe highlights simple fresh ingredients as traditional Italian recipes commonly do.
If you ever feel like you've ingested a brick bomb after eating a heavy lasagna I promise you won't feel that way after this light and fresh recipe. It is the true Italian way just like my Nonna used to make for us. 
Can I use canned sauce in this recipe?
The canned sauces are packed full of fat, salt, and sugar. That's why it's always better to make your own sauce. You'll eat a much healthier meal, you won't add all the salt, sugar, and fat, and you know exactly what you're eating. I make a big batch of our Sugo al Pomodoro (Classic Italian Tomato Sauce) and freeze it in portions to always have on hand. You can't beat the fresh taste!
Do you have to cook lasagna noodles?
For this recipe, you cook the lasagna noodles before building the lasagna. This creates a more authentic lasagna recipe. Cook the noodles in salted boiling water according to the directions on the package, then lay the cooked noodles on a flat surface so that they won't stick together. See this post on how to cook pasta perfectly every time. However, if you are in a pinch you can use no-boil pasta lasagna sheets. Here is what you need to do for that.
Can I use no-boil noodles in this recipe?
Using no-boil lasagna noodles decreases the prep time for homemade lasagna by at about 15 minutes total. If you use the no-boil variety you will need to add more liquid and cover the lasagna tightly until the end before you brown the cheesy top.
1. No-boil lasagna noodles are often thinner than regular lasagna noodles and are already partially cooked in a water bath before they were dried and packaged.
2. They don't require boiling, but they need additional liquid to reconstitute them during the baking process. Adding ¼ cup of water to the sauce adds the extra liquid needed for the noodles to cook without making the lasagna dry.
3. Lasagnas that contain no-boil noodles should be kept tightly covered with a lid or foil during baking so the steam can help cook the noodles. Take off the cover during the last 5-10 minutes to brown the cheese layer.
Tips for Making SPINACH and RICOTTA LASAGNA
I recommend using whole milk ricotta and mozzarella cheese for the best flavor. That being said. Yes, you can substitute for part-skim versions if you need. The cheese won't melt as nicely since low-fat cheese contains added stabilizers.
Use freshly shredded cheese, not a bag of pre-shredded cheese. The bagged shredded cheese from the grocery store often contains anti-caking agents and does not melt smoothly. Read more about you should shred your own cheese HERE.
If possible make your own red sauce (sugo al pomodoro). It takes 20 minutes and is worth the fresh and light flavor. I make mine in large batches and freeze them in containers. I can pull one out whenever I need it for a recipe.
Make sure to squeeze all the excess water out of the cooked spinach. This will prevent your lasagna from getting watery as it bakes.
You can use 2 boxes of frozen spinach instead of fresh spinach. If you use frozen spinach, make sure to squeeze the water out of the spinach after you thaw it to room temperature.
Storage & Reheating Instructions
You can freeze lasagna bolognese both uncooked and cooked, whole or in pieces. In both cases you will get an excellent result by following these tips:
Freezing Uncooked Lasagna
Simply assemble your lasagna in your oven-safe dish and cover it generously with plastic wrap.
When ready to eat the frozen lasagna defrost it the night before so that it thaws perfectly.
You can also pull straight from the freezer and add 30 minutes to the cooking time.
Freezing Cooked Lasagna
If you have any cooked lasagna that is leftover you can freeze it in portions by wrapping individual slices in plastic wrap and store in an airtight container. Make sure to let the lasagna cool before freezing.
When you want to reheat it, defrost the lasagna a few hours ahead of time and then reheat it in the oven at 400 degrees F for about 10 minutes.
TIP: When reheating lasagna in the oven cover the surface with aluminum foil to prevent it from cooking the top of the lasagna even more.
Making ahead of time:
This dish can be assembled up to 6 hours before you plan to bake it. Store it covered in the fridge until you're ready to bake and eat it.
You can store any leftover lasagna in the fridge for up to 3 days in an airtight container.
SPINACH LASAGNA VARIATIONS
This spinach lasagna is simply delicious as-is. It is our family recipe and we love it this way! You can add some of your favorite flavors to customize it to your tastes if you like. Here are options for you:
Meat: Add meat to the red sauce such as crumbled and cooked Italian sausage, cooked ground beef, or diced grilled chicken.
Veggies: Feel free to add other vegetables such as mushrooms, zucchini, bell peppers, or carrots.
Greens: You can substitute kale, escarole, or other cooked greens for spinach.
Cheese: Try adding some other cheeses such as fontina, provolone, or Pecorino Romano.
Serving Suggestions
Serve it with salad on a weeknight or alongside a platter of my signature polpette (Italian meatballs), or Italian Braciole Recipe (Stuffed Beef with Sauce) for Sunday dinner. Add some homemade bread, and you are all set! Or you can also check these Classic Italian Recipes for dinner!
Don't forget dessert: Creamy Frozen Lemon Bars with Graham Cracker Crust, Italian Fruit Salad, and Classic Italian Tiramisu Recipe (Authentic).
See this post for What to Serve with Lasagna (50 Best Side Dishes).
Made with Amore, Elena
From My Cucina to your Table- Mangia! Mangia! (Eat!)
More Delicious Recipes for YOU
BEST Authentic Sicilian Cannoli Recipe
BEST Neapolitan Pizza DOUGH RECIPE and GUIDE
Sautéed Zucchini and Onion (Italian Recipe)
Creamy Polenta with Polpette al Sugo (meatballs in tomato sauce)
Pasta Recipe- Asparagus Ricotta Lemon
SIMPLE Mashed Potatoes (dairy free) and Caramelized Onions
Classic Italian Ragu (Meat Sauce)
Shrimp and Broccoli Pasta in Cream Sauce
BEST Italian Beef Short Rib Ragu
THIS Authentic SPINACH AND RICOTTA Lasagna makes a great meal to take to a friend in need. Assemble it in a disposable tinfoil container and brighten someones day!
Make sure to leave a ⭐️star rating on the recipe card and comment below if you make the recipe. I love to connect with you through my recipes.
I would love for you to tag me on Instagram @cucinabyelena so I can see your delicious Italian recipes. To get more ideas, follow me on Pinterest.
Print
Spinach Lasagna Recipe
Saucy sugo al pomodoro, creamy cheesy, earthy spinach, and tasty basil lasagna! A mouthful of savory and delicious goodness. This recipe highlights simple fresh ingredients as traditional Italian recipes commonly do.
Total Time:

55 minutes

Yield:

6

1

x
12

to

16

dried lasagna pasta (also use no boil if desired)

3

to

4

cups

sugo al pomodoro

2 tablespoons

extra virgin olive oil

3

cups

(1 ½ pounds fresh) spinach, cooked (steamed or sautéed, liquid removed)

32 oz

(

2

LB) cups whole milk ricotta

1

egg

1 tsp

fresh ground nutmeg (optional)

1 ½

cups

coarsely grated mozzarella cheese (extra for top)

2

cups

grated Parmegiano (extra for top)

6

fresh basil leaves, torn with hands
Salt and freshly ground black pepper
Instructions
Heat the oven to 400 degrees.
Make a batch of the Sugo al Pomodoro (tomato sauce). Set aside.
Steam or saute spinach and remove liquid. Cool completely. Cut to create small pieces. 
Mix the ricotta, egg, parmigiano, nutmeg (if using) and basil in a large bowl until combined.  Once spinach is cooled, combine with ricotta mixture. 
Bring a large pot of salted water to a boil. (skip steps 5-6  if using no boil noodles)
Cook the noodles (6 at a time for dried pasta) until they are tender but still underdone (they will finish cooking as the lasagna bakes). Set aside in a bowl of cold water until ready to use. This will prevent pasta from sticking.  
Grease a 9X13 rectangular baking dish with the olive oil, add a large dollop of tomato sauce and spread it around the bottom of the pan. Put a layer of pasta (use 4-5 depending on size) in the dish (you may need to cut any excess to make them fit) top with a layer of tomato sauce, one-third of the spinach and ricotta mixture, and one-third of the grated mozzarella (use your fingers to spread it evenly). Season with salt and pepper if desired.
Repeat the layers three times. For the top, cover with extra cheese.
The lasagna may be made ahead to this point, wrapped tightly and refrigerated for up to a day or frozen. 
Bake until the lasagna is bubbling and the cheese is melted and lightly browned on top, about 35 minutes. Remove from the oven and let rest a few minutes before serving, or cool completely, cover well, and refrigerate for up to 3 days, or freeze.
Notes
This is a great freezer and make ahead recipe as well. You can freeze the entire pan of pre-baked and assembled lasagna for up to 3 weeks. When ready to use simple bake for an additional 30 min (until the center is fully cooked). 
Author:

Elena Davis

Prep Time:

20 minutes

Cook Time:

35 minutes

Category:

Savory

Method:

Italian

Cuisine:

Italian
Keywords: spinach and tasty basil lasagna, spinach lasagna, lasagna, spinach and ricotta lasagna
Make and Share with Amore (Love)! Mangia. Mangia (Eat!).