This quick and easy, 20 minute, Lemon Ricotta Pasta with Asparagus is simple, fresh, and tastes like spring! The creamy ricotta and pop of lemon with garnish of mint and basil leaves is delightful!
This is your next simple pasta recipe! It is a delicious meal for weeknight dinners and more.
Love asparagus? Try Easy Lemony Asparagus and Potato Salad Recipe, Asparagus Risotto Vegetarian (Recipe Video), and Easy Lemon Ricotta Pasta with Capers. Try this Sweet Ricotta Pie!
This recipe makes a wonderful creamy sauce. If you want a tomato sauce make these: Italian Pink Sauce Pasta Recipe (Tomato Cream) or Classic Italian Tomato Sauce (Sugo al Pomodoro).
Why I love this recipe
The chunks of soft fresh ricotta are stirred at the end, so it doesn't melt, and you are left with gooey cheesy pockets.
The bite of asparagus and taste of zesty lemon with a hint of mint and basil leave your palate guessing for more. It creates the most delicious flavor combo.
Don't waste time and make this meal while all the asparagus is on sale this time of year! It is one of my favorite dishes to serve for for my family.
Jump to:
Ingredients
All you need is a handful of fresh ingredients for this easy creamy lemon ricotta pasta.
Garlic cloves
Asparagus
Short pasta of choice
Olive oil
Ground black pepper
Lemon zest (no lemon juice in this recipe!)
Fresh Mint
Fresh Basil
Ricotta Cheese
Parmigiano cheese or parmesan cheese
Salt for pasta water
Ricotta Cheese
Notes on ricotta: use a high quality whole milk ricotta cheese (fresh ricotta) for this recipe. Check the ingredients label—it should contain nothing but milk, salt, and an acid or starter enzyme. Avoid any brand that uses gums or stabilizers.
Step by Step Instructions with video
This recipe comes together quickly with minimal effort.
Mix parmigiano cheese with zest of one lemon in a small bowl- set aside.
Start by boiling a large pot of water. Add garlic cloves to boiling water. Let boil 3 minutes. Add the cut asparagus to the boiling water and garlic.
Add the pasta to the boiling water, garlic, and asparagus. Cook pasta according to package instructions - al dente. Reserve one cup of pasta water before straining. Follow this guide for making the PERFECT PASTA AT HOME! Use out handmade pasta utensil for stirring pasta.
Strain the pasta, garlic and asparagus.
Quickly add them back to the empty pot with ½ cup of the starchy pasta water, cheese mixture of grated parmigiano and lemon zest mixture, olive oil, salt and freshly ground black pepper. Cook on medium heat for one minute (not more!), tossing constantly. Add a splash more cooking water if pasta looks too dry.
Turn heat off, dollop ricotta all over in large spoonfuls and, without stirring, tip pasta mixture into a wide serving bowl.
Drizzle pasta with a small amount of olive oil, fresh ground black pepper, then squeeze lemon juice over the whole dish, sprinkle with mint and basil and finish with an extra sprinkling of parmigiano. Gently toss right before serving
Pro Tips
Use high quality whole milk ricotta cheese
Wait to add the ricotta until the end
Make sure to reserve enough pasta water to create the sauce
Freshly grate the parmigiano and the lemon zest. Use a MICROPLANE for best results.
Variations
Instead of asparagus you can seasonally change the vegetable to:
Sweet petite peas
Broccoli
Zucchini
Fresh spinach
Artichoke hearts
Spice it up a bit by adding red pepper flakes or spicy red peppers
If you are looking to add some protein try serving these recipes with the pasta:
Lemon Zest not Lemon Juice
Lemon zest is the flavorful, colorful portion of the rind of any citrus fruit. Scratch a lemon with your fingernail and you'll smell an intensely citrusy aroma.
That's because the fruit's essential oils reside in its rind. Zesting is one of the best ways to harness all of that flavor.
This dish is full of bright lemon taste without even using any juice. If you want more of a zing- feel free to add a squeeze of lemon at the end.
Here is my favorite tool for zesting lemon: MIRCROPLANE (I do not recommend knock off versions of this brand).
I use this same zester for adding the final touch of fresh parmigiano to my pasta dishes. For more on why I grate my own cheese and the tools I use see this POST:Why you should grate your own cheese.
Pasta Variety
A small pasta shape variety such as the campanelle, rotini, or farfalle (bowties) work well for this dish. I prefer a short pasta over long pasta for this dish. This allows you to get a little asparagus, pasta, and ricotta cheese all in one BITE.
Generally, I like to pick a quality pasta that complements the other ingredients in the dish- read more about this concept Pasta Quality Matters: Cheap vs. Expensive Pasta.
Tips for Storing Asparagus
When you bring home from the store simple cut 1-2 inches off the bottom and place in a small bowl of fresh water.
Cover the tops with plastic baggies and they will stay fresh for over a week. No drying out or going limp in the fridge drawer.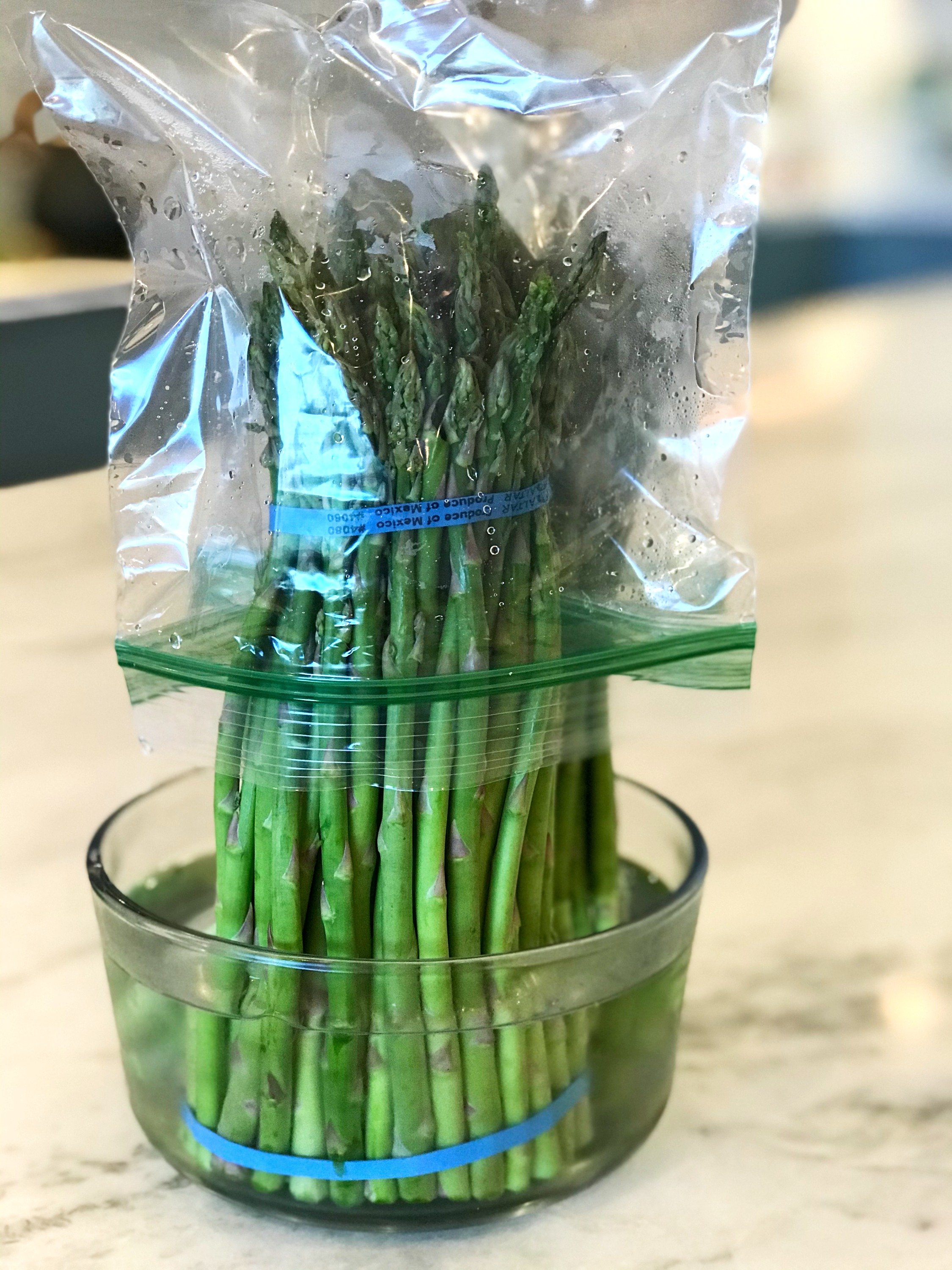 Storing Pasta Leftovers
This Easy Lemon Ricotta Pasta with Asparagus meal makes great leftovers! Simply store in an airtight container and pop in the fridge. Best if eaten within a couple of days. Not recommend for freezing.
Can I make this Ahead of Time
Absolutely! You can make it and store in the fridge until ready to serve. You can reheat it, or serve it as cold pasta salad. If you are making it ahead of time- wait to add the ricotta cheese.
More pasta salad recipes: Easy Italian Tortellini Pasta Salad, Easy Italian Style Pasta Salad with Arugula, and Greek Style Pasta Salad.

More Delicious Recipes for YOU:
Ravioli Piccata with Mushroom Asparagus (Easy)
Creamy Shrimp and Broccoli Pasta
Orzo Pasta with Shrimp, Sun-dried Tomatoes, and Artichokes
Cheese and Broccoli Pasta Bake with White Sauce
Have you checked out my NEW CBE PRODUCTS? Take a look at the 2-in-1 cutting and charcuterie board, gorgeous apron, and unique pasta server that you that you absolutely need. The wood products are all handmade in Salt Lake City, Utah. They make great gifts as well!
This Easy Lemon Ricotta Pasta with Asparagus is a meal you will come back to time and time again!
Make sure to leave a star review below!
Make sure to tag me on Instagram @cucinabyelena. I hope you loved it! To get more ideas follow me on Pinterest.
Print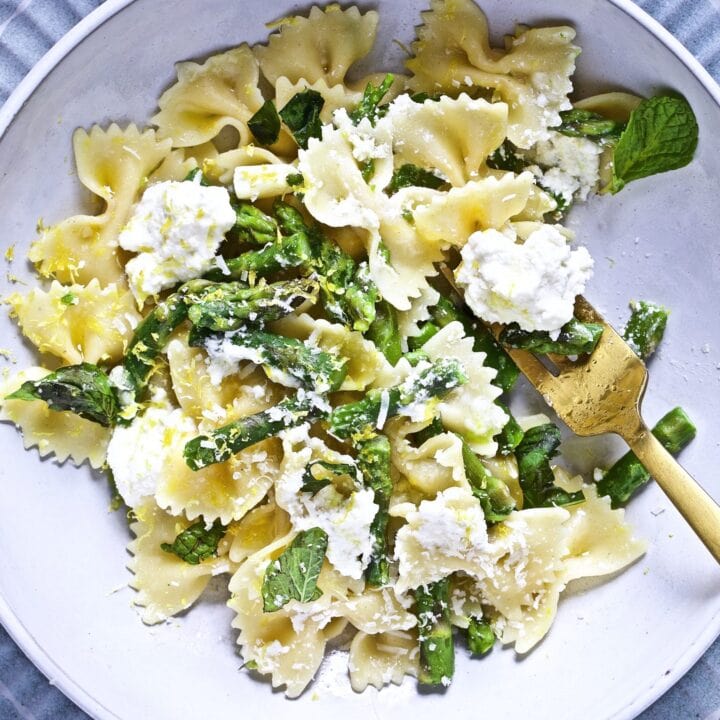 Easy Lemon Ricotta Pasta with Asparagus
Author:

Elena

Prep Time:

10 min

Cook Time:

10 min

Total Time:

20 minutes

Yield:

6

servings

1

x

Category:

Savory

Method:

Italian

Cuisine:

Italian
---
Description
This EASY, 20 minute, lemon, ricotta pasta with asparagus is simple, fresh, and tastes like spring! The creamy cheese and pop of lemon is just what my heart desires this time of year. The best part? You only need one pot to make it!
---
2

cloves garlic, cut in quarters

1

pound

asparagus (cut into pieces and stems removed)

1

pound

campanelle or farfalle pasta (or other desired pasta)

½

cup

(about 1 ounce) finely grated parmigiano (parmesan cheese)

⅓

cup

olive oil
Ground black pepper
Zest of

1

lemon, plus more to taste

8

leaves of fresh mint and (torn with hands to prevent them from getting brown- metal knives are harsh on fresh leaves)

8

leaves of fresh basil (torn with hands to prevent them from getting brown)
**If you using dried herbs use 1 tablespoon of each since herbs are more potent when dried

1

cup

whole milk ricotta cheese
Salt for pasta water
---
Instructions
Mix parmigiano cheese with zest of one lemon in a small bowl- set aside.
Bring a large pot of salted water to boil. Add garlic to boiling water. Let boil 3 minutes. Add the cut asparagus to the boiling water and garlic. Add the pasta to the boiling water, garlic, and asparagus. Cook pasta according to package instructions- al dente. Reserve 1 cup pasta cooking water before straining.
Strain the pasta, garlic and asparagus.
Quickly add them back to the empty pot with ½ cup pasta cooking water, grated parmigiano and lemon zest mixture, olive oil, salt and freshly ground black pepper. Cook on medium heat for one minute (not more!), tossing constantly. Add a splash more cooking water if pasta looks too dry.
Turn heat off, dollop ricotta all over in large spoonfuls and, without stirring, tip pasta mixture into a wide serving bowl.
Drizzle pasta with a small amount of olive oil, fresh ground black pepper, then squeeze lemon juice over the whole dish, sprinkle with mint and basil and finish with an extra sprinkling of parmigiano. Gently toss right before serving
---