The BEST Breaded Chicken Cutlets Italian style! Breaded chicken breast that remains tender and juicy with a crispy exterior. Easy recipe ready in under 30 minutes!
Served with a squeeze of lemon and a simple salad or delicious pasta to create the perfect meal. This a great dish you will make any night of the week! Add this to your weekly rotation ASAP.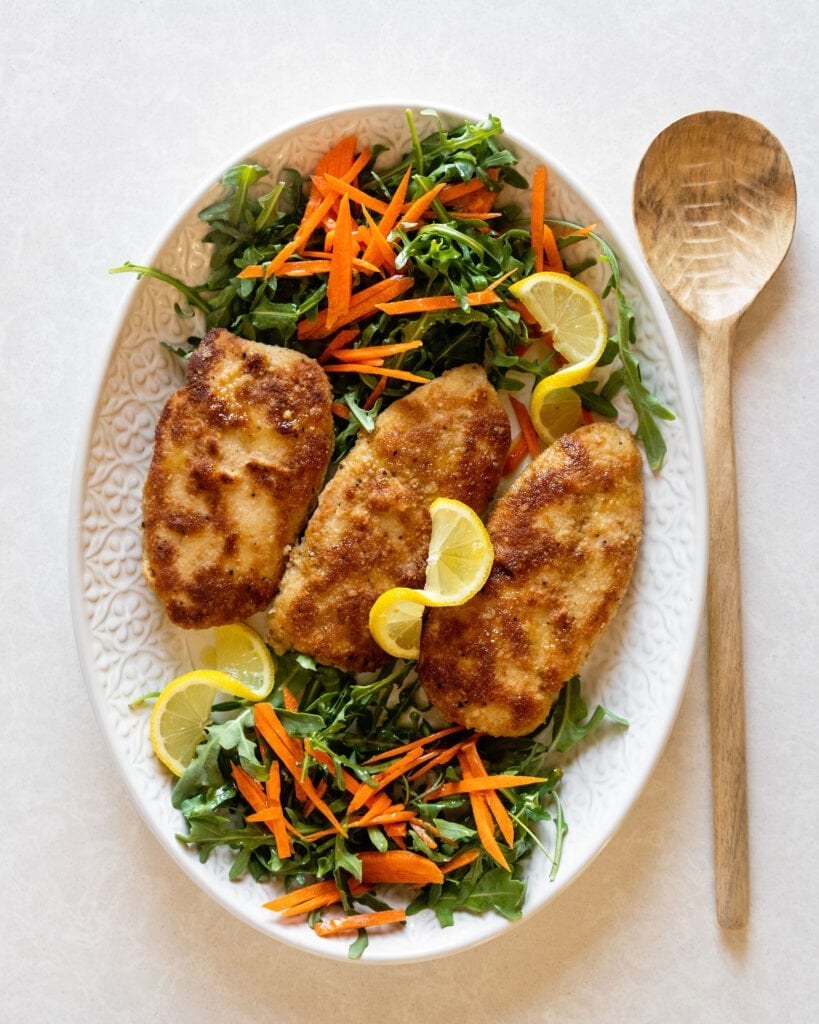 BEST Breaded Chicken Cutlets (Italian)
This recipe doesn't require any pounding or cutting of the chicken breasts. We like them thick in our family. If you prefer, cut them lengthwise and pound them with a meat mallet to achieve a thinner chicken cutlet.
A chicken dinner that brings everyone to the table! If you love easy chicken recipes, try these: Tastiest Sage Garlic Honey Lemon Grilled Chicken, Chicken Skillet Creamy Chive Mascarpone Sauce, Baked Whole Chicken, or Stuffed Chicken Thighs (Involtini di Pollo).
Jump to:
Simple Ingredients
Boneless skinless chicken breasts
Extra virgin olive oil
Butter
Eggs
Flour + Cornstarch
Plain breadcrumbs
Salt and Pepper to taste
Lemon wedges for serving
An easy recipe loved by kids and grown-ups, Italian breaded chicken cutlets are crispy on the outside, tender and juicy on the inside, and ready in under 30 minutes!
What oil is best for Italian chicken cutlets?
I prefer to use olive oil to fry chicken cutlets. However, sunflower or grape-seed oil are good alternative.
Equipment
I like to use a heavy pan for this recipe. Pans I recommend (I own both):
Instructions with Tips
Pat whole chicken breasts dry with a paper towel. Make sure the chicken pieces are dry before starting!
Coat chicken breasts with flour or cornstarch and shake off any excess breading mixture.
Dip chicken breasts in beaten egg mixture
Coat chicken breasts with bread crumbs
Don't overcrowd the pan when frying the chicken breasts
Cook low and slow to get juicy tender chicken on the interior
Use olive oil and butter to fry the chicken to achieve the perfect crispy golden brown crust
Why Does the Coating Fall off My Pan Fried Chicken?
Sometimes the coating falls off the fried chicken because the wet egg prohibits the binding function that the bread crumbs and egg coating add to the chicken.
After breading the chicken, lay it on a baking sheet in a single layer and let it sit uncovered (do not wrap) at room temperature for 30 minutes.
Do not refrigerate. This is a step I often skip if I am in a hurry, and I generally don't have a problem with it sticking. If you encounter this problem, you can try this method!
Why you will love this recipe
This is a recipe I grew up eating in Italy and in America. I remember my Nonna Laura bringing out large platters of these pan-fried breaded chicken breasts to the table.
This recipe has true and simple Italian flavors.
She always served them with lemon, a green salad, and lots of BREAD spread across the table in true Italian fashion.
One by one, they would disappear as hands reached across the table to stab a piece with a fork and carry it to their plate.
I love mine with extra lemon and a sprinkle of sea salt. The taste is satisfying and filling.
My family's Italian Chicken Cutlets are the best! I'm giving up all our secrets, so you can make breaded chicken cutlets that are juicy, tender, and delicious.
What to Serve with Chicken Cutlets
Make these breaded chicken cutlets for a quick weeknight meal, or serve on a busy weekend. Serve it with cooked rice, spaghetti with tomato sauce, Italian roasted potatoes, ratatouille, delicious salad, or pesto pasta for a well-balanced meal.
Don't forget dessert! Simple Italian Apple Cake (one bowl), Italian Cream Crumb Cake (sbriciolata alla crema), or BEST Authentic Sicilian Cannoli Recipe.
Variations for BEST Breaded Chicken Cutlets (Italian)
This is a very simple chicken cutlet recipe. If you want more favors on the chicken, try these variations:
Parmigiano or Parmesan Cheese or Italian Seasoning- add a couple of tablespoons of cheese or 1 teaspoon of herbs to the breadcrumb mixture.
Fresh Herbs- sprinkle some on top for garnish.
Chicken parmigiana- smother the cutlets in tomato pasta sauce and top with mozzarella cheese.
Panko breadcrumbs, make your own breadcrumbs or use Ritz Crackers- for a different texture on the breadcrumb mixture.
Gluten-Free Option
If you are looking to make these gluten-free you may swap out the flour and bread crumbs with a gluten-free variety. The recipe will work just as well!
Mangia! Mangia! (Eat!)
I hope you share this classic Italian recipe with your family and friends soon!
Made with Amore, Elena
FAQ's Cooking Breaded Chicken Cutlets in Air Fryer and Oven
How to make breaded chicken cutlets in the air-fryer
For a traditional air fryer- lay the prepared breaded cutlets in the preheated air fryer basket, and then spray the tops with olive oil spray on both sides. Air fry at 400 degrees for 10-15 minutes (depending on thickness), or until chicken is cooked throughout.
Tips: Don't overcrowd the basket. Flip them half way through cooking time. Generously spray with olive oil cooking spray. Make sure to pre-heat the air fryer. Enjoy!
How to make chicken cutlets in an oven air fryer
For an air-fryer setting in the oven- preheat air fryer to 400 degrees. Place the prepared breaded chicken cutlets on a baking sheet lined with parchment paper. Generously spray both sides with olive oil cooking spray or drizzle with olive oil or melted butter.
Bake for 10-15 minutes (depending on thickness), or until chicken is cooked throughout. Flip the cutlets in the middle of cooking to get a nice crust on both sides.
How to make breaded chicken cutlets in the oven
Perhaps you want a light version of chicken cutlets? To bake the cutlets follow the breading instructions in the recipe. Preheat oven to 375 F. Then, lay them on a prepared baking sheet lined with parchment paper, drizzle with olive oil (or spray evenly with cooking spray).
Bake at 375 F for about 20-30 minutes (depending on thickness), or until chicken is cooked throughout. Flip the cutlets in the middle of cooking to get a nice crust on both sides.
What temperature should I cook my chicken cutlets?
For an exact temperature- 165 F. An easy way to know chicken is done is to cook until it reaches an internal temperature of 165F when you check with a digital food thermometer. The middle of the chicken will be firm to the touch and not sink in as you press down. The safest measurement is to check the internal temperature.
How Do You Store Breaded Chicken Cutlets?
Cover loosely with plastic wrap; freeze 3 to 4 hours or until frozen solid. Wrap each breast in plastic wrap, and store together in a 2-quart freezer bag up to 1 month.
To bake, Heat oven to 450°F. Place the desired number of frozen breaded chicken breasts in 1 layer on a cookie sheet.
More Delicious Recipes for YOU...
Angel Hair Pasta with Garlic and Herbs
Cheese and Broccoli Pasta Bake with White Sauce
Roasted Rack of Lamb Pistachio Crust
Baked Ham and Cheese Pasta (with White Sauce
Easy Lemon Ricotta Pasta with Asparagus
Easy Baked Honey Orange Sesame Salmon
Italian Chicken Cutlets are a delicious and easy meal our family enjoys regularly. We know you will love them too!
Make sure to leave a ⭐️star rating on the recipe card and comment below if you make the recipe. I love to connect with you through my recipes.
I would love for you to tag me on Instagram @cucinabyelena so I can see your delicious Italian recipes. To get more ideas, follow me on Pinterest.
Print
BEST Breaded Chicken Cutlets (Italian)
EASY AND DELICIOUS pan fried chicken recipe. Italian style breaded chicken breast that remains tender and juicy with a crispy exterior. A recipe you will make again and again! Serve with a salad and it's a perfect meal. 
4

boneless skinless chicken breasts (about

5

-

7

oz each breast)

1 tablespoon

olive oil

1 tablespoon

butter

2

eggs, very well beaten

½

cup

all purpose flour + 1 tablespoon cornstarch

½

cup

breadcrumbs
Salt and Pepper to taste

1

lemon cut in slices for garnish
Instructions
 In three separate shallow bowls place the beaten eggs, flour and cornstarch, and bread crumbs. Dry the chicken and season with salt and pepper.
Dip the chicken in the flour and set aside on a separate plate.
Then, one by one, dip the chicken breasts in the egg and lastly, the bread crumbs. If you want a thicker coating you may repeat the egg and bread crumb mixture again. This will give a thicker crust. OPTIONAL: Before cooking let chicken sit for 30 minutes, on a plate, to dry and let crust mixture harden a bit.  
 Heat large skillet (make sure the skillet is large enough to fit the four chicken breasts without them overlapping) on medium high heat. Add olive oil and butter.
Brown chicken for 4-5 minutes on each side. DO NOT turn or touch the chicken in between turning. after browned on both sides turn heat to medium- low.
Cook an addition 5 minutes until the chicken is cooked all the way through reaching an internal temperature of 160 degrees F. Take of heat and let it rest for 10 minutes before serving.
The internal temperature will then rise an extra 5 degrees F reaching a final temp of 165 degrees F. 
 Enjoy with a squeeze of lemon and an extra sprinkle of kosher salt and fresh ground pepper if desired. 
Notes
This recipe can easily be doubled or tripled! 
Author:

Elena Davis

Prep Time:

10 min

Cook Time:

20 min

Category:

Savory

Method:

Italian

Cuisine:

Italian
Keywords: chicken, chicken dinner, salad, easy dinner, fried chicken, pan fried chicken, skillet chicken, dinner tonight, main meal, chicken recipe