What to Serve with Lasagna (50 Best Side Dishes) -There's a reason lasagna is so good. It's because it's rich, full of pasta and cheese, and calls for fresh ingredients, just like our Authentic Spinach and Ricotta Lasagna with Tomato Sauce or Classic Italian Lasagna Bolognese with Bechamel Sauce.
If you want to make your lasagna meal even better, serve it with some great side dishes. Here are loads of delicious ideas for you.
If you're a lasagna lover and also want to impact the community, check out this hearty Sunday Story: Lasagna Love where I introduced a non-profit organization that you might be interested in.
Lasagna is one of those dishes that you can prepare for a variety of occasions. To make the perfect side dish for your favorite lasagna recipe, we put together 50 unexpected and tasty recipes that will add flavor and texture to any meal.
Lasagna vs. Lasagna Bolognese
You're already well aware that authentic lasagna is not so much a type of noodle that comes with a side of marinara sauce, but more like layers and layers of pasta within a rich and tender filling and homemade tomato sauce.
Another thing to note is that Lasagna and Lasagna Bolognese are not the same. The first one uses ricotta layered with mozzarella cheese while the latter uses bechamel sauce.
And now that you know the difference between the two, it's time to find out the best side dishes to pair with either of the two.
Jump to:
What to Serve with Lasagna (50 Best Side Dishes) to Complete your Italian Meal Experience
Your Italian meal is incomplete without a side dish or two. Especially if you want to savor and enjoy your lasagna dinner. These are the perfect side dishes to serve with lasagna.
Don't forget to save the list of 50 best side dishes below that will best compliment your favorite lasagna meal, from vegetarian lasagna to lasagna bolognese.
Appetizers to Serve with your Homemade Lasagna
Looking for an easy, delicious way to kick off a lasagna dinner? These are some favorite appetizers that go great with this Italian favorite!
1- Best Baked Artichoke Spinach Dip (no mayo) - Hearty, cheesy, and loaded with artichoke goodness, this Spinach Artichoke Dip is perfect for parties or any gathering. It's perfect served with meat lasagna.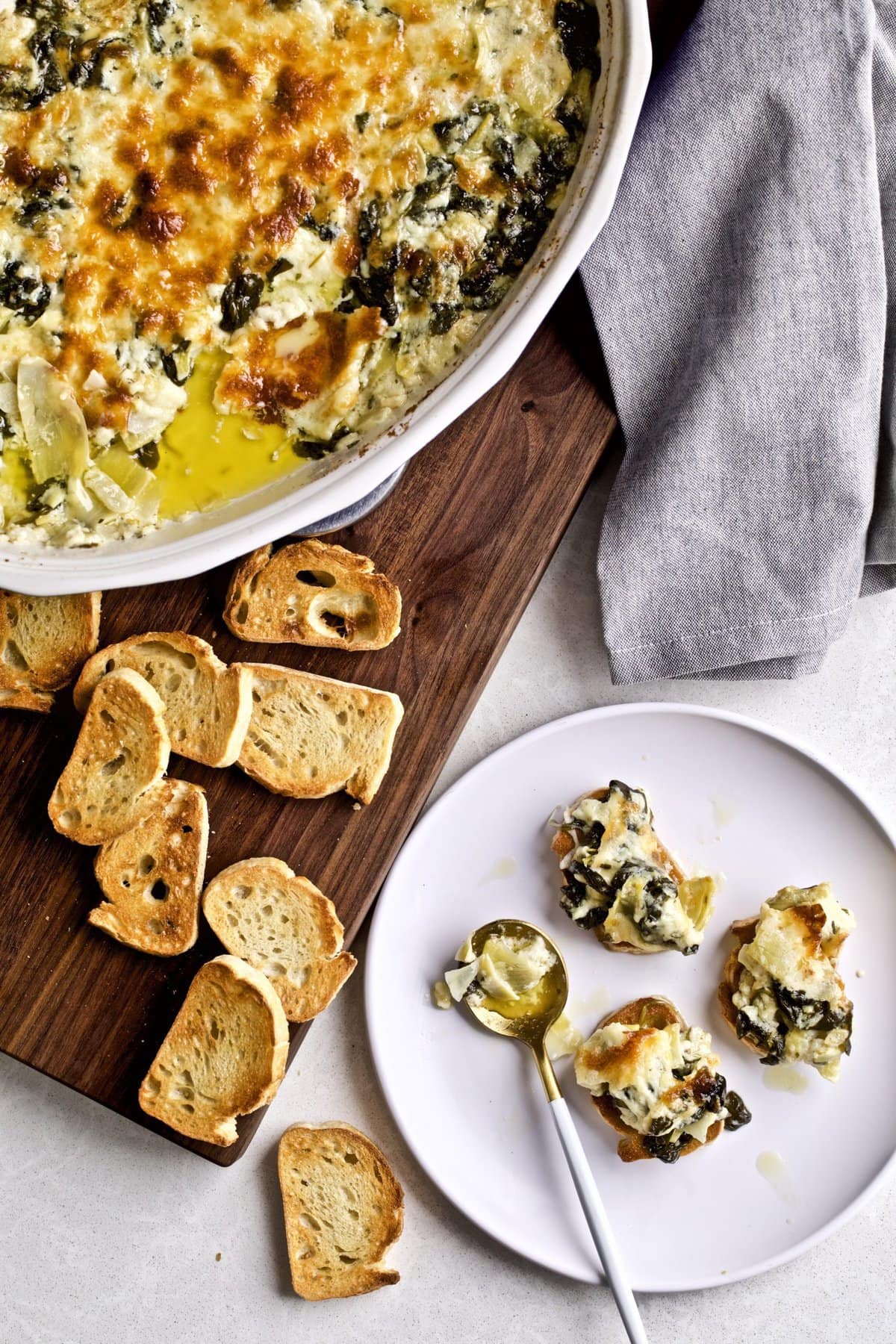 2- Baked Zucchini and Tomato Bruschetta - A healthy, delicious side dish. Baked Zucchini and Tomato with a cheesy topping is perfect for toasted bread (bruschetta) and as a side for your lasagna dinner!
3- Simple Artichoke Soup Italian Recipe - This artichoke soup has a hearty and heavenly taste, with a texture you'll love. It is simple to make and full of flavor. Serve it as a light meal or with your homemade lasagna meal.
4- Baked Eggplant Slices Recipe with Ricotta Cheese - This eggplant recipe is fun and delicious and it's a great way to enjoy eggplant. It's also a healthy way to reap the health benefits of eggplant.
5- Fried Mozzarella Cheese Sticks - It's crispy on the outside and creamy on the inside, and they'll make any gathering a hit.
6- Classic Italian Minestrone Soup Recipe - Comforting, tasty minestrone soup recipe made with olive oil, and green beans, and topped (optional) with parmesan cheese.
7- Garlic Soup - A tasty and healthy appetizer perfect for your next lasagna dinner. You can make it with fresh garlic or garlic powder.
8- Easy Creamy Polenta Recipe Authentic Italian - This creamy polenta recipe is the perfect side for any meal. It is an authentic Italian recipe that takes only 5 ingredients and 10 minutes to make it to your dinner table.
Refreshing Salad Recipes to Pair with Lasagna
A simple salad when paired with a hearty lasagna makes for a satisfying meal. It's a healthy side dish that is loaded with goodness, green, and flavors.
9- Arugula salad with apple pistachios and parmesan cheese - How about a healthier and more delicious way to enjoy your favorite Italian classic? This Arugula, Apple, and Pistachio Salad come together quickly. It's the best combination of salty and sweet, and a great addition to your lasagna meal!
10- Italian Salad with Pears, Walnuts, and Gorgonzola - A refreshing salad can be light and healthy, or loaded with hearty ingredients. Like this Italian salad that will warm you up this fall and winter.
11- Warm Bean Salad with Fresh Mozzarella Cheese - Easy, fresh salad with arugula and baby mozzarella that's quick and healthy for a weeknight dinner or lunch.
12- Caprese salad - Caprese salad is a classic, light, and refreshing salad, perfect for any occasion.
13- King Crab Salad Recipe (Simple and Easy) - A fresh, easy, and healthy crab salad recipe that goes great with homemade lasagna.
14- Berry Goat Cheese Salad with Honey Citrus Dressing - This fresh salad is sublime. It hits all the taste buds with a little sweet, tangy, earthy, and tart- absolutely satisfying!
15- Cucumber, Tomato, and Feta Salad - This easy-to-make salad is a perfect choice when you're looking for a light and fresh salad.
16- Green Salad - Toss this green salad with our homemade balsamic vinaigrette recipe or store-bought Italian dressing.
17- Classic Wedge Salad with Blue Cheese Dressing - If you're craving a fresh salad with homemade blue cheese dressing, this is a perfect choice.
18- Classic caesar salad with creamy dressing - Create an amazing meal with this fresh salad and homemade dressing best paired with your homemade lasagna.
Bread to Serve with Lasagna
Good bread goes with lasagna, and is a great side dish to any meal.
19- No Knead Italian Focaccia Bread - Perfect for a weekend brunch, to bring to a potluck, or to just enjoy with some olive oil or homemade lasagna. It can also be the perfect weeknight dinner that your family will love.
20- Sweet Focaccia with Raspberries and Balsamic Glaze - A sweet and savory bread recipe just for you! One of the best lasagna side dishes.
21- Italian Focaccia with Apples and Cheese - Always a crowd pleaser, this apple brie and herb focaccia recipe is a little sweet and perfectly savory.
22- Italian Focaccia with Tomato and Herb - The perfect balance of flavor and texture created by this Italian focaccia with juicy tomatoes and herb is a thing of beauty.
23- Easy Soft Italian No Knead Bread - This easy soft Italian No Knead Bread has filled with flax meal and steel-cut oats for a satisfying yet healthy snack, breakfast, or a good side dish for your lasagna dinner.
24- Fast Italian No Knead Ciabatta Bread - It's a no-knead bread, so you don't need any special tools or bread-baking pans!
25- American-style garlic bread sticks - Garlic breadsticks are the perfect accompaniment to any meal!
Healthy Vegetables that are a Perfect Addition to your Lasagna Meal
These vegetable recipes are a great pairing for your favorite lasagna. Each one is easy to make and healthy too!
26- Creamy White Sauce Cauliflower Casserole Italian - It has a creamy sauce, and crunchy cheese topping and is so easy to make.
27- Simple Petite Peas (Side Dish) - The savory and salty flavors of these petite peas and red onion is perfect for a quick weeknight dinner.
28- Sautéed Zucchini and Onion (Italian Recipe) - A medley of zucchini, onion, and herbs that's light yet satisfying.
29- Italian Oven Roasted Fennel Recipe (Easy) - You're gonna love this super easy and simple roasted fennel recipe best paired with vegetable lasagna.
30- Italian Beans and Greens Recipe (Escarole) - Make the most of this classic Italian dish and enjoy this warm, hearty and savory meal.
31- Italian Flat Green Beans Recipe (with Tomatoes and Garlic) - It's one of the healthiest, tastiest, and easiest side dishes!
32- Sautéed Broccoli Rabe - One of the best ways to add some greens to your lasagna dinner.
33- Roasted Butternut Squash with Olive Oil and Sea Salt - A great way to get veggies in your meal!
34- Roasted Brussels Sprouts - This simple recipe is delicious and healthy, a perfect way to add to your everyday menu!
35- Roasted Vegetables with Balsamic Vinegar - One of the delicious side dishes to pair with your homemade lasagna. It's easy, quick, and healthy!
36- Simple and Easy Roasted Vegetables with Feta and Pine nuts - A healthy side dish and starter for your lasagna dinner.
Best Desserts to Serve with Lasagna
Nothing says "happy meal" like lasagna. And nothing is better than an Italian dessert for dinner.
Some of our favorite desserts to serve with lasagna are these dessert bites. They're so easy to make and they look fancy enough to serve guests.
37- Classic Italian Tiramisu Recipe (Authentic) - This classic Italian tiramisu recipe is like no other and takes only 20 minutes to prepare! This dessert is creamy, light, and decadent. It's one you will find in homes and restaurants served in Italy.
38- BEST Authentic Sicilian Cannoli Recipe - These are the best authentic Sicilian cannoli recipe. Made with ricotta cheese, orange slices, and crushed pistachios, the filling is light and fluffy!
39- Kefir Honey Panna Cotta Italian Recipe (Easy) - This panna cotta recipe is a breeze to make and the type of dessert that the whole family can enjoy. The best part about this recipe? it's naturally sweetened with honey and high in protein!
40- Simple Italian Apple Cake (one bowl) - This simple and delicious Italian Apple Cake is made with creamy yogurt, butter, and fresh apples. The spice of cinnamon makes this cake absolutely irresistible!
41- Creamy Frozen Lemon Bars with Graham Cracker Crust - Cool, creamy, and totally irresistible! This dessert will cool your taste buds and make you pucker with excitement. Truly a perfect finale to your lasagna dinner!
42- Best Lemon Bars with Shortbread Crust - These are the best lemon bars! The super easy shortbread crust and the thick layer of delicious lemon filling are a match made in heaven. They are the perfect sweet treat to bring to your next event or gathering!
43- Italian Classic Almond Biscotti Recipe (Cantucci) - These homemade Italian classic almond biscotti are a blank canvas to create a variety of different flavors. Use them in so many different ways, from dunking into hot chocolate to eating by themselves.
44- Homemade Italian Ladyfinger Recipe (Savoiardi) - Treat yourself to the best homemade Italian ladyfinger recipe. These spongy, airy, light and slightly crunchy cookies are a true Italian classic!
45- Best Easy French Apple Tart Recipe - It's warm and comforting, yet simple and easy to whip up. And it screams delicious all-butter crust—a favorite among bakers and home cooks alike.
46- Best Brown Butter Apple Pie - If you've been craving a slice of pie that's going to take you right back to the holidays, this is the recipe for you. A little brown butter, a lot of apples, and sprinkle cinnamon, and you'll be craving it all year round. Pair it with your lasagna dinner and you'll be addicted!
47- BEST Chewy Cinnamon Raisin Oatmeal Cookies - Take a bite of this Cinnamon Raisin Crispy Treat, and you'll be hooked! These delicious morsels are loaded with cinnamon and lots of sweet brown sugar flavor.
48- Italian Butter Cookies Recipe (bakery style) - If you love butter cookies, then you will adore this simple Italian cookie recipe. It is made with just 7 basic ingredients and takes 1 hour to make. These melt-in-your-mouth cookies are a true delight for any cookie lover!
49- Best Italian Ricotta Cheese Pie Recipe - Paired with homemade lasagna in the evening, this traditional Italian ricotta pie recipe is the perfect dessert to serve, made with a very moist ricotta cheese filling with a hint of lemon.
50- Easy Lemon Zest Yogurt Loaf Cake - You'll love the fresh lemon taste in this recipe. It's a soft, light, and sweet cake made with yogurt and lemon zest. It's a great pairing to your lasagna dinner as it evens out the heaviness of the lasagna.
Whether you want to make your lasagna dinner extra special or you just want to have a fancy Italian dinner this What to Serve with Lasagna (50 Best Side Dishes) post will help make you get your lasagna dinner experience to the next level!
Enjoy!
If you try any of these recipes- make sure to leave a star review on the recipe post! I'm excited to hear from you.
Make sure to tag me on Instagram @cucinabyelena. I hope you loved it! To get more ideas follow me on Pinterest.
Print
What to Serve with Italian Sausage and Peppers (40+ Best Side Dishes)
Instructions
See the post for all side dishes to serve with sausage and peppers. Enjoy