BEST Creamy Carbonara! This traditional carbonara recipe is an easy 20-minute restaurant-worthy meal you can make on a weeknight! This recipe is perfectly smooth and creamy without cream. In Italy, authentic Italian pasta carbonara means no cream. Learn to make it the authentic way with only 4 ingredients.
Serve with a simple salad and homemade bread to make a complete and super easy meal.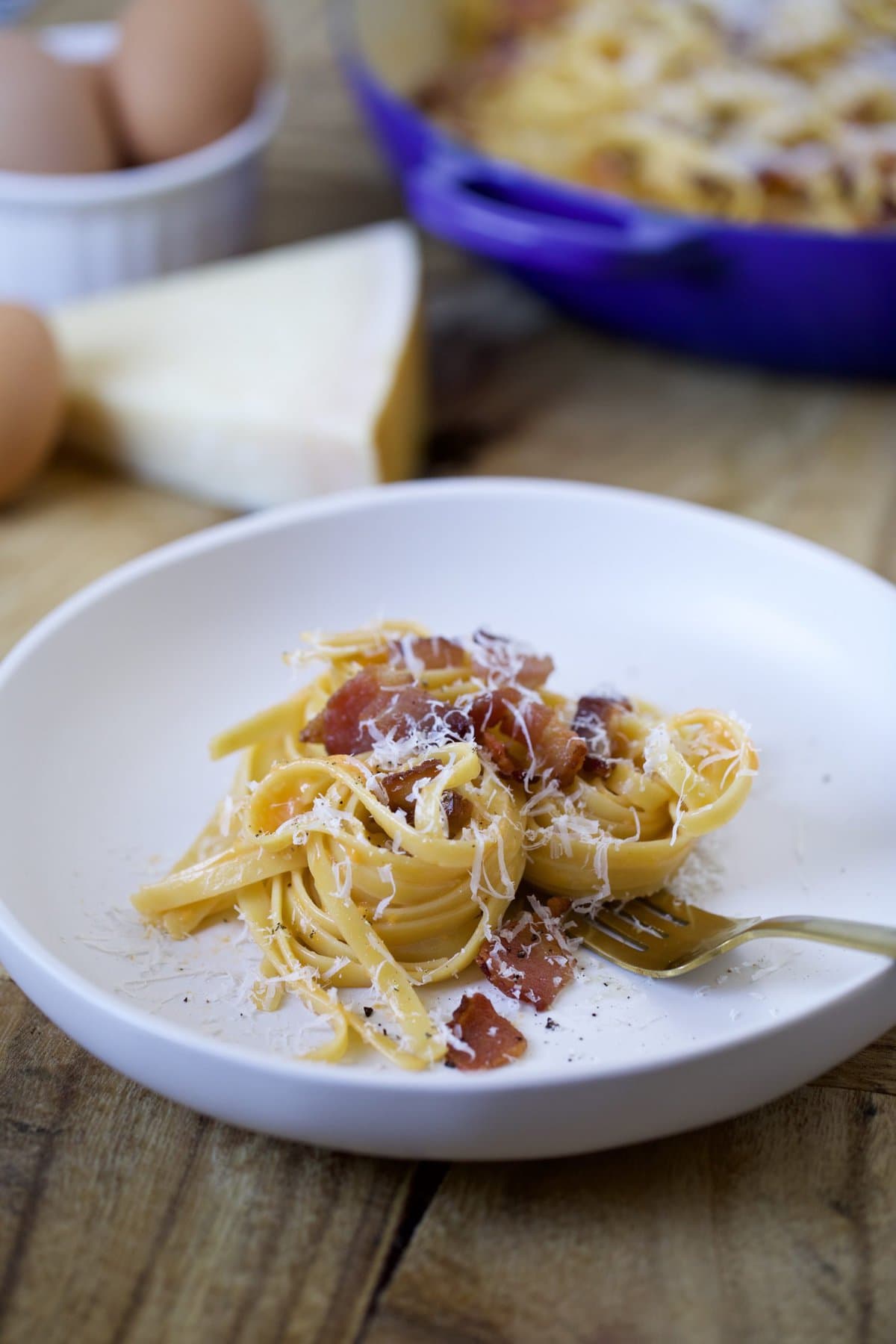 This is our tried and true Italian family recipe. It's simply the BEST. It is a quick and easy meal using a few staple pantry ingredients and a few fresh items, a great one to add to your weekly dinner rotation! 
You will also love these authentic and easy Italian pasta dishes:  Authentic Italian Amatriciana Sauce, Authentic Pasta alla Puttanesca Recipe (Video), Restaurant Style Italian Cacio e Pepe (Best Tips), Pasta al Limone, and Real Fettuccine Alfredo.  
Once you make this easy Authentic Italian Pasta Carbonara (no cream) recipe, you won't need any other one! 
Read about the origins of pasta carbonara in this post: World Carbonara Day and Difference Between Pasta Alla Gricia vs Classic Carbonara! 
My mother calls this dish "the meal that saves lives!" It's easy to make, filling, tastes delicious, and it can feed a crowd. Whenever I invited friends to dinner at the last minute this was a go-to- meal. It even tastes fancy enough for dinner guests. It's a must-make recipe that everyone will love! 
It's a quick and easy meal to make using a staple pantry and a few fresh items, a great one to add to your weekly dinner rotation!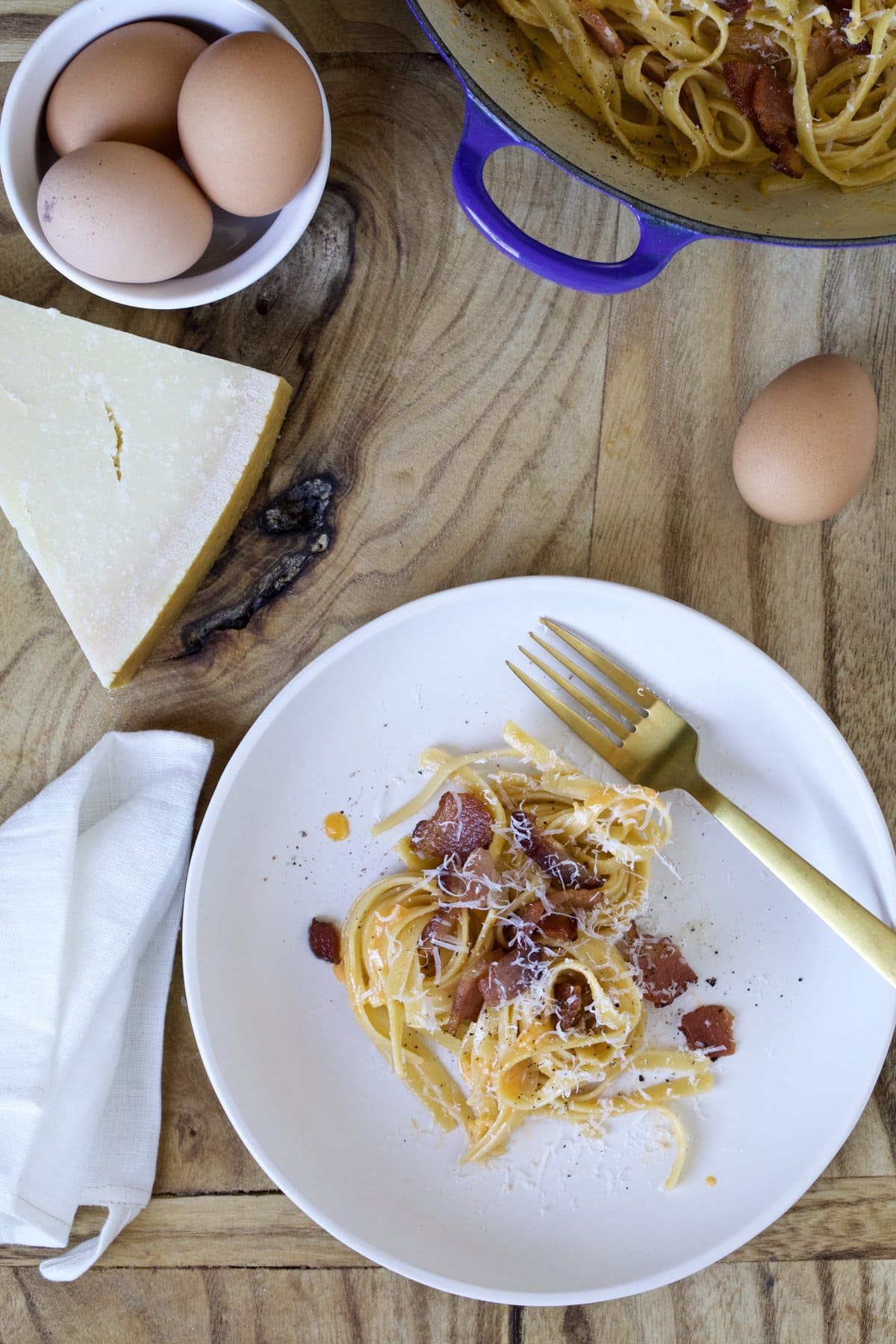 Simple Ingredients
Carbonara is known all over the world as a traditional Italian pasta dish. The authentic Italian recipe requires a few quality ingredients. The quality of the ingredients really matters for the success of the carbonara recipe.
Pasta of choice - long or short pasta works well. The most traditional is spaghetti in these photos, I used a wider variety called fettuccini. We also love short pasta as it is easier for children to eat. 
Bacon, guanciale, or pancetta - salty and crisp, you will want a thick-cut cured meat variety! I use the kind at the grocery counter butcher counter it always tastes better than the prepackaged variety 
Fresh eggs - since eggs are one of the stars here make sure to use high quality and preferably farm fresh. The taste really makes a difference in this recipe. 
Parmigiano or Pecorino Romano cheese - either variety will work and is commonly used. The important part is to use freshly grated cheese, or you might end up with a gloopy mess. 
Pepper to taste - pepper is optional and freshly ground is preferred.
Does Authentic Pasta Carbonara Have Cream? 
There is a big debate between Americans and Italians about adding cream to carbonara.
In my Italian and biased opinion, the answer is NO CREAM, in authentic carbonara! Most people add cream to make the sauce smooth. You can still achieve a creamy sauce without cream...
Follow these easy steps and achieve the perfect restaurant-style carbonara without using cream! 
How To Make Authentic Carbonara
How to Make Creamy Carbonara (without cream). There are a few key steps to making a creamy Authentic Italian Pasta Carbonara (no cream). Let's start right at the beginning.
First, you want to create your egg mixture. This, alongside the starchy pasta water, will create a smooth and glossy sauce for the pasta. Start by mixing the whole eggs until well combined and uniform.
Then, add the freshly grated cheese and combine. It helps to finally grate the cheese so it can melt quickly and create the sauce. The mixture will be very thick like in the last photo.
Second, fry the bacon (or pancetta) on medium heat (you can also start boiling your pasta water at this time). No oil is needed for frying the meat as there is a lot of natural fat.
After the meat is nice and crisp move onto a clean plate and set aside. Reserve a couple of pan drippings and discard the rest of the grease. Set the pan and bacon aside while the pasta cooks.
Third, cook the pasta. Tips for cooking flavorful al dente pasta:
1 pound pasta: 2 tablespoons Kosher salt: 4 quarts water.
Make sure the water is boiling before adding the salt and pasta. Stir often. Cook until al dente.
Reserve ¼ cup (up to ½ cup) of the pasta water. Drain the pasta add it back to the pan with dripping and add the reserved pasta water.
Lastly, combine the ingredients and create the final dish. Add the egg mixture a little at a time stirring to combine with each addition. The pan drippings, egg and cheese mixture, and hot pasta will create the creamiest sauce (see- no cream!).
Add the bacon (reserve a little for topping) and stir to combine. Finish with freshly grated cheese and black pepper (if desired). Eat hot!
Make cheese and egg mixture
Add pancetta/bacon to pan fry until crispy. Save drippings.
Cook pasta
Combine pasta to the pan when removed from heat. Slowly add egg mixture (add a splash of starchy pasta water- if needed)
Toss until glossy, slightly creamy, and fully blended.
Fold in pancetta/bacon and serve hot!
FAQs
What is Pasta Carbonara?
Carbonara is a silky, creamy egg and cheese sauce with mouthwatering crispy pancetta or bacon combined with al dente pasta. The dish is blessed with fresh cheese and black pepper (optional). This meal is all you need to satisfy your pasta cravings.
Should I Use The Whole Egg Or Just The Yolk?
You will see various recipes that use only yolk, a mixture of both, or the whole egg. In my Italian family, we use the whole egg. Why? It provides a lighter and fresh carbonara that still delivers a delicious and creamy (without cream) sauce.  
What If I Can't Find Guanciale or Pancetta?
In most traditional carbonara recipes, guanciale is used since it has the fattest flavor. Generally, the higher the fat and longer the cure on the meat, the more flavor it will have. The next in line is pancetta, which is most commonly used for Italian carbonara. I've found that guanciale and pancetta can be hard to find in most American stores. Buying high-quality thick-cut bacon will work when that is all you can find!
Can I Substitute Pecorino For Parmigiano?
Many believe that the origins of pasta carbonara are from Lazio, Italy. At the time, they used pecorino because it's a cheese specific to the Lazio region. Parmigiano belongs to another region: Emilia Romagna. I love them both ways, but I most often use parmesan cheese because I always have that on hand. 
Can I Substitute Spaghetti For A Different Type Of Pasta?
Spaghetti alla carbonara is perhaps the most traditional way to serve carbonara sauce. I love carbonara with thicker long pasta, such as linguini or bucatini, or even short pasta, such as rotini (fusilli). 
Top Tips for Pasta Carbonara 
1. Use Room Temperature Eggs
Using room-temperature eggs will help get your sauce smooth and light. The use of cold eggs can lead to clumps in your sauce. We didn't sign up for an egg scramble.
2. Use Freshly Grated Parmigiano
It helps to grate the cheese finely, so it mixes well with the egg and melts nicely into the sauce. I wrote an entire article on why using freshly grated cheese makes a difference Read and you will see why! 
3. Whisk Eggs and Parmigiano Together 
Whisking your eggs to incorporate the whites into the yolks completely will give your sauce a more uniform texture. Think of scrambled eggs.
Then, combine your eggs and Parmigiano and whisk more until you achieve a smooth consistency. This eggs and cheese mixture will be thick- that is what you want.
4. Cook Pasta Perfectly 
Salt the water to flavor the pasta from the inside out. Only cook until al dente. Read:  How Long to Boil Spaghetti Pasta Perfectly Every Time. 
5. Save Drippings and Pasta Water
After frying the pancetta, guanciale, or bacon remove it and set it aside so it stays crispy. Then, save a couple of tablespoons of grease in the pan.  This will help the sauce come together in the end!
Reserve a little (¼- ½ cup) of pasta water. If you need a little extra binder to form the sauce, you can add it. 
6. Turn off the Heat
This is where most people mess up carbonara. You cannot mix the pasta and eggs over heat. You will create scrambled eggs!
The residual heat from the pasta and the reserved pan drippings creates that velvety sauce, not the heat from the pan. It is okay to mix the pasta in the pan with the drippings (it is preferred). Make sure the pan is not on heat.
7. Mix HOT Pasta with Sauce
The pasta must be as hot as possible to cook the eggs and create a creamy sauce. Don't let your pasta sit after draining. Start incorporating the egg mixture and pan drippings with the hot pasta. 
Make sure the egg and cheese mixture is evenly distributed. You want every inch of the al dente pasta coated in the velvety eggy cheesy sauce. 
Variations
This is the most traditional carbonara recipe. If you want to make carbonara with a twist, try these options.
Vegetarian: sauté mushroom, peas, or asparagus with butter or olive oil and use the same method
Add garlic, onions, or shallots to add an extra element of flavor
Spice it up by adding some red chili flakes or hot sauce
If you want a creamy pasta recipe, try this Creamy Pasta Shells with Sweet Peas and Bacon or Pasta Alla Gricia.
Storage Instructions
Carbonara is best served immediately while it is hot and creamy. If you have leftovers, store them in the refrigerator for up to two days. Once reheated it will not taste the same since the eggs will cook more in the reheating process.
My preferred way to enjoy authentic carbonara is to make and eat the carbonara as soon as it is made!
Recipe Video
Watch this short video on how to make carbonara the right way! Enjoy!
More Recipes for you
This delicious Authentic Carbonara Recipe will quickly become a new family favorite!
Make sure to leave a ⭐️star rating on the recipe card and comment below if you make the recipe. I love to connect with you through my recipes.
I would love for you to tag me on Instagram @cucinabyelena so I can see your delicious Italian recipes. To get more ideas, follow me on Pinterest.
Print
Authentic Italian Carbonara Recipe
Authentic Italian Carbonara (without cream) is an easy 20 minute restaurant worthy meal you can make on a weeknight! This recipe is perfectly smooth and creamy without using cream. In Italy, a traditional carbonara means no cream. Learn to make it the authentic way.
Total Time:

20 min

Yield:

6

servings

1

x
4

eggs (room temperature)

2

cups

freshly grated Parmigiano or Pecorino cheese
Coarsely ground black pepper

1

lb

(16 oz) of pancetta, guanciale, or bacon, sliced into pieces about ¼ inch thick by ⅓ inch square

1

lb

(454 grams) of pasta of choice
Instructions
Place a large pot of salted water (no more than 2 tablespoon salt per 500 gr pasta) over high heat, and bring to a boil.
In a mixing bowl, whisk together the eggs until very well combined and smooth. Add the cheese and mix to incorporate.  You should have a thick mass once combined.
Meanwhile, fry bacon in a pan, on the edge of crispness but not too hard. Remove bacon from pan and set aside. Save a couple tablespoons of bacon drippings in pan. Take pan off heat and wait to reuse.  
Add pasta to the water and boil until al dente according to your taste and package directions. Reserve ¼ cup of pasta water (in case you need it), then drain pasta.
Add pasta to pan with bacon drippings. Then, a little at a time, add the egg mixture, adding some reserved pasta water if needed for added creaminess. After a creamy texture is achieved add the bacon and incorporate into the pasta and sauce. Save a little bacon for garnish. 
Serve immediately, dressing it with a bit of additional grated cheese and fresh ground pepper.
Notes
STORING: Carbonara is best served immediately, while it is hot and creamy. If you have leftovers, store in the refrigerator for up to two days.
Once reheated it will not taste the same since the eggs will cook more in the reheating process. My preferred way to enjoy authentic carbonara is to make and eat the carbonara as soon as it is made!
Author:

Elena Davis

Prep Time:

5 min

Cook Time:

15 min

Category:

Savory

Method:

Italian

Cuisine:

Italian
Keywords: pasta, carbonara, pasta carbonara, eggs, bacon, pancetta, parmigiano, easy dinner, easy meal, no cream, authentic Italian