How to Cook Fresh or Frozen Ravioli Pasta (Instructions)- Ever wondered how they cook the perfect ravioli in Italy? Here are all the secrets with instructions so you can do it at home the next-time you make homemade ravioli, or get some from the grocery store!
Making homemade ravioli is a sweet labor of love. It is essential to cook the ravioli correctly, so all your hard work doesn't go down the drain!
Here is a guide for How Long to Boil Spaghetti (pasta)- Perfect Every Time that may also interest you!
If you've ever wanted to make homemade ravioli make sure to read: How to Make Homemade Ravioli- Italian Recipe. This is a treasure family recipe. If you're looking for something a little more adventurous you can try this butternut squash ravioli.
Jump to:
How to boil fresh ravioli (instructions)
Boiling cheesy-filled pasta correctly makes a huge difference in the final outcome of your pasta dish. Generally, fresh pasta cooks very quickly.
The best method for cooking ravioli pasta:
Start with a large pot of COLD water. Hot water from the tap often contains added minerals that can damage pots and alter taste.

Typically: 4 quarts water, 2 tablespoons salt, and 1 pound of pasta

Use a large pot (this is the one I use) to boil water and cook ravioli. This allows movement for the stuffed pasta (a good rule of thumb for all pasta).
Make sure you have plenty of water in the pot.
Salt the water. This is an Italian MUST to flavor the pasta from the inside out. You want your pasta to taste seasoned before adding any sauce to it.
Bring the water to a full boil, or rolling boil, before adding the fresh ravioli (or uncooked ravioli).

Do NOT add olive oil to the water when cooking pasta.

Stir occasionally with the proper utensil to keep the pasta from sticking.

gently stir the ravioli so they don't break.

As soon as the ravioli float to the top of the water- taste test the ravioli to make sure they are "al dente" before draining.
Save a scoop or a bit of pasta water. Another Italian secret! This helps thicken and bind the pasta and the sauce.
Remove ravioli with a slotted spoon, add to a thin layer of sauce (add more on top), and serve immediately.
This is the best way to achieve perfectly cooked ravioli every time!
Does ravioli float when it is done?
As a general rule, yes, ravioli does float to the top when it is done cooking. Since ravioli tend to float to the top when they are cooked be careful not to overcrowd the pot, or it might overflow!
After the ravioli are done cooking, carefully and gently lift the ravioli from the water with a large strainer or slotted spoon.
Then prepare a serving dish with your favorite sauce and begin to add to the bottom, layering the ravioli with the sauce. Top with cheese and fresh parsley or basil, if desired.
Avoid mixing the ravioli with the sauce vigorously, as you might spaghetti since ravioli are more delicate and will tear in the process.
Why is my ravioli floating immediately?
This generally happens with frozen ravioli. Frozen ravioli is heavier than boiling water. When the ravioli first hit the boiling water they tend to sink to the bottom for a short bit (another reason why stirring is important!).
When the ravioli start to cook, they become lighter and they start to float on top of the water. They might start floating too early depending on their filling, dough, or if they are fresh vs. frozen.
Make sure to set a timer to see and test if they started floating before they are actually finished! They might still need a couple of minutes.
How do you boil ravioli without breaking it?
The best advice for not breaking ravioli is to stir gently with the proper pasta cooking tool. The more vigorously you stir the delicate pasta the easier it will break. This is especially true with homemade fresh pasta that isn't previously frozen. That fresh pasta dough is super delicate, and so delicious too!
Another reason that ravioli pasta breaks is overcooking them. Once the ravioli are overcooked they become mushy and it is easy for them to come apart, or break. If you see the filling floating in the water you will know you likely overcooked the batch of ravioli.
TIP: when cooking frozen ravioli do not break them apart if they are frozen and stuck together; they will naturally come apart during cooking.
How do you know if ravioli is overcooked?
If the ravioli looks bloated (think puffed-up balloon-like) or the edges start to look like they are going to burst, then they may be slightly overcooked. If the ravioli is still frozen, keep cooking.
How long do you boil homemade pasta?
If you are making an Authentic Homemade Pappardelle Pasta Recipe the same general rules apply- it doesn't take long to boil fresh pasta. It is different than dried pasta which takes longer to cook.
Homemade pasta typically takes minutes to cook after it hits the large pot of salted water.
For all the tips on homemade pasta dough follow my recipe and achieve the best pasta every single time! You can't beat these fresh pasta noodles!
Video- How to cook fresh ravioli
Cook the ravioli in salted boiling water for 3 to 4 minutes. Then drain and toss with your favorite sauce. My favorite pasta sauce- is homemade tomato sauce (marinara sauce).
The same method applies to frozen ravioli (the cooking time will increase by about 2-3 minutes).
Can you saute ravioli instead of boiling it?
There are many out there who will cook fresh ravioli with just a pan and sauce, but as you know Italians (including myself) are not fans of "one pot pasta meals".
Since fresh pasta takes minutes to boil it is worth getting the al dente taste and texture by taking the extra step of boiling them in water first. Honestly, it doesn't take much time and it is really worth doing it the right way.
Feeling hungry? Try this great way to enjoy ravioli: Easy Ravioli Piccata with Mushrooms and Asparagus.
How long do you cook Rana ravioli (frozen ravioli)?
Follow the general rules in the "how to boil ravioli instructions" at the beginning of this post. Do not separate uncooked pasta if it sticks together; it will naturally separate while cooking. Make sure you stir ravioli a few times during cooking.
Cook for about 3 minutes and drain. Add 1 minute for a softer bite. Toss with a tasty sauce such as- Brown Butter Basil Pasta Recipe- (Video), and top with mozzarella cheese or parmesan (Parmigiano cheese).
Here is why I prefer to grate my own cheese: TOP 5 Reasons Why You Should Grate Your Own Cheese.
Need a quick pasta dinner? Try this recipe: BEST Lobster Ravioli Sauce with Lemon Brown Butter
Video- Lobster ravioli lemon brown butter sauce
Should you thaw frozen ravioli before cooking?
You do not need to thaw frozen ravioli. Whether you made ravioli from scratch and froze it, or bought frozen ravioli from the grocery store you should not thaw it before boiling and cooking. We aren't thawing chicken here- it is pasta!
If you thaw frozen ravioli before cooking the pasta will get mushy from the extra liquid (condensation or sweating) that occurs naturally in the thawing process.
If you made homemade ravioli and froze the leftovers, you don't need to thaw it before cooking. Boil it a little longer, but that is all you need to do differently.
If you are buying ravioli from the freezer or fridge section of your grocery store read the boiling instructions on the package as cheese ravioli and meat ravioli may vary in cooking times.
It is typical for some ravioli to take a bit longer than others depending on the variety.
How long does uncooked ravioli last in the fridge?
This information applies to fresh ravioli that is in an unopened package.
Unopened fresh ravioli may be stored in the refrigerator for 2 to 3 days after the "sell-by" date on the package (assuming it is stored properly and not opened). If the package is open and comes in contact with outside air that will change the freshness and also how long it lasts. Use your best judgment in this case.
How do you properly freeze fresh ravioli?
Simply sprinkle the ravioli with semolina flour once you are done making them. Lay them flat on a cookie sheet in an even layer and freeze. Once they are frozen transfer them to a freezer-safe bag. You can store them for up to 2 months.
Don't forget to learn how to make ravioli on your own! They taste amazing: How to Make Homemade Ravioli- Italian Recipe. These ones have my favorite spinach and ricotta cheese filling!
Equipment
Here are my favorite tools:
Slotted spoon- this is helpful when transferring the cooked ravioli to a pan with the sauce, or transferring to a strainer.
Use a large pot this will prevent the ravioli from sticking together when cooking.
Stir occasionally with the proper utensil to keep the pasta from sticking.
*this post contains affiliate amazon links.
Wondering what to serve with ravioli? Here are some ideas for you: What to Serve with Ravioli (50 best side dishes)!
Cooking Ravioli FAQ's
How do you store ravioli in the fridge?
Ravioli is always the best fresh! If you are storing leftovers, or not going to eat them right away, toss in your favorite sauce before storing them in the refrigerator. This will stop the ravioli from sticking together. Wait for the ravioli to cool, then place them in shallow airtight containers and store them in the fridge. Consume within 2-3 days.
What is the best way to reheat leftover pasta?
Add a little water to a microwave-safe container or bowl. Add your leftover pasta. Heat for 30-60 seconds, remove, stir well, add a little extra sauce, heat again, and repeat until heated to your liking. Reheating the pasta in segments and stirring it often will make sure the leftover pasta cooks evenly.
How do I stop homemade ravioli from bursting?
The sealing process is key to bursting. Press around each mound to seal, then press outward toward the edges, pushing out any air pockets. Getting the air out of the ravioli when you seal it is IMPORTANT, otherwise, it might burst in the water or cook unevenly. See the recipe for more.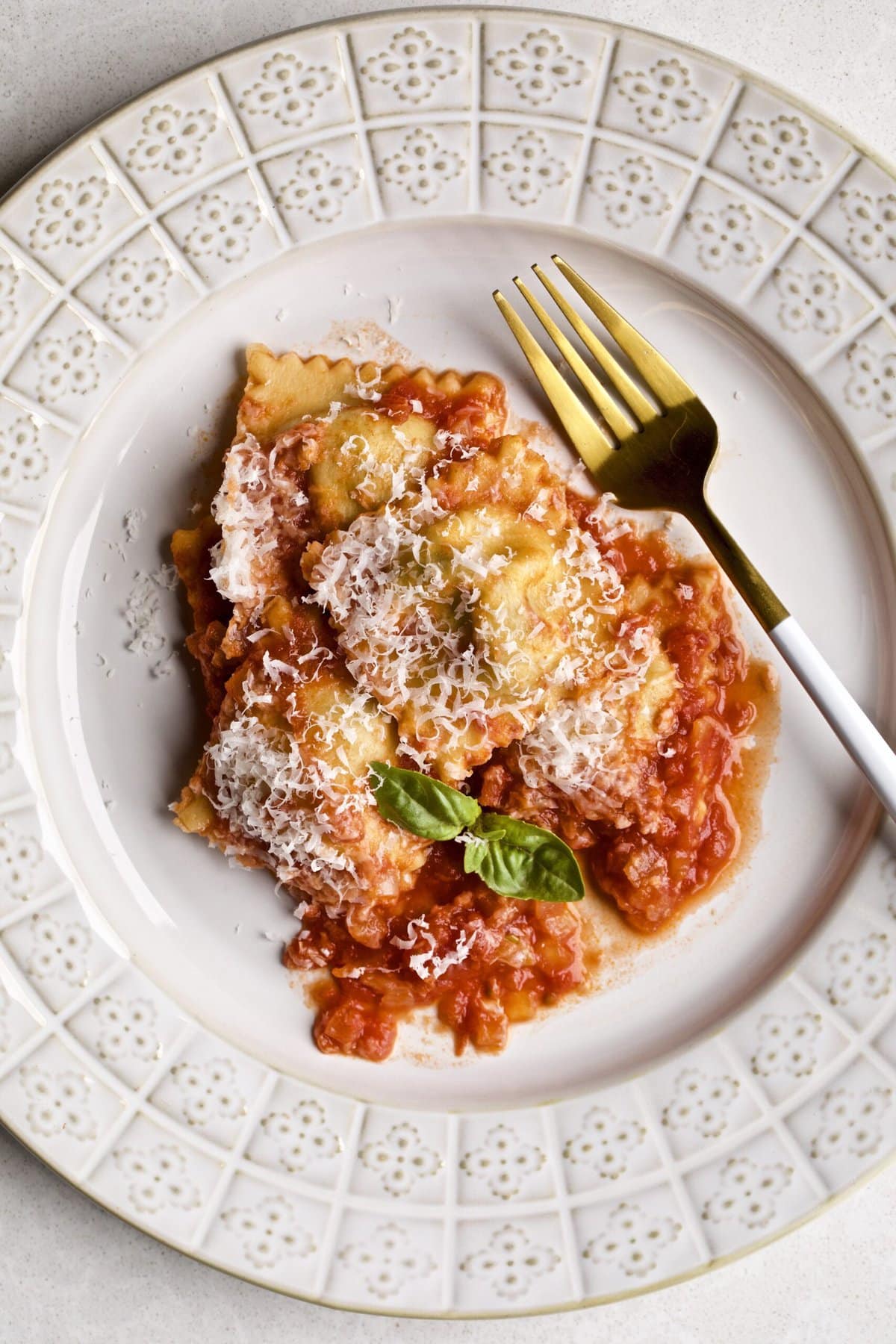 Popular Italian recipes for you:
Make sure to tag me on Instagram @cucinabyelena. I hope you loved this article! To get more ideas follow me on Pinterest.