What to Serve with Ravioli (50 best side dishes)- If you are enjoying homemade ravioli made from scratch or store-bought varieties, you will want to save this delicious list of best side dishes + sauces, and more to add to your dinner table.
If you are looking to make homemade ravioli you will want to check out these recipes: How to Make Homemade Ravioli- an authentic Italian Recipe and Butternut Squash Ravioli with Sage Butter Sauce! These recipes make the ravioli process easy to follow and completely achievable for everyone.
Make sure you cook your al dente pasta squares (ravioli) the real Italian way with this guide: How to Cook Fresh or Frozen Ravioli Pasta (Instructions).
You will definitely love these dishes as much as you would enjoy these 65+ Best Side Dishes to Serve with Prime Rib or these 45 Best Side Dishes to Serve with Flounder!
Now, let's get to the exciting part- What to Serve with Ravioli- best side dishes and more...
Jump to:
What to Serve with Ravioli (50 best side dishes and more!)
The BEST side dishes to serve with ravioli! Here's exactly what to serve with ravioli to create a delicious and complete dinner menu. The best part is you can come back to this list time and time again whenever you are serving a ravioli dinner.
Whether you take help from your grocery store freezer section, or make homemade ravioli out of fresh pasta from scratch, you can't go wrong with any of these scrumptious combinations!
Best Sauces to serve with Ravioli
Before we jump into the best side dishes to serve with ravioli- let's make sure our ravioli are coated in the best sauce EVER!
The sauce should be subtle yet flavorful to compliment the taste of the ravioli. Italian cuisine is simple and flavorful.
Here are the ravioli sauces I recommend:
If you are making lobster ravioli you will want to try: BEST Lobster Ravioli Sauce with Lemon Brown Butter. The easy rich garlic butter sauce comes together in minutes while the ravioli are boiling. This luxurious lemony brown butter sauce with a hint of garlic is the perfect match!
If you are making traditional spinach and ricotta cheese ravioli or beef ravioli go with a classic tomato sauce such as Classic Italian Tomato Sauce (Sugo al Pomodoro). This is the Italian tomato sauce (also known as marinara sauce) I grew up eating as a little girl. All you need is a little extra parmigiano or fresh parmesan cheese just before serving!
More sauces that pair well with ravioli:
Appetizers to Serve with Ravioli
I love appetizers! They bring everyone in the kitchen and get the conversation started as the meal is being prepared. These apps will surely tickle your taste buds and leave you ready for dinner.
1- Best Italian Zucchini Fritters (easy recipe). These Italian zucchini fritters are an easy recipe that is sure to become one of your favorite appetizers! They are made with a few simple and fresh ingredients. Dip them in whipped ricotta and- trust me, you can't stop at one!
2- Italian Stuffed Zucchini (vegetarian)- (better than zucchini fries!) These little zucchini poppers go like hotcakes in our house!
3- Hot Mascarpone Spinach Artichoke Dip- This spinach artichoke dip is packed with creamy mascarpone and Italian herbs! This is always a popular option in our home.
4- Easy Bruschetta Recipe with Mozzarella and Tomato Basil- is a simple, fresh, and gorgeous easy appetizer that screams summer. The colors resemble the Italian flag and the garlic cloves on toasted bread topped with juicy ripe tomatoes and fresh mozzarella and basil are a perfect bite of your favorite Italian flavors.
5- Easy Italian Style Nachos (sheet pan)- Nachos are always welcome as a fun and customizable side dish.
6- Ratatouille Tartine (toast)- Packed with loads of veggies it makes a great pizza side dish.
7- Panzanella Stuffed Mozzarella- More cheese? Yes, please! A great appetizer that is easy to make and fun to eat.
8- Italian Oven Roasted Fennel Recipe (Easy)- A super tasty and fresh vegetable side dish. It is buttery, caramelized on the edges, and deliciously sweet. Any variety of roasted vegetables makes a great addition to your ravioli meal.
9- Charcuterie board- No matter how many or few guests you plan to serve, a charcuterie board will always be a hit.
Best Side Dishes to Serve with Ravioli
It's all about variety! I love to have a few options on the table for a pasta night meal. Here are classic Italian side dishes to serve with ravioli.
A delicious side dish to accompany your ravioli is traditional Italian bread. Try this popular recipe-
10- No Knead Italian Focaccia Bread- This NO FAIL RECIPE you don't want to miss. Be the person that makes focaccia on the regular- your friends and family will thank you for it! This easy No Knead Focaccia bread recipe is going to blow your mind!
More Italian bread recipes:
11- Fast Italian No Knead Ciabatta Bread- Have this bakery-style Ciabatta bread ready in 4 hours from start to finish! Yes, it's that fast. You don't need any special tools or bread-baking pans. It is the crusty bread you will crave time and time again.
12- Easy soft Italian No Knead Bread- This easiest recipe is packed with extra nutrition- from the flax meal and steel-cut oats.
More great ravioli side dish ideas:
13- Sautéed Zucchini and Onion (Italian Recipe)- It's one of those easy recipes everyone loves and a perfect pair for a ravioli dish.
14- Simple Petite Peas (Side Dish)- Who doesn't love a side of peas? This is my nonna's recipe and it is simply the best! You must try this classic Italian dish.
15- Creamy White Sauce Cauliflower Casserole Italian- Warm and comforting. This cauliflower dish can be made ahead of time and baked right before making the ravioli!
16- Italian Frittata Recipe with Peas and Ricotta- Hold a slice of frittata like a slice of pizza! Packed with veggies and eggs it is a nutritious side dish.
17- Italian Style Lentils- Healthy vegetarian side dish packed with fiber and protein.
18- Creamy polenta- Velvety, buttery polenta is light and fluffy, while feeling super indulgent.
19- Sautéed Green Beans Recipe (Easy), or Italian Flat Green Beans Recipe (with Tomatoes and Garlic).
20- Longhorn Steakhouse Crispy Brussels Sprouts Recipe -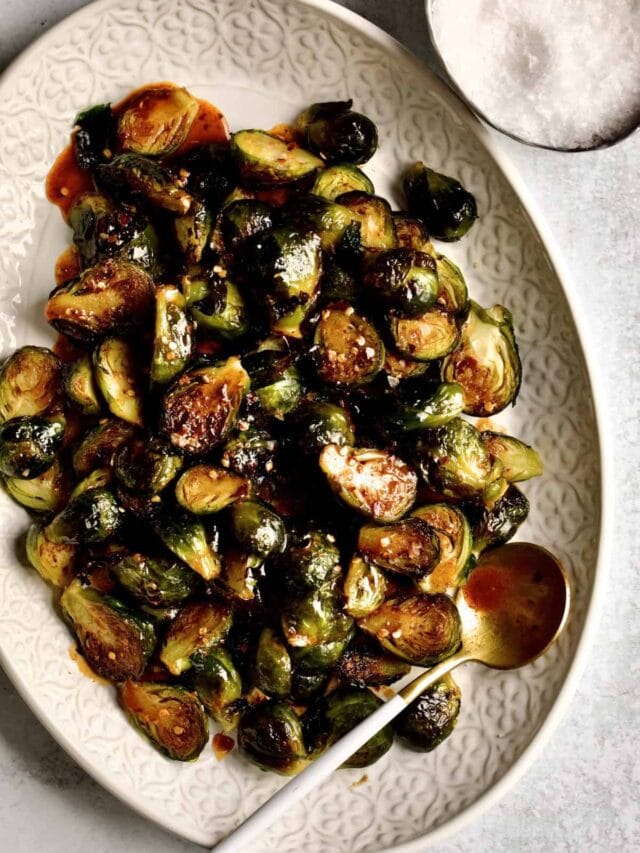 21- Broccoli Rabe or Rapini with Roasted Veggies- Rapini or broccoli rabe is a type of cruciferous plant that resembles your typical broccoli. One notable difference is that you can eat all the parts of the rapini.
22- Cipollini onions (known as little onions in Italian) are a close relative of regular onions, only a bit smaller. They are a super-easy way of pairing beef ravioli. These small onions have a deliciously sweet taste when caramelized, which is perfect for cutting through the savory taste of beef. It also gives some nice acidity to the dish.
Salads to Serve with Ravioli
Green salads are a great option for a ravioli dinner made with fresh and simple ingredients!
23- Italian Fennel, Citrus, Pomegranate and Salad- Tasty side salad that works well in the wintertime with bright red and fresh pomegranate seeds. It is the perfect side dish to serve with ravioli.
24- Italian Salad Pears, Walnuts, and Gorgonzola- The perfect combination of sweet and savory in a salad with great textures. This salad is a great addition to any dinner party.
25- Prosciutto Melon Arugula Salad Citrus Vinaigrette- Light and refreshing salad with a delicious citrus vinaigrette. Truly sensational! You can add spinach salad to this as well.
26-Easy Lemony Asparagus and Potato Salad Recipe- This healthy potato salad recipe adds fresh asparagus and a pop of lemon to make it stand out from the rest. Made with yogurt dressing instead of mayonnaise.
27-King Crab Salad Recipe (Simple and Easy)- Level up your pasta night and add this luxurious and ridiculously easy fresh king crab salad.
28- Arugula, Apple, and Pistachio Salad in Parmigiano Cups- These fun nests are a great party salad as you can pick them up with your hands. If you don't want to make the Parmesan cups simply sprinkle the cheese on top of the salad.
29- Berry and Goat Cheese Salad with Honey Citrus Dressing- If you can't decide on a fruit salad or green salad this is the salad for you. The best of both worlds. It makes a nice refreshing salad.
30- Spring salad- combine asparagus, cherry tomatoes, sweet peas, radish, and plenty of herbs is a great way to liven up any dish. Throw on some goat or feta cheese to the mix, and you have a wonderful salad side dish.
31- Seasonal fruit salad with a squeeze of fresh lemon juice
32- Classic Caesar salad
33- Crunchy Wedge Salad
Main Course (meat and fish) options to serve with Ravioli
While you might consider ravioli your main dish, in Italy it is only the first course!
In Italy, ravioli is traditionally considered a "primo piatto", a light, starchy course (e.g. pasta) that follows antipasto, but precedes a "secondo piatto", which is usually a protein-based main course like fish or beef.
Here are several options for the meat and fish category:
34- Perfect Pork Tenderloin with Fennel- a delicious fall-inspired meal. You will love this juicy pork tenderloin paired with the delicate, and slightly sweet, the flavor of the sautéed shallots and fennel.
35- Mediterranean Stuffed Pork Chops. The inside of the meat is packed with fresh Mediterranean flavors and gives the chops a yummy surprise.
36-Dad's Famous Dry Rub Beef Ribs (EASY). THE BEST DRY RUB RECIPE FOR BEEF RIBS ON THE BBQ! You need this recipe to make the tastiest ribs. It is a secret family recipe and my dad let me release it to all of you. Perfect dinner idea on a summer night (a good idea any night of the year!).
37- Tastiest Sage Garlic Honey Lemon Grilled Chicken. The perfect flavors for the best grilled chicken!
38- Grilled Beef Tri-Tip Steak with Chimichurri Sauce. Best Tips for Cooking Tri-Tip Steak Beef! Tri–tip is a relatively cheap and lean steak cut from the sirloin. It cooks up tasty and tender…
39- Dad's Secret Meat and Fish Marinade. Best Go-to Marinade Recipe! A typical marinade is made up of three essential components: an acid (such as vinegar, wine,…
Dessert to serve with Ravioli
After eating a savory and delicious ravioli meal I am always in the mood for a sweet treat! Try one or more of the following desserts!
40-Classic Italian Tiramisu Recipe (Authentic)- This creamy no make dessert is a true Italian classic. It is light and easy to make 24 hours ahead of time and keep in the fridge.
41- BEST Authentic Sicilian Cannoli Recipe- A classic Italian dessert with a creamy ricotta filling!
42- Heavenly Angel Food Cake (Strawberries and Cream)- A refreshing and pillow-soft angel food cake that you will make time and time again!
43- Best Lemon Bars with Shortbread Crust- If you love lemon this is a sweet treat your taste buds will love! Not too sweet with the perfect texture and flavor.
44- Balboa Island Frozen Dipped Bananas- A fun one to make with kids!
45- Best Banana Cream Dream Pie (with homemade custard)- A creamy dessert that makes you feel like you are in a dream it is that tasty! Finish a savory pizza pie with a sweet custard-filled pie. This creamy dessert is a well-loved family recipe.
46- Poppy Seed Cake with Orange Almond Vanilla Glaze- A great dessert to make ahead of time as it stores nicely.
47- Frozen Lemon Dessert (Creamy Lemony Treat)- A great recipe for summer as it is a frozen treat. This one is a Davis family favorite and a must try recipe!
48- Simple Italian Apple Cake (one bowl)- Make this cake in the time it takes to call and order a pizza and have it delivered!
49- Vanilla Cake Roll with Cream and Berries- Add a little beauty to your pizza party with this show-stopping and EASY dessert recipe.
50- Best Italian Pistachio Cream- If you are a pistachio lover this delicious creamy custard is for you!
51 BONUS: Easy Italian One Bowl Chocolate Cake- This soft Italian chocolate cake is not too sweet and decadent with a deep chocolate flavor. The best part? It is an easy one-bowl recipe, win-win! Enjoy it for breakfast, snacks, or add whipped cream and berries and serve it for dessert.
Drinks to serve with ravioli
A good cocktail or fancy coffee drink is another way to complete your special dinner.
Here are the best Italian cocktails and drinks for ravioli:
Aperol spritz
Prosecco negroni
Sangria
Italian coffee
Red or white wine
Tips for Cooking Homemade Ravioli
Make sure you have a large pot of boiling salted water.
Stir gently at the beginning of cooking. My favorite tool Pasta Server & Spaghetti Portion Utensil.
Slotted spoon- this is helpful when transferring the cooked ravioli to a pan with the sauce, or transferring to a strainer.
Do not overcrowd the pot- cook them in batches or they will stick together and not cook evenly.
Light coat cooked ravioli in the sauce of your choice while waiting for the rest to cook. This will prevent them from sticking together.
See more in this guide: How to Cook Fresh or Frozen Ravioli Pasta (Instructions).
Wether you are hosting a ravioli making party or having a weeknight ravioli dinner I know this What to Serve with Ravioli (50 best side dishes) post will help make any ravioli meal extra special!
Enjoy!
If you try any of these recipes- make sure to leave a star review on the recipe post! I'm excited to hear from you.
Make sure to tag me on Instagram @cucinabyelena. I hope you loved it! To get more ideas follow me on Pinterest.