In this What to Serve with Flounder (45 Best Side Dishes), you will find 45 of the best side dishes to serve with flounder fillets to build a tasty meal from start to finish to share with friends or family.
Flounder has a mild flavor and is an easy-to-cook fish with a flaky texture. It's fatty but not overly "fishy" tasting and is versatile fish that can take on the flavor of the ingredients you pair it with, so you can serve a wide variety of dishes.
To get you started, here is my recipe for baked flounder with lemon butter sauce. That's the easiest way to cook this mild white fish. This recipe works in a large skillet, baking dish, or sheet pan.
You will love these recipes just like these 50 Best Italian Recipes!
Bread to Serve with Flounder
Authentic Italian Bread - an easy and common Italian bread that my mom makes every week
Tomato Herb Focaccia - sweet heirloom tomatoes on crispy, salty focaccia bread, tasty bread with lots of flavors.
No-Knead Ciabatta - bakery-style bread ready in only four hours made with the stretch and fold method. Easy preparation but tastes next-level.
Soft Italian Bread - an easy recipe and a great way to add extra nutrition from the flax meal and steel-cut oats.
Bread Dipping Oil - no bread should be served without this classic Italian dipping sauce alongside it.
Starters to Serve with Flounder
Summer Panzanella Salad - a traditional Tuscan dish that combines stale or toasted bread, fresh ripe, juicy tomatoes, good quality olive oil, a splash of vinegar, and fresh basil.
Zucchini Fritters - these little zucchini pancakes flavored with parmesan and herbs fried until crispy and dipped in whipped ricotta go great with this baked flounder
Crab Cakes - what more perfect way to serve flounder than to start with crab cakes? This recipe contains no egg mixture and is baked instead of fried.
Spinach Artichoke Dip - Loaded with fresh spinach, chopped artichokes, and three kinds of cheese, the whole family will love this appetizer! (no mayo needed)
Ratatouille Tartine - all the best summer veggies in one great dish basted in olive oil and served on crispy toast will make an excellent side dish or starter.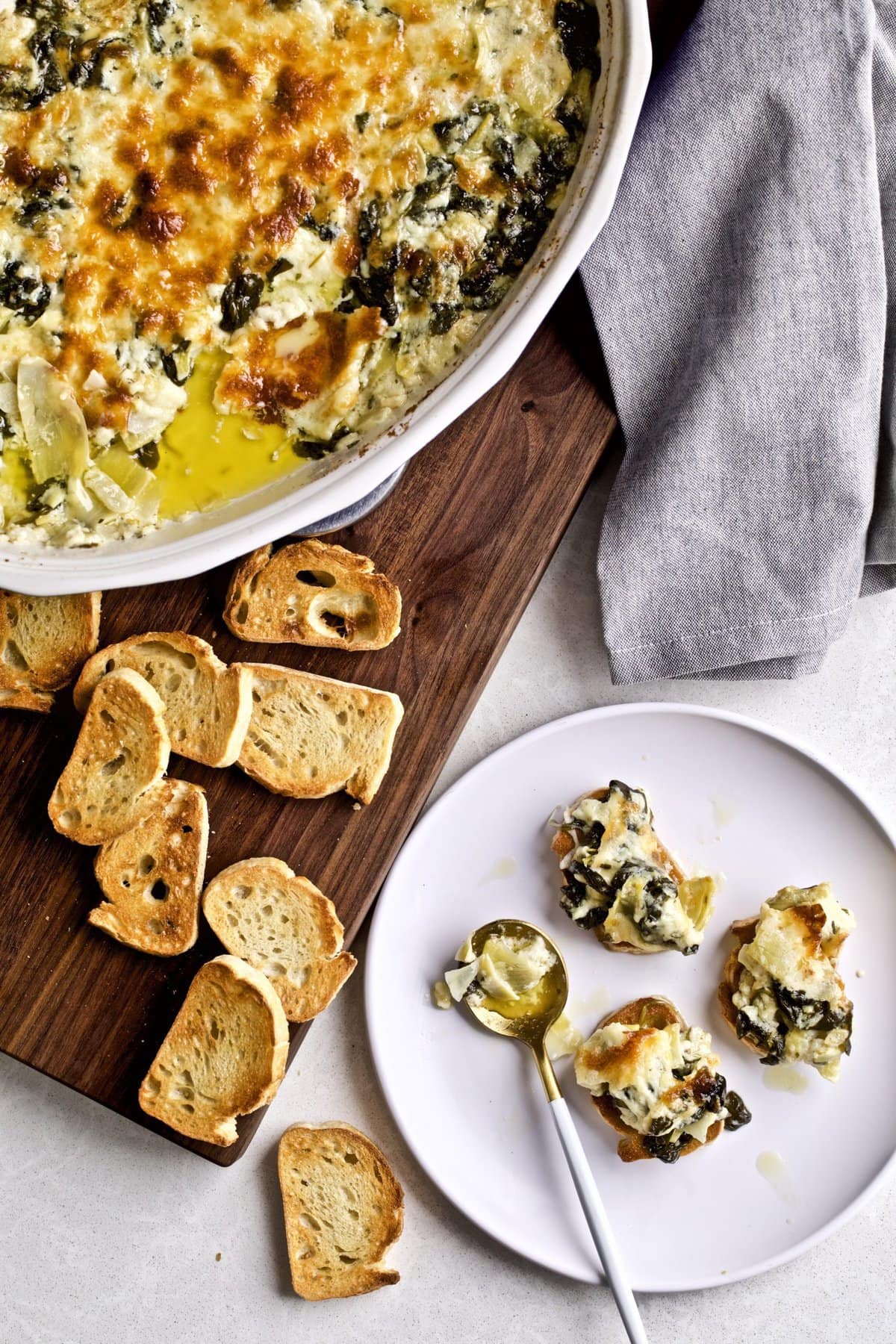 Soups to Serve with Flounder
Lobster Bisque - a classic recipe that highlights fresh lobster meat, heavy cream, white wine, bay leaf, and aromatic vegetables and makes a perfect side dish for any fish recipe
Creamy Leek Soup - creamy, easy, flavorful, and super comforting! It is similar to a traditional potato leek soup, except we use cauliflower instead of potato (a great low-carb option).
Artichoke Soup - hearty and heavenly in taste and texture that's as easy to make as it is to eat!
No-Cook Tomato Soup - light, creamy, and bright soup flavored with a pop of fresh basil, shallots, garlic, and a swirl of heavy cream
Minestrone Soup - This is a light yet hearty Italian vegetable soup that feeds the heart and soul in a simple way and is always a popular choice in the winter.
Ribollita - packed with hearty greens, meaty beans, and plenty of rich olive oil and day-old bread, this soup is a great side for any delicious fish.
Vegetable Side Dishes
Steamed Asparagus - light, tender, and buttery while keeping its shape and flavor with a gentle steam and coating of light, extra virgin olive oil, and lemon. An easy side dish for a great meal with essential nutrients
Roasted Fennel - sweet fennel caramelized with olive oil and topped with chunks of parmesan cheese makes a great choice for a side dish for this delicate fish.
Sauteed Eggplant and Tomatoes - eggplant and tomatoes sauteed together create a delicious side dish for any meal. A perfect recipe for a mom in a hurry because it's done in less than 30 minutes.
Roasted Green Beans - green beans seasoned with shallot, garlic, fresh lemon juice, and zest and then roasted to perfection in olive oil. No boiling is required, and perfect for busy weeknights.
Crispy Brussels Sprouts - tender yet crispy and seasoned with the perfect blend of sweet and spicy. These also make a great partner for any type of fish.
Honey Glazed Carrots - These carrots are a delicious way to get your kids to eat veggies. Mom approved because they are so easy and fast to make!
Grilled Eggplant - Fresh and healthy side dish flavored with simple ingredients that allow the eggplant to shine. This would go great with any baked fish of your choosing.
Italian Style Lentils - new years classic in Italy that you can easily serve with flounder.
Potato Side Dishes to Serve with Flounder
A starchy side makes an excellent side dish to your favorite fish!
Oven Roasted Potatoes - beautifully browned potatoes with herbs and olive oil. These potatoes go so well with any of your favorite seafood recipes.
Creamy Au Gratin Potatoes - Soft potatoes cooked in a decadent creamy sauce that goes perfectly with any easy fish dinner.
Red Skin Mashed Potatoes - classic creamy mashed potatoes (skins included!) absolutely packed with garlicky flavor.
Smashed Potatoes with Pesto - Boiled, smashed, and roasted, these potatoes pack a punch when served with tomatoes and basil pesto.
Pasta Side Dishes to Serve with Flounder
There are so many more ways to have pasta than with a regular tomato sauce. Look here for some easy ways to accompany your best flounder recipes.
Fregola Sarda Pasta - a harmonious blend of tender zucchini, perfectly cooked Fregola Sarda pearls, and a medley of melted cheeses
Italian Style Pasta Salad - Simple pasta salad bursting with tomato, mozzarella, basil, and arugula flavors is a great side dish to bring freshness to any meal. Definitely, the right side dish if you're looking for something simple.
Orzo with Roasted Vegetables - orzo with the perfect combination of your favorite vegetables in a lemon dressing with a sprinkle of basil and parmigiano shavings.
Tortellini Alla Panna - tortellini with peas in a silky cream sauce would go perfectly with any main course. This a light pasta recipe to go with any fresh fish.
Creamy Roasted Red Pepper Pasta - This pasta sauce combines roasted red bell peppers, garlic, sun-dried tomatoes, ricotta, and basil for loads of flavor. A good side dish if you're looking for ease and pure comfort.
Pasta with Garlic and Herbs - angel hair topped with olive oil, garlic, fresh basil, and parsley. Then sprinkled with parmesan for the finishing touch.
Desserts
Everyone knows dessert is the best part of any meal! So take this opportunity to show off your favorite ways to end a meal.
The best Italian Pistachio Cream - smooth, decadent, and rich- this dessert (or cannoli filling!) comes with a few ingredients in only 30 minutes.
Brown Butter Apple Pie - classic apple pie with a twist - using brown butter adds a nutty flavor you can't resist.
Struffoli - tiny fried dough balls are covered in delightful citrus-scented honey syrup and decorated with colorful sprinkles.
Pardulas - little pastry circles stuffed with ricotta cheese, lemon, orange peel, and saffron, and decorated with sprinkles or powdered sugar.
Tried and True Cheesecake - A classic cheesecake recipe with a graham cracker crust just waiting for your favorite fruity topping.
Cookies
Chewy Cinnamon Raisin Cookies - Crispy edges, chewy center, cinnamon, and delicious brown sugar sweetness.
Lady Fingers - spongy, airy, light, and slightly crunchy cookies are a true Italian classic! Making these delicate cookies doesn't have to be a special occasion.
Italian Wedding Cookies - A simple frosted cookie topped with colorful sprinkles are a perfect bite to end any meal.
Amaretti Cookies - chewy cookie gently flavored with lemon and almond is a perfect choice of dessert to end any meal.
Pignoli Cookies - a specialty of southern Italy made with almonds and pine nuts and baked until golden brown.
I hope these recipes encourage you to think outside of the popular choices, like fried fish with tartar sauce. Try to devise new ways to serve your favorite easy, flounder recipes or any other great fish.
Make sure to leave a ⭐️star rating on the recipe card and comment below if you make the recipe. I love to connect with you through my recipes.
I would love for you to tag me on Instagram @cucinabyelena so I can see your delicious Italian recipes. To get more ideas, follow me on Pinterest.
What vegetables go well with fish?
That it totally up to your own tastes! You should consider the flavors of what you're seasoning the fish with and ensure it goes well with the sides you choose.
Which side of the flounder is better?
The dark side is thicker and more moist, while the whiter side is more thin and has a more mild flavor.
Is flounder good for you?
Flounder is considered a good source of protein, omega fatty acids, and amino acids while remaining low in fat, so by most; it is considered "healthy."
Why is my flounder mushy?
When cooked fish has a mushy texture, it's a telltale sign that it was both frozen and improperly thawed. A good way to avoid this is by slowly thawing fish overnight in the fridge.