65+ Best Side Dishes to Serve with Prime Rib - Prime rib, also known as a standing rib roast, is a classic holiday dinner that can be enjoyed anytime. It's considered a special occasion meal because this cut of meat is juicy, tender, and marbled with fat.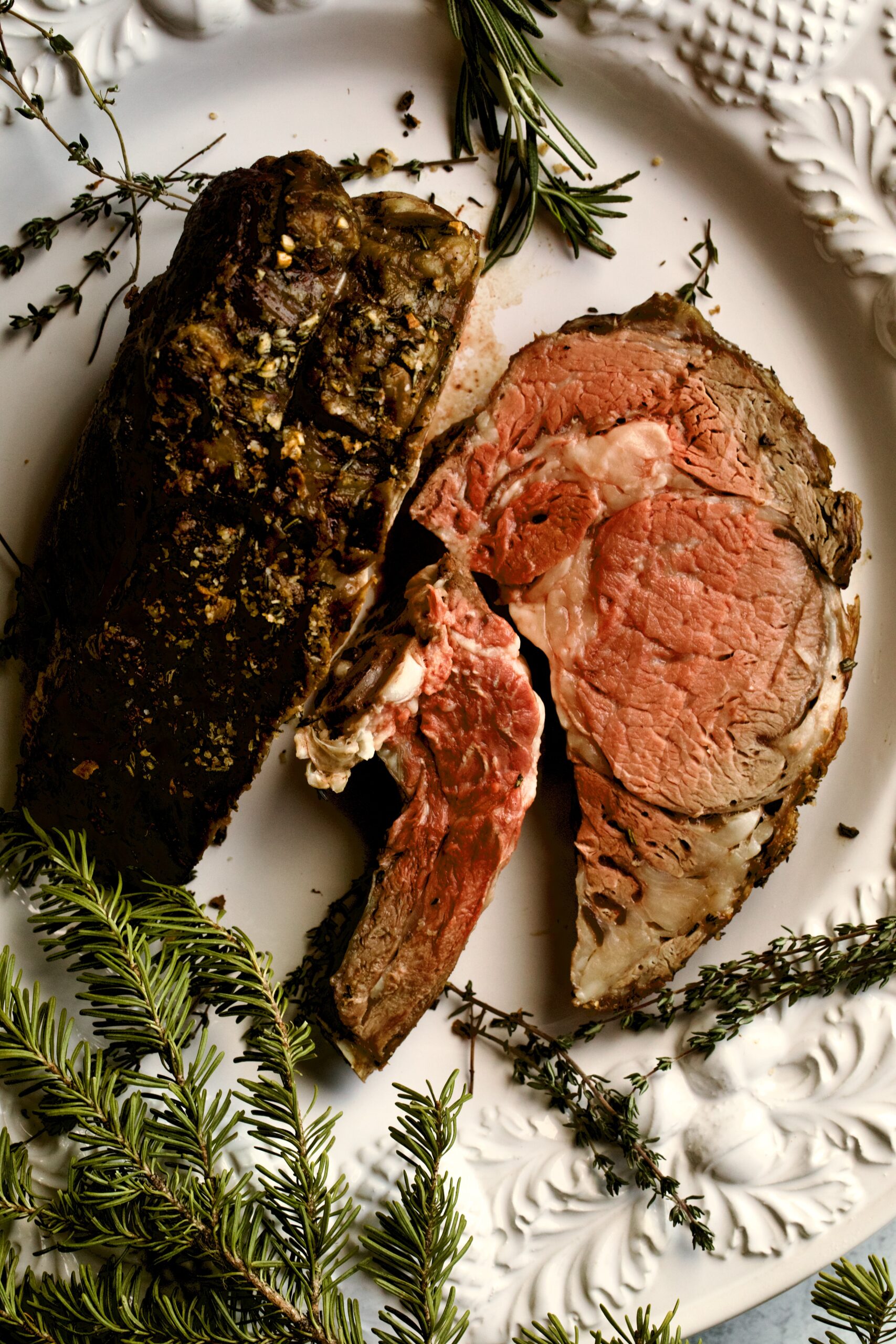 Best Side Dishes to Serve with Prime Rib
I recently shared my foolproof recipe for cooking the perfect Prime Rib Recipe that's perfect for holiday meals and your next dinner party. So, of course, the next question is what dish to serve with it to complete the meal.
I've compiled a list of 65+ Best Side Dishes to Serve with Prime Rib I hope you can use this post as inspiration to enjoy this delectable cut of meat year-round, not only at Christmas, Easter, or during the holiday season!
What about the Best Honey Glazed Carrots Recipe (Oven Roasted) to start? This is one of my favorite prime rib side dishes!
Jump to:
Appetizers to Serve with Prime Rib
When serving a meal like prime rib, you want to choose the perfect appetizer to whet the appetite. Here are some excellent recipes to get your perfect prime rib dinner started!
1. Arugula, Apple, and Pistachio Salad in Parmesan Cups - A simple but impressive appetizer to wow your guests for your prime rib meal.
2. Focaccia with Tomato and Herb - Sweet heirloom tomatoes cooked to a jammy texture on top of olive oil and herb focaccia is the ideal appetizer for any occasion.
3. Ciabatta Bread with Italian Dipping Oil - Sometimes it's best to go with the most simple option and this one is sure to please.
4. Panzanella Stuffed Mozzarella - Individual mozzarella balls stuffed with the classic Italian flavors of panzanella salad.
Vegetable Side Dishes to Serve with Prime Rib
Every meal needs its perfect companion to make it a well-rounded experience. From creamy mashed potatoes to green beans to Brussels sprouts, it's hard to go wrong with any of these varieties to serve alongside your prime rib.
Potato Recipes
5. Smashed Garlicky Herb Potatoes with Aioli Sauce - Crispy oven-roasted potatoes with a decadent aioli sauce make a lovely companion to my prime rib recipe.
6. Red Skin Mashed Potatoes (with Roasted Garlic) - A timeless classic so often paired with prime rib that can soak up all that savory au jus.
7. Creamy Au Gratin Potatoes - My dad's famous recipe for tender potatoes swimming in a creamy sauce and topped with melty cheese.
8. Italian Oven Roasted Potatoes - Buttery soft on the inside and perfectly crispy on the outside, Italian Roasted Potatoes are ideal for your holiday prime rib meal or weekly family dinner. Twice-baked potatoes make a great option too!
9. Homemade Italian Potato Gnocchi - This restaurant-style gnocchi are pillowy soft and have endless options for sauces that will go so wonderfully with prime rib.
10. Roasted Smashed Potatoes and Tomatoes with Pesto - Golden brown and crispy on the outside and soft on the inside, these potatoes are everything you want from a side dish.
11. Creamy Potato Salad with Herbs - Light and bright compared to most potato salads, this twist on a classic is as flavorful as it is simple.
12. Lemony Asparagus Potato Salad - Another spin on the cookout favorite, this version adds a pop of color and freshness with asparagus and citrus.
Green Bean Recipes
13. Italian Flat Green Beans with Tomatoes and Garlic - A quick and easy side dish that you can make in about 20 minutes that is both tasty and healthy!
14. Easy Sauteed Frozen Green Beans - Take frozen green beans to the next level by sauteing them in olive oil with onions, garlic, and pine nuts. This is one of the easiest green bean recipes.
15. Roasted Green Beans with Garlic and Lemon - These green beans are easy enough for a weeknight dinner but delicious enough for any holiday gathering. A green bean casserole would be great too.
More Vegetables
16. Baked Zucchini and Tomato Bruschetta - A light and delicious side dish to feature the gorgeous bounty of zucchini and tomatoes of the season.
17. Escarole - Italian Beans and Greens - This healthy and comforting vegetarian food can stand alone or be the perfect dish to round out your prime rib meal.
18. Warm White Bean Salad with Arugula and Mozzarella - There is barely any cooking required for this yummy salad bursting with fresh, nutritious flavors.
19. Crispy Brussels Sprouts - Brussels sprouts that are tender with the perfect crispy edges and just the right amount of sweet & spicy flavors. This recipe is famous on the internet for a good reason!!
20. Cauliflower Casserole with Creamy White Sauce - A casserole baked in white sauce (bechamel) with a parmigiano and bread crumb topping for a crunchy layer of cheesy goodness.
21. Baked Eggplant Slices with Ricotta Cheese - Slices of crispy eggplant layered with ricotta and parmesan cheese and homemade tomato sauce that everyone will enjoy.
22. Farro Salad with Red Pepper and Mushroom - A nutritious dish that can be served hot or cold but is absolutely filled with the flavors of red pepper and mushroom.
23. Italian Zucchini Fritters - Made with only a few ingredients this is sure to become one of your favorites - and I bet you can't eat just one!
24. Roasted Portobello Mushrooms with Balsamic and Thyme - These mushrooms pack a whole lot of flavor into bite size pieces. Their earthy taste will pair fantastically with a delicious prime rib. You can also use button mushrooms for this.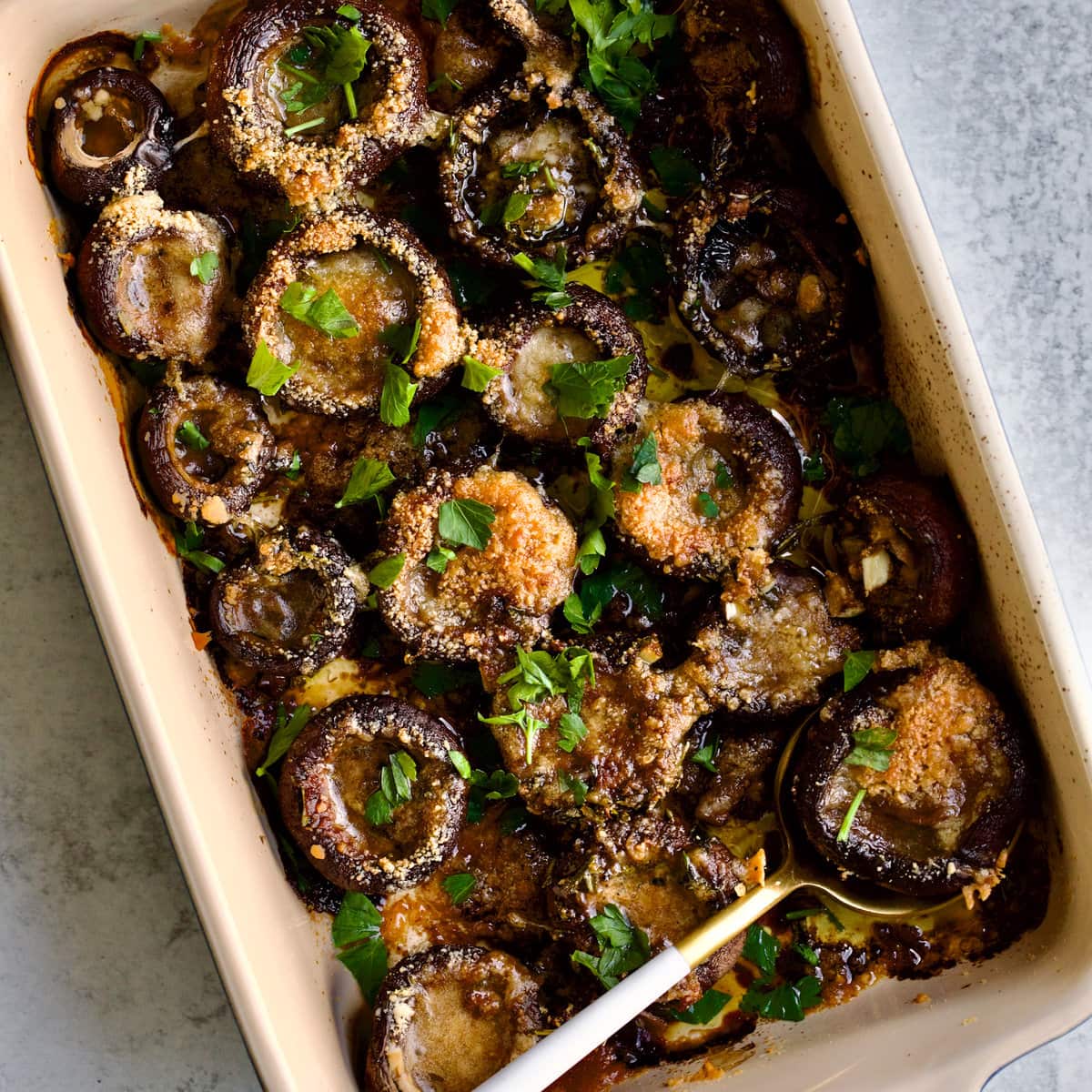 25. Stuffed Zucchini - A classic Italian way to eat zucchini. These little bites are tender and topped with cheese.
26. Oven Roasted Fennel - This easy roasted fennel is caramelized on the edges and topped with parmesan straight out of the oven.
27. Classic Italian Style Lentils - This vegetarian dish is typically eaten by Italians on New Years to bring good luck but can be enjoyed all year long.
28. Italian Style Stuffed Peppers This would be a great addition to your meal because it can be cooked in the oven along with the prime rib. It covers all the bases with vegetables, rice, and herbs - you could easily omit the meat or add cheese if desired.
29. Sauteed Zucchini and Onion - A light and satisfying dish to serve with any meal that would pair especially well with rich and juicy prime rib.
Pasta Sides for Prime Rib
There are so many wonderful dishes to accompany prime rib… but, can you think of anything more perfect to add to any meal than pasta? Here are some of my favorites
30. Antipasto Pasta Salad with Italian Dressing - This Italian pasta salad recipe is light and fresh with lots of flavor from the marinated olives and artichokes, creamy mozzarella balls, crisp bite of the arugula, and sweet ripe cherry tomatoes.
31. Italian Tortellini Pasta Salad - Cheesy tortellini pasta, fresh vegetables, and a simple homemade salad dressing can be made ahead of time and left to marinate in the fridge until you're ready to serve.
32. Italian Style Pasta Salad with Arugula - With fresh arugula for a little spice and basil for sweetness this pasta salad comes together in less than 20 minutes.
33. Greek Style Pasta Salad - This dish comes together in the time it takes you to boil a box of pasta and chop some veggies but will satisfy any guest at your table.
34. Mushroom Ravioli with Cream Sauce - Perfectly cozy pasta covered in a savory cream sauce with shallots and mushrooms.
35. Tortellini Alla Panna with Peas - Cheesy tortellini and sweet peas coated in a creamy sauce makes a great accompaniment to prime rib any time of the year.
36. Pasta with Vegan Arugula Walnut Pesto - Slather any pasta of your choice with this no-fuss arugula pesto flavored with lemon and walnuts.
37. Butternut Squash Ravioli with Sage Butter Sauce - Serve this soft, melt-in-your-mouth ravioli in nutty brown butter sage sauce with your prime rib for a comforting family dinner.
38. Gemelli Pasta with Tomatoes and Mascarpone - Everyone will love this easy-to-make pasta dish with creamy mascarpone and blistered pan-roasted cherry tomato sauce.
More Pasta Recipe Ideas
39. Lemon Ricotta Pasta with Asparagus - This pasta with creamy ricotta, pop of lemon, and a garnish of mint and basil leaves is simple, fresh, and tastes like spring.
40. Cheese and Broccoli Pasta Bake with White Sauce - Pasta with a creamy cheese sauce, perfectly cooked broccoli, and crunchy topping with a hint of lemon to brighten the dish.
41. Creamy Spinach and Lemon Orzo - A satisfying and comforting dish without leaving you feeling heavy, this orzo is packed with spinach, parmesan, and lemon zest.
42. Creamy Pasta Shells with Sweet Peas and Bacon - This crowd-pleaser has a fresh pop of flavor from sweet peas and the crunch of savory bacon in every bite.
43. Roasted Butternut Squash Risotto - Enjoy this creamy risotto made an authentic Italian way that's creamy and full of flavor!
44. Stuffed Manicotti with Spinach and Mushroom - Delicious and filling vegetarian manicotti recipe you and the whole family will LOVE!
45. Pasta with Authentic Italian Pesto Genovese - My family's authentic pesto recipe that you can put on your favorite pasta and serve beside your prime rib.
46. Shredded Zucchini and Cheese Pasta - a quick, light, and tasty shredded zucchini and cheese pasta recipe with only a few ingredients and packed with fresh herbaceous flavors.
47. Asparagus Risotto - This vegetarian asparagus risotto recipe uses a mushroom broth to add a hearty undertone that pairs perfectly with the fresh asparagus.
48. Roasted Peppers and Garlic Pasta - These perfectly roasted peppers and garlic marinated in olive oil make the tastiest pasta sauce and with only three simple ingredients, it doesn't get much easier.
49. Pasta with and Peas with Mascarpone - A dish you'll be asked to make again and again, this pasta has fresh flavors and plenty of creamy sauce to coat the al dente pasta.
50. Paccheri Pasta with Zucchini, Tomatoes, and Creme Fraiche - Taste the freshness of the zucchini and tomatoes in this recipe as they are generously coated in a delightful herby crème fraîche sauce.
Soups Recipes to Serve with Prime Rib
Serving soup is a fantastic way to round out any meal, especially during the chilly winter. Any of these tasty soups would go hand in hand with prime rib.
51. Creamy Leek Soup (with no Potatoes) - This spin on traditional leek soup leaves out the potatoes in favor of cauliflower for a healthier alternative.

52. Tomato Soup - Nobody can resist this savory classic that you can make quickly in your blender!
53. Italian Artichoke Soup - This is a light and healthy soup that takes only 30 minutes to prepare but packs a flavorful punch.
54. Tortellini in Brodo - A Christmas staple in Italy that would make a perfect side dish to your own holiday prime rib occasion.
55. Pastina Soup - An incredibly simple recipe, this flavorful soup that will warm you up with each mouthful.
56. Zuppa Toscana with Bacon, Potato, and Kale - A hearty and indulgent soup that omits the traditional sausage and will make an excellent companion to any prime rib dinner.
57. Tuscan Ribollita, Vegetable Bread Soup - This comforting soup is filled with hearty greens, meaty beans, plenty of rich olive oil and day old bread.
Salad Recipes to serve with Prime Rib
Prime rib is a rich meal, so pairing it with a lighter option like salad makes perfect sense. Try one of these salads for an easy-to-make, healthy side dish to serve along with your main course.
58. Any Salad with my Italian Balsamic Vinaigrette - You only need a few staple ingredients to make this easy dressing to drizzle over any salad you decide to serve with your prime rib.
59. Italian Salad with Pears, Walnuts, and Gorgonzola - One of my favorite combinations for fall and winter and a delicious salad to serve for any occasion.
60. Goat Cheese Salad with Lemon Olive Oil Dressing - Fresh ingredients bring this salad to life without overdoing a simple side dish - bright, healthy, and satisfying.
61. Berry and Goat Cheese Salad with Honey Citrus Dressing - This salad hits all the taste buds with its sweet, tangy, earthy, salty, and tart flavors.
62. Orange and Fennel Salad - A gorgeous display of simple and fresh ingredients with a pop of citrus that adds a bright touch to the whole meal.
Desserts to Serve with Prime Rib
No special meal is complete without a dessert and prime rib is no exception. Follow up your dinner spread with one of these sweet treats to end the night on the perfect note!
63. Italian Pistachio Gelato - A smooth, delicious gelato would be an impressive and equally decadent finish for your prime rib spread. And if you love Pistachio but prefer cake, you can also try this Italian Crumb Cake with Pistachio Cream (Sbriciolata) recipe.
64. Tiramisu - Quite possibly the most famous Italian dessert with a surprisingly quick and easy assembly that you can pop into the fridge the day before you plan to serve it. And you can also try the Strawberry version of this!
65. Fresh Peach Pie - This is another no-bake recipe made with succulent peaches with a sweet custard in a graham cracker crust. It has only a few ingredients but so much flavor!
66. Lemon Ricotta Cookies - These soft, delicious cookies have an almost cake-like texture and are the perfect light dessert to follow up your prime rib feast.
Leftover Ideas for Prime Rib
If you've made a prime rib roast for your family, chances are you will have leftovers. You can use one of these recipes if you want to transform this classic dish into something new and exciting to eat the next day!
67. Make a leftover prime rib sandwich on focaccia bread topped with provolone and Italian pickled peppers.
68. Start with authentic Neapolitan pizza dough and top with fresh mozzarella, onions, peppers, and prime rib for a mind-blowing pizza.
Whether you're hosting a holiday feast or want to make a regular dinner a special occasion for your family, these recipes are sure to please anyone. I hope you enjoy them as much as we have!
Best Equipment for Cooking Prime Rib
FAQs
What's so special about prime rib?
The word "prime" in this instance is a legal designation given by the USDA that indicates the amount of fat and the age of the cow. This label usually means that this cut of meat will be particularly moist, tender, and flavorful.
How do you cook prime rib?
The most classic way to cook a prime rib is to coat the outside with herbs and spices then slow roast it in the oven. If you want my exact method, see my recipe here.
How long does it take to cook prime rib?
Prime rib is cooked according to the size of the roast; usually 12 minutes per pound for rare, 14 minutes per pound for medium rare, or 15-16 min per pound for medium well.
How many people will 5 pounds of prime rib feed?
The general rule of thumb is to buy one pound per person or "one rib per two people" if you're ordering your meat from a butcher. So, a 5 pound (2-3 bones) prime rib should feed 4-6 adults.
Is prime rib a traditional Christmas dinner?
It has become a Christmas tradition for many families but you can enjoy this dish at any time of the year!
Make sure to leave a ⭐️star rating on the recipe card and comment below if you make the recipe. I love to connect with you through my recipes.
I would love for you to tag me on Instagram @cucinabyelena so I can see your delicious Italian recipes. To get more ideas, follow me on Pinterest.
Print
65+ Best Side Dishes to Serve with Prime Rib
Best Side dishes to serve with Prime Rib Roast Dinner!
65+ Best Side Dishes to Serve with Prime Rib
Instructions
See the post for all the delicious recipes!