Traditional Italian Christmas Food in Italy (40+ Recipes). From appetizers to the Feast of the Seven Fishes and Italian Christmas desserts, you will taste Italian Christmas foods in this post!
Make these recipes this season and enjoy learning about the culinary traditions of an Italian Christmas meal, just as you would enjoy another Italian meal experience with our Traditional Italian Easter Recipe Dinner Menu Ideas (35+Recipes) and 65+ Best Side Dishes to Serve with Prime Rib. Search for more Classic Italian Recipes.
Italian Christmas Markets (Video)
To get in the holiday spirit, let's view this beautiful video of an Italian Christmas market in Trento, Italy. My dear friend Elisabetta sent this to me. Enjoy!
Note: I left the sound on, so you could hear singing and the Italian language. You can mute the audio if needed.
Now, onto the Italian Christmas food and traditions...
Traditional Italian Christmas Food in Italy
Christmas in Italy, both in Northern Italy and Southern Italy, is pure magic.
Italian families gather around large tables and enjoy endless spreads of traditional foods. Many of these recipes are family recipes that are passed down from generation to generation.
Every holiday meal is a memory with the gift of food, laughter, and love that keeps on giving year after year. The food is the center of every table, but it is the traditions, slow-style eating culture, and appreciation for the delicacies prepared that truly make Italian Christmas food special.
Enjoy this post with Traditional Italian Christmas Foods in Italy (40+ Recipes). I hope you can try some recipes this holiday season and on other special occasions.
Jump to:
Christmas Eve - Feast of the Seven Fishes
On the 24th of December in Italy, La Vigilia di Natale, many Italian families celebrate by arranging their nativity scene and attending Christmas Mass. Before leaving for mass, or even after the mass, we return home and gather around a table filled with seven unique seafood dishes.
A traditional Italian Christmas Eve dinner consists of different seafood dishes.
You can use a few different kinds of fish and vary the preparation to cut down the work. Every Italian family makes a variety of different fish dishes. You can create different ways to serve and prepare the fish depending on your taste.
Most common, the fishes include baccalà (salt cod), capitone (eel), calamari (squid), frutti di mare (shellfish), and more. Try this Easy Crab Cakes Recipe.
The number 7 is symbolic in Catholic traditions. There are many references to the number seven. From the seven sacraments, the seven deadly sins, and the seven days it took for all of Creation to come into existence.
Eating fish on Christmas Eve is an ancient Italian and Catholic tradition. It comes from Roman Catholics avoiding meat and dairy on the eve of certain holidays, and Southern Italy (where I am from) is well known for its beautiful coast, which is full of fresh fish and other seafood.
Classic seafood recipes are carefully created, preserved, and passed down through families for generations.
Steamed Mussels and Clams Recipe (with Wine and Garlic). These mussels and clams are steamed in a flavorful broth of shallots, parsley, garlic, and white wine. It all comes together in 30 minutes and in one pot. You'll want a loaf of crusty bread to sop up the delicious juices.
This stuffed salmon is surprisingly light with a simple stuffing of lightly sautéed shrimp in garlic and olive oil and a mixture of fresh crab, bell peppers, parsley, lemon, and bread crumbs for an added crunchy topping. It is a fresh and delightful seafood dish.
More seafood and fish recipes.
Flaky cod fillets topped with seasoned lemon, garlic, and parsley, then baked to perfection! It is easy to make and makes the perfect fish dish to serve for the Feast of the Seven Fishes.
This delectable recipe combines perfectly cooked spaghetti with tender and juicy clams, creating a symphony of flavors that will transport you straight to Italy. The star of the show is the garlicky and aromatic sauce, made with white wine and olive oil, which infuses the pasta with an irresistible taste.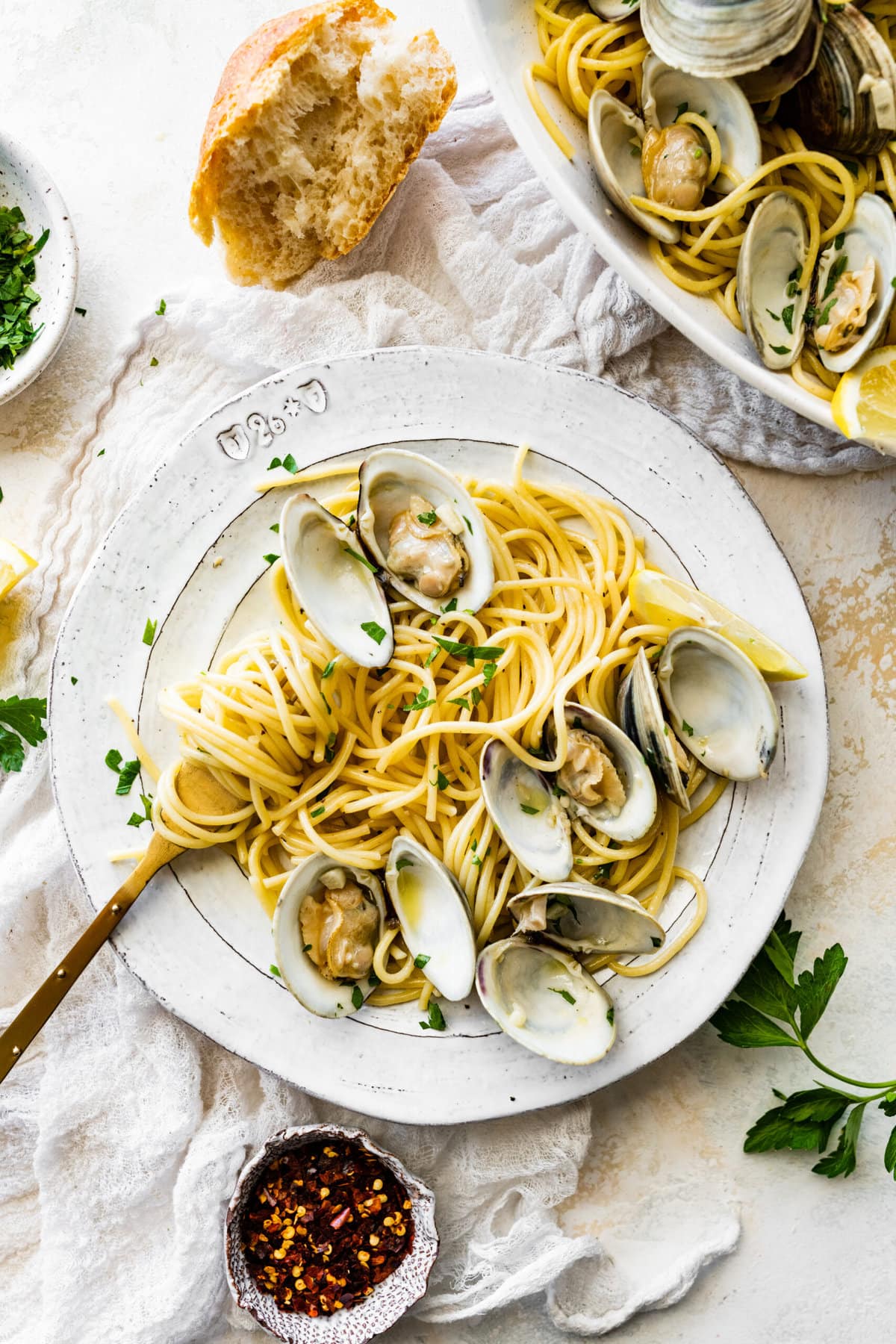 Pesce Spada alla Siciliana
Famous in Calabria and Sicily, the Pesce Spada alla Siciliana is a beautiful example of fresh and flavorful South Italian cuisine.
This traditional Italian Christmas food consists of a swordfish fillet topped with a puttanesca sauce made from olives, tomatoes, and capers. It is typically paired with a full-bodied, dry white wine from the South to bring out the amazing flavors.
Traditional Italian Christmas Day Lunch
This Italian Christmas soup is humble, simple, and comfort food from the inside out. Originating from Emilia Romagna, this classic egg pasta is stuffed with fillings, including veal, ham, Parmigiana cheese, and nutmeg. You can also find vegetarian fillings.
We eat this humble dish to celebrate the true and simple meaning of Christmas. Before the fancy main meal, desserts, and Christmas presents, in Italy, we start out
This homey soup served for Christmas Eve dinner or Christmas day lunch takes us back to how the Christmas story began in a humble manger.
Antipasti (Italian appetizers)
Antipasto is traditionally thought of as the appetizer course of an Italian meal and contains an assortment of cold items such as cured meats, cheeses, olives, and vegetables; It can also include an assortment of cold or hot small seafood dishes that are often shared.
Enjoy a classic Italian antipasto platter with the BEST homemade bread recipe. It is perfect for any family gatherings and large parties during this festive period.
Crispy Calamari Air Fryer Recipe (easy and light)- These crispy-on-the-outside, tender-on-the-inside "fried" calamari are simple to make in the oven or the air fryer! This is a healthier version of an Italian family favorite.
Primo (Italian First Course)
Examples of Italian Christmas foods for the first course include risotto, pasta dishes, seafood or vegetarian sauces, soup and broth, gnocchi, polenta, casseroles, or lasagne.
Italian families always serve traditional pasta al forno or lasagna at their Christmas table. This is a classic Italian lasagna recipe with meat sauce my Italian family has made for generations. I know you will love it too! I wrote a story about my love for lasagna here: Sunday Story: Lasagna Love.
Try the vegetarian variety- Authentic Spinach and Ricotta Lasagna with Tomato Sauce.
Nothing spells love more than homemade pasta! This is the perfect recipe to bring the family together during the holiday festive season. It is satisfying and rewarding to eat mouthwatering tender egg pasta with a classic cheese and spinach filling.
Taste for perfect 'al dente' texture. You want a slight bite and a soft, tender texture. Read How to Cook Fresh or Frozen Ravioli Pasta (Instructions) for precise details!
Wondering what to serve with ravioli? Here are some ideas for you: What to Serve with Ravioli (50 best side dishes)!
Secondo (Italian Second Course)
You can find anything from fish dishes to meat entrees for the second-course portion of the Christmas Day main course menu.
In Central Italy, you're likely to find meat on the Christmas table such as Roast Lamb is very popular, served with roasted potatoes, and an Italian Fennel, Citrus, Pomegranate, and Salad, or Italian Salad with Pears, Walnuts, and Gorgonzola.
You will love this juicy pork tenderloin paired with the delicate and slightly sweet flavor of the sautéed shallots and fennel.
You will love the flavorful crust with Italian herbs and tender meat with all the pan juices!
Serve this perfect prime rib roast with the best mashed potatoes and green beans or your favorite side dishes.
Also, try- Steak in a Pan (Perfect Recipe)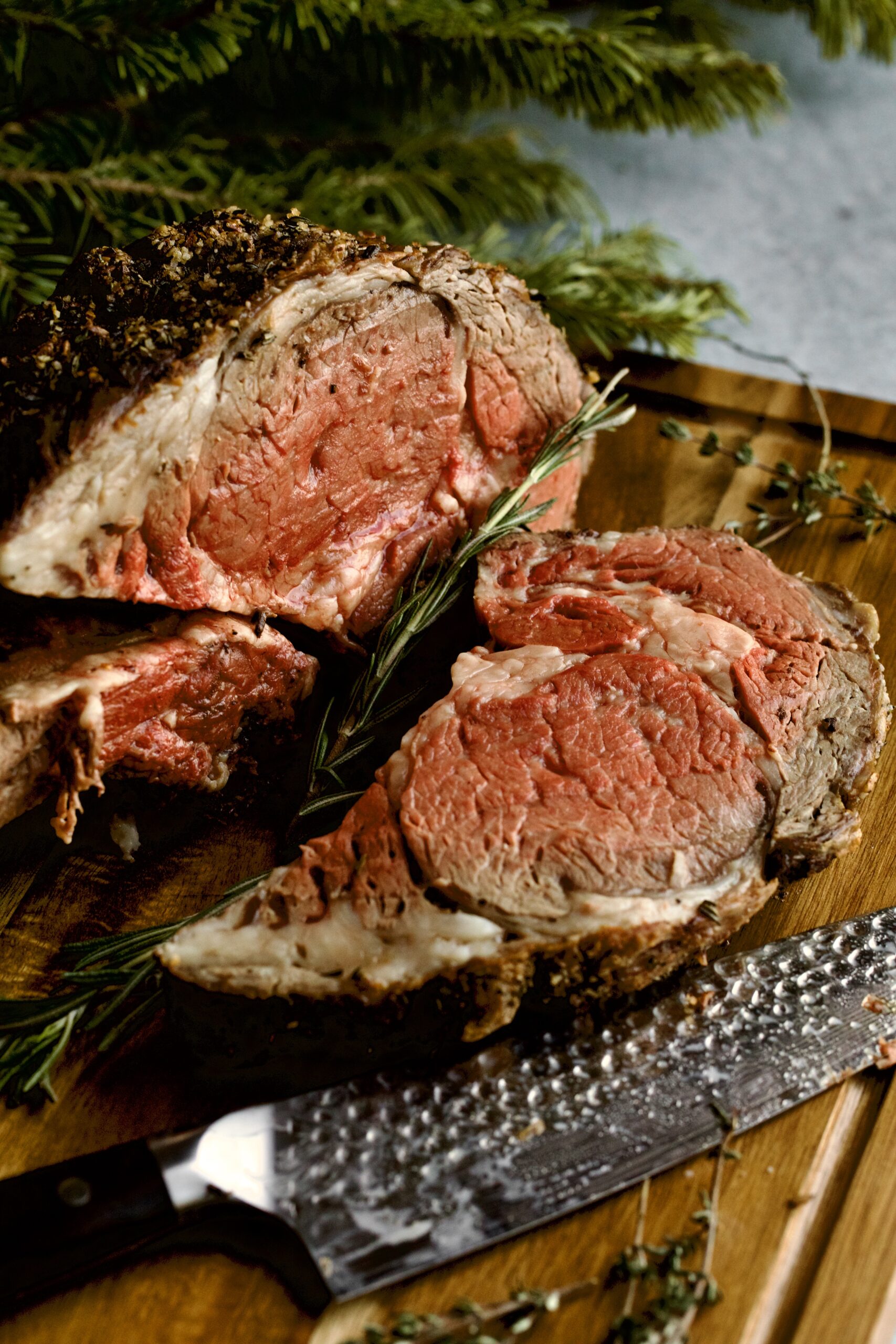 Dolci (Italian Desserts)
Italian Christmas Desserts! This is, of course, the best part of any meal. Make a sweet ending to a delicious meal with these Italian Christmas desserts and sweets.
The traditional cannoli originated in the Sicilian city of Palermo. This is the BEST Authentic Sicilian Cannoli Recipe! It comes straight from Sicilia, Italy, from my friend Lili. See the step-by-step photos of the entire process!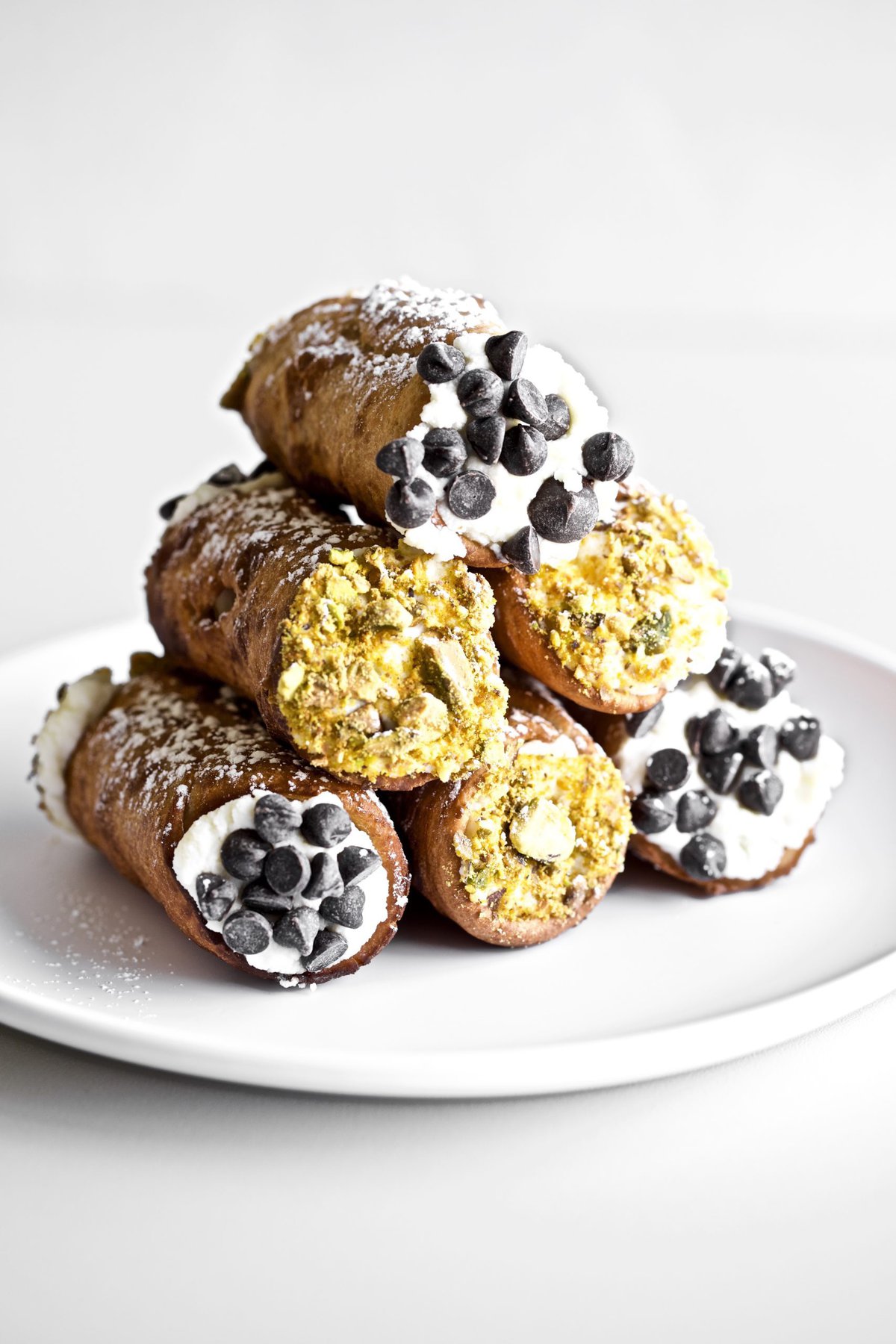 Perhaps the most traditional Christmas bread comes from Milan. Panettone has a beautiful tall, dome shape and is more bread than a cake; its sweet dough is studded with candied fruits and raisins. It is one of my favorite Italian Christmas-time sweets.
I love to gift mini panettone to friends and neighbors to wish them a Merry Christmas!
Panforte
This dessert is similar to dense fruitcake. It is a sticky, chocolatey sweet with a hint of spice it is the traditional holiday dessert from Siena in Tuscany.
This decadent treat contains no flour and is loaded with cocoa, fruits, and nuts, sweetened with local honey, and spiced with traditional holiday flavors.
Pandoro
Pandoro is a golden Christmas cake/bread from Verona that is a traditional dessert for Christmas dinner in Italy. This moist, sweet bread is served with icing sugar dusted over the top and sometimes studded with chocolate. I love to eat it with homemade jam.
Resembling Christmas tree ornaments with colorful glitter, struffoli is an iconic holiday treat all over Italy, especially in Napoli or Naples.
A giant tower of fried dough balls (similar to little zeppole) is drizzled with honey and formed into the shape of a Christmas tree or wreath, then showered with colored sprinkles.
Biscotti (Italian Cookies)
Christmas holidays aren't complete without family baking and making an assortment of Christmas cookies! The best part about Italian Christmas foods is the sweet treats ;). Here are some traditional Italian Christmas sweets for you!
This Classic Italian Almond Biscotti Recipe (Cantucci) is a blank canvas to create various biscotti flavors. Read all the tips to master this classic and simple Italian biscotti recipe.
You will love this original recipe for these soft Italian bakery-style amaretti cookies! The perfect recipe for leftover egg whites from Italian Pastry Cream (Crema Pasticcera) or Italian Pastry Cream (Crema Pasticcera).
The BEST Italian Wedding Cookies (Anginetti). The texture of these soft cookies is amazing (similar to butter cookies), and they melt in your mouth! They are perfect for a Christmas cookie tray.
This simple Italian Butter Cookies Recipe (bakery style) is just like the kind we buy in Italy from the local bakery shop, but better! This cookie recipe requires seven basic ingredients and takes 1 hour to make. You can't beat these soft, rich, melt-in-your-mouth butter cookies.
They make the perfect holiday season cookie (or sweet treat any time of year)!
In Italy, you will find these cookies all year round in specialty bakeries. They are filled with sweet homemade jams and dusted with powdered sugar or rolled in crushed almonds to give a crunchy exterior texture.
Italian Chocolate Spice Cookies Recipe is an easy one-bowl chocolate cookie that is soft and cake-like with plenty of chocolaty flavor and a hint of warm spice. This is an old family recipe you will love.
This Italian Orange Olive Oil Cake Recipe is an easy one-bowl recipe. The soft texture and honey-sweet taste will leave you craving more after your first slice. It is simply irresistible with the most tender crumb with a lovely orange flavor.
Traditional Italian Christmas Food in Italy (40+ Recipes)
I hope you enjoyed this Traditional Italian Christmas Food in Italy post! Share it with a friend and enjoy the tasty recipes and traditions.
If you are in Italy during the holiday season, visit the local Christmas market, where you will find regional specialties and get a glimpse of Italian Christmas traditions.
Make sure to leave a ⭐️star rating on the recipe card and comment below if you make the recipe. I love to connect with you through my recipes.
I would love for you to tag me on Instagram @cucinabyelena so I can see your delicious Italian recipes. To get more ideas, follow me on Pinterest.