There's nothing quite like a traditional Italian Easter dinner to unite family and friends. From savory main dishes to sweet desserts, our Italian Easter menu, plus a few non-traditional items, has something for everyone. From this recipe, Italian Sweet Braided Easter Bread Recipe to the Best Roasted Rack of Lamb with Dijon Pistachio Crust.
With easy-to-follow instructions and plenty of tips and tricks, just like our Traditional Italian Christmas Food in Italy (40+ Recipes) and Recipes to Serve with Cod (50+ Best Side Dish Recipes), this blog post will help you create a mouth-watering feast that your loved ones will never forget. So grab a pen and paper and plan the perfect Easter dinner menu!
Easter is just around the corner, and it's time to start planning your family's dinner menu. Whether you're hosting a big gathering or having a small, intimate meal with your immediate family, we've got you covered.
In this blog post, we'll share some delicious and easy-to-make Easter dinner ideas that will impress even the pickiest eaters. From traditional ham and roasted vegetables to mouth-watering desserts, our friendly guide will help make your Easter dinner a smashing success.
You will surely love these recipes just like our Classic Italian Dinner Recipes!
Jump to:
Preparing For Easter Dinner
Easter dinner is a special time for families to come together and celebrate the holiday. You can do a few things to make sure your dinner is a success. First, plan out your menu beforehand and ensure all necessary ingredients are on hand. Consider incorporating traditional Easter foods like ham or lamb and side dishes and desserts that everyone will enjoy.
Next, decorate the table with pastel-colored tablecloths and napkins, fresh flowers, and Easter-themed centerpieces. This will create a warm and inviting atmosphere for your guests.
Finally, don't forget to have fun! Easter dinner is all about spending time with loved ones, remembering Christ, and enjoying each other's company. So relax, savor the delicious food, and cherish the memories you create together.
What to Serve at Your Easter Dinner Table
Easter is a time for gathering with family and friends, and what better way to celebrate than with a delicious meal?
When it comes to choosing what to serve at your Easter dinner table, there are plenty of options that are sure to please everyone.
For the main course, you can't go wrong with our classic Roasted Rack of Lamb with Dijon Pistachio Crust. Pair it with savory sides like Flat Green Beans or Roasted Smashed Potatoes.
And don't forget about dessert! A sweet and delicious Easter Coconut Cake is the perfect way to end the meal on a high note.
Of course, you can always add your personal touch by incorporating traditional family recipes or trying out new ones. Above all, make sure to enjoy the company of your loved ones and savor every bite of your delicious Easter feast.
Main Course For Your Easter Dinner Table
The essence of Easter dinner lies in bringing together beloved friends and family members to relish a delectable meal in each other's company. As you plan the main course for this special occasion, you'll be delighted to discover many exceptional options to suit every taste and preference.
1- Small Prime Rib Roast Recipe - This recipe provides step-by-step instructions on how to achieve a perfectly cooked prime rib that's ideal for intimate get-togethers.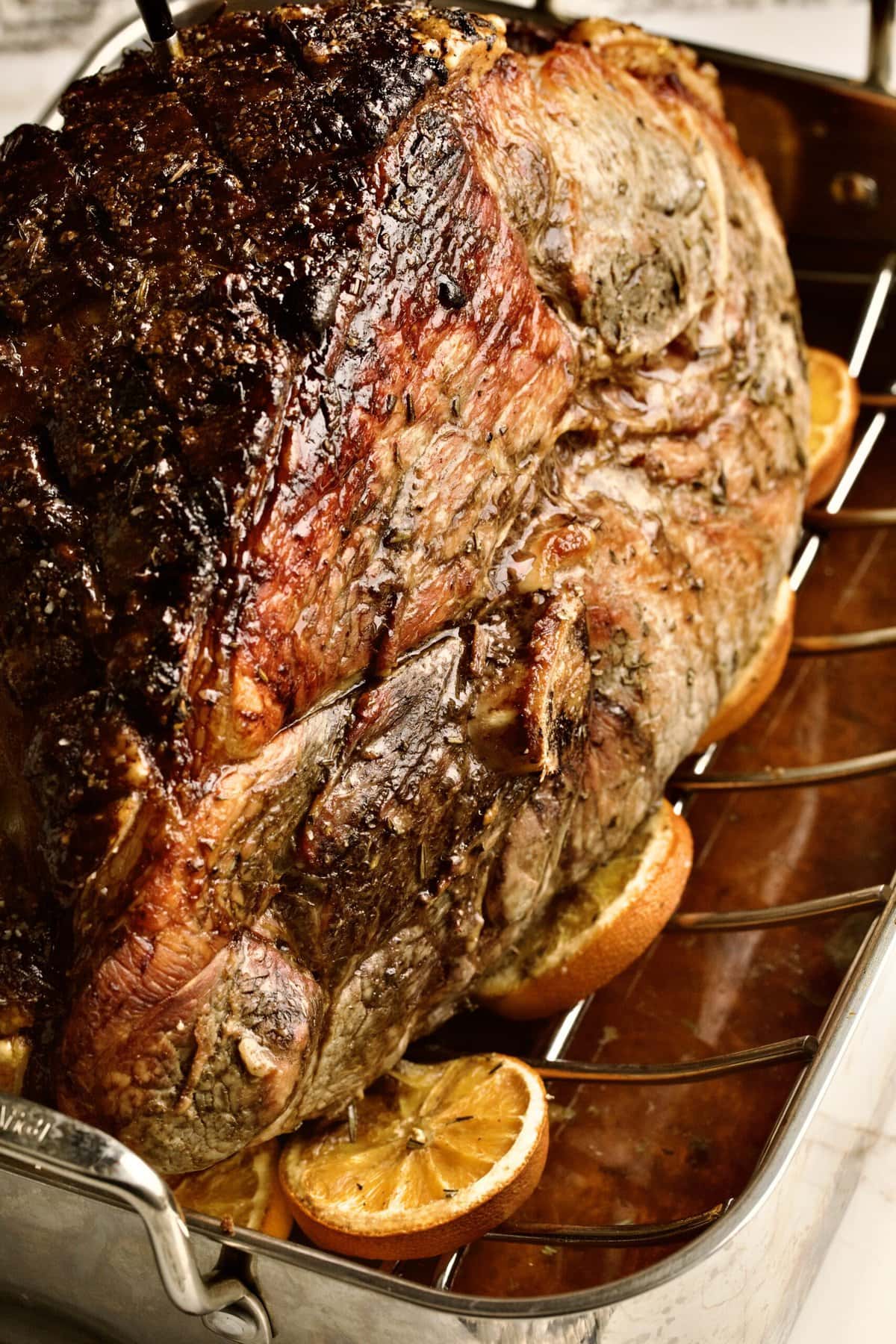 2- Baked Salmon with Herb Oil Dressing - An uncomplicated, nutritious Salmon, Potato, and Salad Dish! Its vibrant colors and flavors exude a sense of lightness and healthiness. This meal offers a gratifying and flavorsome experience, packed with all the essential elements to leave you feeling content and nourished with delightful and wholesome ingredients.
3- Fresh Ham Roast Recipe - Impeccably flavored with a blend of herbs, spices, and a subtle touch of brown sugar, this results in an irresistibly succulent ham roast adorned with a delightfully crunchy exterior.
4- Baked Ham and Cheese Pasta - This oven-baked ham and cheese pasta (featuring a white sauce) is delightfully cheesy, warm, and scrumptious! It serves as the quintessential comfort dish to relish on a chilly day, guaranteed to bring joy to the entire family.
5- Sheet Pan Orange Chicken with Potatoes - This scrumptious, straightforward recipe will leave your whole family yearning for seconds. This single-pan dish reigns supreme in simplicity, taste, and adaptability!
6- Roasted Rack of Lamb with Dijon Pistachio Crust - This recipe offers a gourmet dining experience with minimal effort. Present it at your Easter celebration or anytime you fancy a delectable rack of lamb meal.
7- Sheet Pan Italian Sausage with Potatoes - Offers a rustic, satisfying, and wholesome option for any weeknight meal or relaxed weekend gathering with friends. This dish never fails to impress and is guaranteed to delight the entire family with its delightful flavors.
8- Italian Braciole Recipe (Stuffed Beef with Sauce)
9- Roasted Turkey - A classic and delicious choice for Easter dinner. This recipe yields a juicy and flavorful turkey with crispy golden skin.
10- Classic Italian Lasagna Recipe or Stuffed Lumaconi Pasta Recipe with Ricotta and Sausage. These Italian classics feed a crowd and are totally authentic.
Savory Side Dishes For Your Easter Dinner Table
Regarding side dishes, there are so many options to choose from! Whether you're looking for something savory or sweet, there's sure to be a dish that will satisfy all your taste buds.
For those who prefer savory flavors, here are some of our recommendations.
11- Authentic Italian Potato Gnocchi - Create the most delightfully tender potato gnocchi! Once you perfect this cloud-like gnocchi recipe, you'll be eager to share it with all your loved ones. You can also make How to Make Homemade Ravioli- Italian Recipe.
12- Garlicky Herb Potatoes - Indulge in the Savory Flavors of Smashed Garlicky Herb Potatoes! This dish combines the creamy texture of mashed potatoes with the bold flavors of garlic and herbs. A perfect side dish for any meal or occasion.
13- Mashed Roasted Garlic Red Skin Potatoes - An iconic holiday side dish and a go-to for scrumptious family dinners. Brimming with rich roasted garlic essence, these mashed potatoes offer a delectable, creamy, and slightly chunky consistency. You'll adore this simple yet delightful mashed potato recipe!
14- Flat Green Beans Recipe with Tomatoes- A delectable and effortless side dish ready in just 20 minutes! This combination of Italian green beans with tomatoes and garlic ranks among the healthiest, most delicious, and simplest side dishes to prepare.
15- Roasted Green Beans with Garlic - These effortless roasted green beans are flavored with shallot, garlic, lemon juice, and lemon zest before being impeccably roasted in olive oil.
16- Smashed Potatoes and Tomatoes with Pesto - These golden-brown and crispy smashed potatoes, combined with tomatoes and pesto, will revolutionize your perception of small potatoes.
17- Asparagus and Potato Salad - This effortless, nutritious, and scrumptious potato salad recipe elevates your upcoming summer BBQ or gathering!
18- Sautéed Frozen Green Beans - After a quick blanch, these green beans are sautéed in a blend of olive oil and butter with onions, garlic, and toasted pinenuts in a perfect texture and infusion of classic Italian flavors.
19- Easy Italian Oven Roasted Potatoes - Tender and buttery on the inside while impeccably crispy on the outside, these Italian Roasted Potatoes have become a beloved family dish. Perfect for gracing your holiday spread and effortlessly fitting into your weeknight meal plans!
20- Mashed Potatoes with Caramelized Onions - Savory onions combined with wholesome mashed potatoes create a fantastic standalone meal for hectic weeknights. Additionally, it serves as an excellent side dish for more elegant dinners.
21- Herby Creamy Potato Salad - This particular potato salad stands out for its light and vibrant flavors compared to others. You're sure to adore it!
22- Easy and Creamy Italian Cauliflower Casserole - This delectable side dish pairs perfectly with any meal, serving up the ultimate vegetarian comfort food in a baked casserole formula.
23- Easy Oven Roasted Fennel - Flavorful and refreshing vegetable side dish boasts a delectable combination of buttery and caramelized flavors on the edges.
24- Best Honey Glazed Carrots Recipe (Oven Roasted)
25- Simple Steamed Asparagus Recipe (Quick and Easy)
26- Best Creamy Au Gratin Potatoes Recipe (Dad's Famous)
Best Soups For Your Easter Dinner Table
If you're a fan of Italian sausage, you know that delicious bread can take the meal to the next levDiscover the ultimate soup selection to grace your Easter dinner table, providing a delightful and heartwarming start to your festive meal.
Elevate your dining experience with flavors that perfectly complement the seasonal celebration, ensuring an unforgettable culinary journey for your guests.
27- Artichoke Soup- This Simple Italian Artichoke Soup is hearty and heavenly in taste and texture. It is simple to make and full of flavor. Serve it as a side dish, or appetizer, or make it your light and healthy meal. It is ready in just 30-minutes!
28- Bacon Zuppa Toscana Soup Recipe - This soup is perfect for the fall and winter seasons, offering indulgence while still being loaded with vibrant green, nutritious kale.
29- Creamy Asparagus Soup - This recipe is perfect for those looking to add some variety to their meal plan, or for anyone who loves the fresh taste of asparagus.
30- Easy Broccoli and Spinach Soup - If you're looking for a tasty and healthy soup recipe, this easy broccoli and spinach soup is a perfect choice! With just a few simple ingredients, you can whip up a delicious and nutritious meal in no time.
Desserts For Your Easter Dinner Table
Indulge in an exquisite array of desserts specially curated for your Easter dinner table, bringing a sweet and joyful finale to your festive feast. Explore delightful confections that embody the essence of spring, with vibrant colors, enticing flavors, and exquisite presentations.
From classic Easter-themed treats like chocolate bunnies and elegantly decorated egg-shaped cakes to tempting fruit tarts and refreshing sorbets, there's something to satisfy every sweet tooth.
31-Easter Rice Pie Recipe (Pastiera di Riso) - This delectable dessert features a filling of velvety rice, ricotta, zesty orange and lemon, and a hint of cinnamon. Boasting a rustic charm, it is nothing short of delightful!
32- Sicilian Cannoli Recipe - Indulge in the delightful experience of the crispy fried pastry shell containing a luscious, sweet ricotta filling and topped with a range of exciting flavors.
33- Easter Ricotta Pie - Features a smooth ricotta filling enhanced with lemon zest, subtle almond notes, and a touch of vanilla, all encased within an effortlessly prepared pie crust.
34- Traditional Rhubarb Pie or Rhubarb Gallet. Use all the fresh rhubarb of the season to make these unforgettable desserts. More PIES and CAKES RECIPES HERE.
35- Italian Easter Coconut Cake - The sight of heaps of shredded coconut evokes memories of Spring and Easter egg baskets. This old-fashioned loaf cake recipe, inspired by a King Arthur Flour creation, captures that essence perfectly.
36- Crumb Cake with Pistachio Cream - A true delight featuring two layers of crumbly buttery cake that encase a smooth and luxurious pistachio pastry cream filling.
37- Caramel Steamed Carrot Pudding - a succulent cake adorned with raisins and brimming with carrots, potatoes, and cozy spices. The finishing touch comes from a drizzle (or deluge) of caramel sauce, garnished with a choice of pure half and half or rich heavy cream.
38- Easter Braided Brioche Bread - For a festive and scrumptious Easter treat, serve this braided brioche bread, elegantly adorned with vibrant eggs, sprinkles, and a delightful glaze.
39- Soft Sugar Cookie Recipe with Frosting - Featuring crunchy edges, substantial centers, and ample space for an array of frosting and sprinkles, you're bound to fall in love with these tender and delectable treats.
Whether you're looking for an Easter Menu Idea or to help you plan your Easter holiday, this post, "Traditional Italian Easter Recipe Dinner Menu Ideas," is your ultimate guide to completing your Easter Dinner!
Enjoy!
If you try any of these recipes, leave a star review on the recipe post! I'm excited to hear from you.
Make sure to tag me on Instagram @cucinabyelena. I hope you love it! To get more ideas, follow me on Pinterest.