75 Best Side Dishes for Pizza (sides and desserts)- Whether you are picking up pizza to-go or making our famous Authentic Neapolitan Pizza Dough Recipe you need a little something to add to the table!
75 Best Side Dishes for Pizza (sides and desserts)
Next time you have pizza night- open this post and get all the great ideas you need to make a complete meal. If you love this idea- share this post with a friend who loves pizza!
Need someone to bring a side to the pizza party? Pick something from the list and send it to them to make.
I wrote a complete step-by-step guide to make your own authentic Neapolitan pizza dough recipe. If you want to go all out with a homemade pizza party this is the recipe you need!
If you are making your own pizza try this recipe: Pear, Honey, Walnut Cheese Pizza
Jump to:
Pizza Night- 75 Best Side Dishes for Pizza
What to Serve with Pizza at a Party?
Pizza might be the main course, but what about the sides?
Italians and Americans eat pizza at least once a week- if not more. We love pizza on a cozy night at home, for parties, and for gathering friends together for a fun time. So, what to serve with pizza?
Here are 75 delicious side dishes. Ideas range from simple, hearty, healthy, savory, and sweet to cover the bases every time you decide on a pizza night or pizza party.
Vegetables Side Dishes
A vegetable a day keeps the doctor away. Since pizza doesn't count as a vegetable- although I wish it would- here are some warm veggie ideas to make alongside your favorite pizza pie.
1- Warm White Bean Salad Arugula Mozzarella- Perfect for cooler months
Visit the shop to purchase my favorite pasta serving spoon in the photo above.
2- Sautéed Zucchini and Onion (Italian Recipe)- I like to add this on top of my pizza as well.
3- Simple Petite Peas (Side Dish)- Who doesn't love a side of peas? This is my nonna's recipe and it is simply the best!
4- Creamy White Sauce Cauliflower Casserole Italian- Warm and comforting. This cauliflower dish can be made ahead of time and baked right before the pizza!
5- Italian Frittata Recipe with Peas and Ricotta- Hold a slice of frittata like a slice of pizza! Packed with veggies and eggs it is a nutritious side dish.
6- Italian Style Lentils- Healthy vegetarian side dish packed with fiber and protein.
7- Sautéed Green Beans Recipe (Easy), or Italian Flat Green Beans Recipe (with Tomatoes and Garlic)
8- Longhorn Steakhouse Crispy Brussels Sprouts Recipe -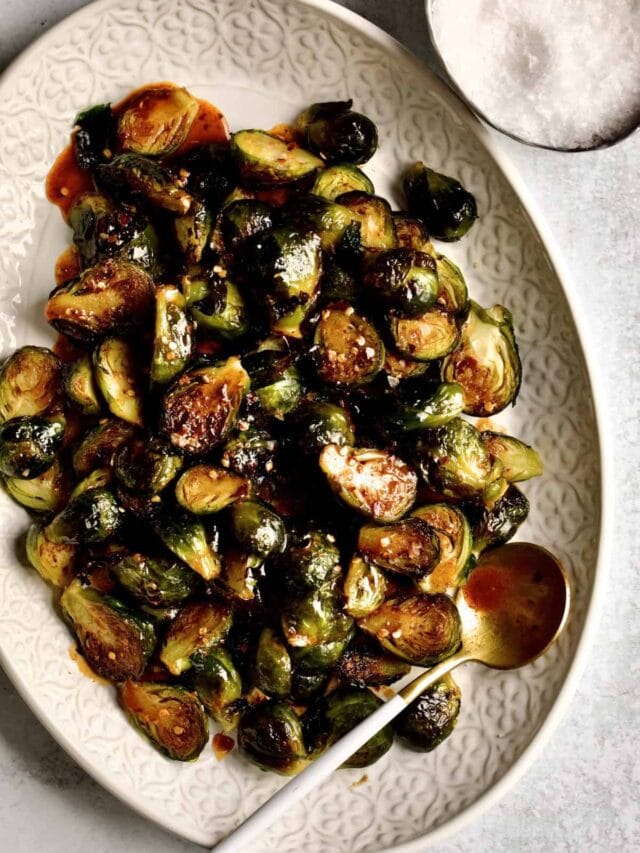 Appetizers Side Dishes
It's always a nice idea to serve some finger food with pizza. This list includes something children and adults will love!
9- Italian Stuffed Zucchini (vegetarian)- (better than zucchini fries!) Perfect pizza side dish! These little zucchini poppers go like hotcakes in our house!
10- Hot Mascarpone Spinach Artichoke Dip- This spinach artichoke dip is packed with creamy mascarpone and Italian herbs!
11- Easy Italian Style Nachos (sheet pan)- If you are a pizza lover I imagine you also love nachos? Maybe that's a generalization. I know I love both and nachos are always welcome as a fun and customizable side dish.
12- Ratatouille Tartine (toast)- Packed with loads of veggies it makes a great pizza side dish
13- Panzanella Stuffed Mozzarella- More cheese? Yes, please! Great appetizer that is easy to make and fun to eat.
14- Italian Oven Roasted Fennel Recipe (Easy)- A super tasty and fresh vegetable side dish. It is buttery, caramelized on the edges and deliciously sweet.
15- Tater tots
16- French fries
17- Onion rings
18- Jalapeno poppers
19- Buffalo wings or Chicken wings
20- Mozarella sticks
21- Garlic knots
22- Make your own bread to make homemade garlic bread
Salad Side Dishes
Green salads are perhaps the most classic accompaniment to any pizza party!
23- Prosciutto Melon Arugula Salad Citrus Vinaigrette- Light and refreshing salad with a delicious citrus vinaigrette. Truly sensational! You can add spinach salad to this as well.
24- Italian Fennel, Citrus, Pomegranate and Salad- Tasty side salad that works well in the wintertime with bright red and fresh pomegranate seeds.
25- Italian Salad Pears, Walnuts, and Gorgonzola- The perfect combination of sweet and savory in a salad with great textures.
26- Easy Lemony Asparagus and Potato Salad Recipe- This healthy potato salad recipe adds fresh asparagus and a pop of lemon to make it stand out from the rest. Made with yogurt dressing instead of mayonnaise.
27- King Crab Salad Recipe (Simple and Easy)- Level up your pizza night and add this luxurious and ridiculously easy fresh king crab salad.
28- Arugula, Apple, and Pistachio Salad in Parmigiano Cups- These fun nests are a great party salad as you can pick them up with your hands. If you don't want to make the Parmesan cups simply sprinkle the cheese on top of the salad.
29- Berry and Goat Cheese Salad with Honey Citrus Dressing- If you can't decide on a fruit salad or green salad this is the salad for you. The best of both worlds.
30- Seasonal fruit salad with a squeeze of fresh lemon juice
31- Classic Caesar salad
32- Crunchy Wedge Salad
Soup Side Dishes
In the cold months, I like a comforting bowl of soup on the side of most meals. Let's make it a whole meal by adding a delicious soup to our pizza dinner.
33- Simple Artichoke Soup Italian Recipe- a healthy and easy soup recipe! A lighter side dish you can feel good about eating!
34- Pasta e Ceci (Italian Pasta with Chickpea Soup)- The perfect side dish to pepperoni pizza on a chilly night.
35- Classic Italian Minestrone Soup- packed with vegetables! Perfect for cold months instead of a salad. Loved by children too.
36- BEST Bacon, Potato, and Kale Zuppa Toscana- A creamy soup with broth, kale, and a bacon.
37- Easy Cheese Tortellini in Broth with Spinach- Warm chicken broth with a hint of lemon and fresh cooked spinach
38- Tuscan Ribollita- Vegetable Bread Soup- A hearty soup that will fill you up in a healthy way if you don't want to get too full on pizza.
39- Homemade Cream of Mushroom Soup- Creamy and rich!
Pasta Side Dishes
I know what you are thinking- pasta AND pizza! Yes, I am Italian, so I'll never turn down the thought of both. Here are some veggie-packed pasta recipes that will add little vegetables to your meat lover's favorite.
40- Eggplant and Tomato Pasta Sauce- Packed with fresh stewed eggplant and tomatoes!
41- Easy Italian Style Pasta Salad with Arugula- The perfect make-ahead pasta salad to serve with dinner at the last minute. The best part- keeps it in the fridge until you are ready to eat.
42- Easy Italian Tortellini Pasta Salad- Delicious pasta salad with olives, carrots, and tomatoes that pairs well with a meat-heavy pizza.
43- Greek Style Pasta Salad- All the greek flavors you love in an easy pasta salad in a delicious lemony dressing and touch of red onion.
44- Shredded Zucchini and Cheese Pasta (easy)- packed with freshly shredded zucchini you hardly feel like you are eating a pasta dish. The perfect amount of cheese to round out the dish.
45- Easy Lemon Ricotta Pasta with Asparagus- a fresh and easy one pot pasta meal that adds extra greens with the bright asparagus and lemon.
Dipping Sauces
In Italy we don't typically dip our pizza in anything. In America it is a popular thing to do! Here are some options:
46- Classic Italian Tomato Sauce (Sugo al Pomodoro) - Or, marinara sauce, this classic and rich tomato sauce is perfect for dipping that pizza crust!
47- Authentic Italian Pesto Genovese (Basil Pesto)- If you want a little extra Italian kick to your pizza add this authentic sauce on top! Easy to make ahead and always have on hand.
48- Fresh Arugula Walnut Pesto (vegan recipe)- If you don't like salad on your pizza, but want the fresh flavor this is the sauce for you!
49- Italian Balsamic Garlic Vinaigrette - In Italy we love to dip bread in olive oil and balsamic vinegar. Try it today!
50- The Best Italian Bread-Dipping Oil- Perfect for that crust your kids left on their plate!
51- Creamy Ricotta Roasted Red Pepper (No Cook Sauce)- This sauce comes together in the blender in no time at all! Save it in the fridge and eat it with pasta the next day.
52- Bechamel Sauce- This creamy white sauce adds a little extra luxury to your favorite slice.
53- Blue Cheese Dip- add a little tangy flavor to your pizza! I love this with our Pear, Honey, Walnut Cheese Pizza
Extra Toppings
Sometimes it's nice to include extra toppings for the non picky eaters who don't just want cheese on their pizza! Make a topping bar so people can add their own "extras" and make each slice a little different.
54- Arugula salad
55- Red Pepper flakes to spice up the slice
56- Variety of Olives
57- Whole garlic cloves marinated in olive oil
58- Thinly sliced red onions
59- Finely shredded romaine lettuce
60- Parmigiano or Parmesan cheese are always a great addition
61- Artichoke hearts- marinated or plain
62- Bell peppers
Desserts
After eating a savory and delicious pizza I am always in the mood for a sweet treat! Try one or more of the following!
63- BEST Authentic Sicilian Cannoli Recipe- A classic Italian dessert with a creamy ricotta filling!
64- Classic Italian Tiramisu Recipe (Authentic)- This creamy no make dessert is a true Italian classic. It is light and easy to make 24 hours ahead of time and keep in the fridge.
65- Heavenly Angel Food Cake (Strawberries and Cream)- A refreshing and pillow soft angel food cake that you will make time and time again!
66- Best Lemon Bars with Shortbread Crust- If you love lemon this is a sweet treat your taste buds will love! Not too sweet with the perfect texture and flavor.
67- Balboa Island Frozen Dipped Banana's- A fun one to make with kids!
68- Best Banana Cream Dream Pie (with homemade custard)- A creamy dessert that makes you feel like you are in a dream it is that tasty! Finish a savory pizza pie with a sweet custard filled pie. This creamy dessert is a well loved family recipe.
69- Poppy Seed Cake with Orange Almond Vanilla Glaze- A great dessert to make ahead of time as it stores nicely.
70- Frozen Lemon Dessert (Creamy Lemony Treat)- A great recipe for summer as it is a frozen treat. This one is a Davis family favorite and a must try recipe!
71- Simple Italian Apple Cake (one bowl)- Make this cake in the time it takes to call and order a pizza and have it delivered!
72- Vanilla Cake Roll with Cream and Berries- Add a little beauty to your pizza party with this show stopping and EASY dessert recipe.
73- Puff Pastry filled with Italian Chocolate Cream- All you need to do is make the cream ahead of time and fill the puff pastry right before serving!
74- Best Italian Pistachio Cream- If you are a pistachio lover this delicious creamy custard is for you!
75- Easy Italian One Bowl Chocolate Cake- This soft Italian chocolate cake is not too sweet and decadent with a deep chocolate flavor. The best part? It is an easy one bowl recipe, win-win! Enjoy it for breakfast, snack, or add whipped cream and berries and serve it for dessert.
75 Best Side Dishes for Pizza (sides and desserts)
Whether you are hosting a Super Bowl party or having a Friday night pizza affair I know these 75 Best Side Dishes for Pizza (sides and desserts)will help you make any pizza occasion extra special!
If you try any of these recipes- make sure to leave a star review on the recipe post! I'm excited to hear from you.
Make sure to tag me on Instagram @cucinabyelena. I hope you loved it! To get more ideas follow me on Pinterest.