What to Serve with Risotto (35 best side dishes) - Risotto is a perfect cozy main course, like this Roasted Butternut Squash Risotto, or Authentic Italian Asparagus Risotto Recipe. Risotto is the creamy rice dish you crave when you need a comfort food meal.
Awaken your taste buds and try this list of side dishes next time you serve risotto.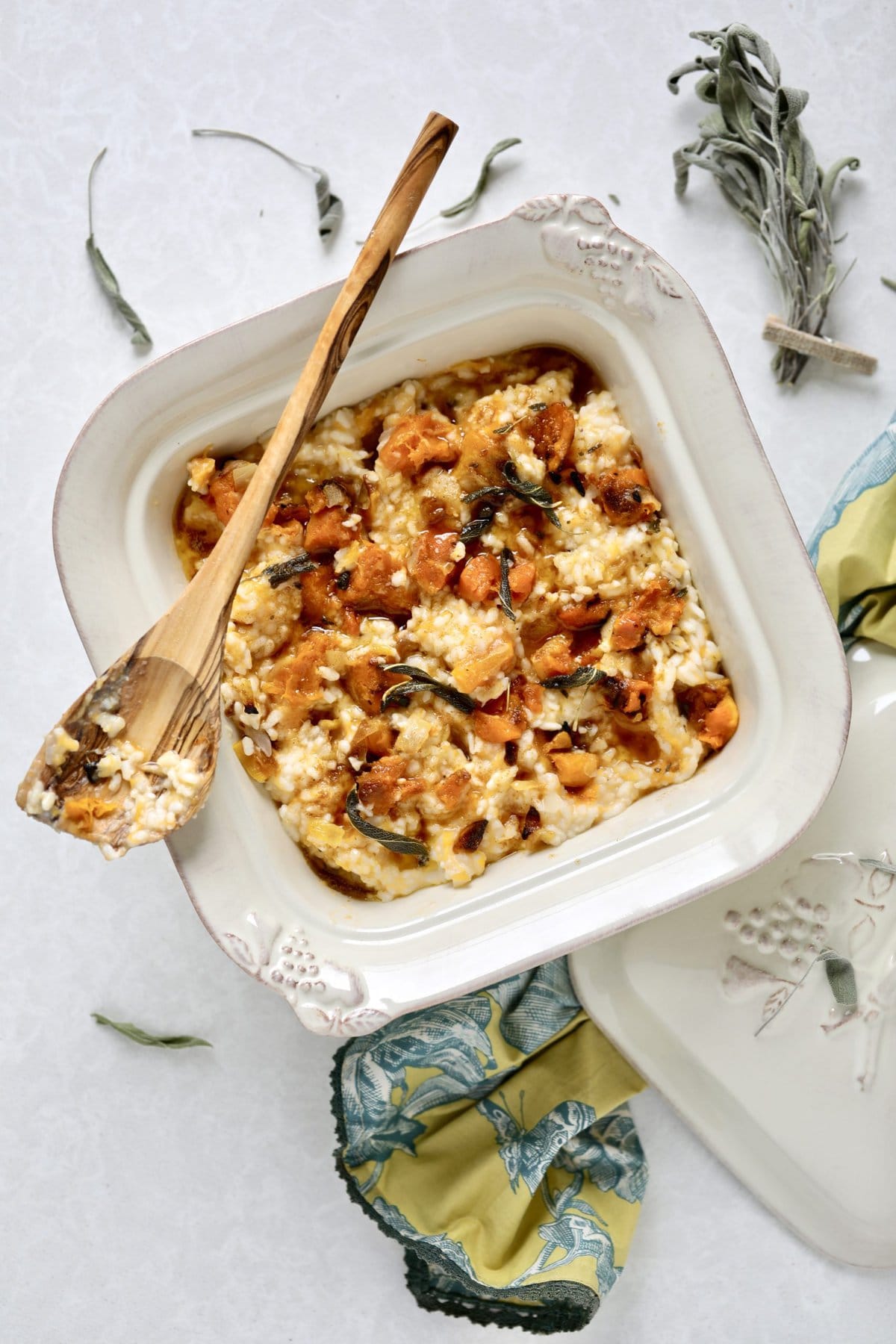 How to make the perfect risotto
There are three main steps to keep in mind for the perfect Italian risotto. First, you should use only Italian short-grain white rice varieties such as Arborio, Carnaroli rice, Vialone, Nano, and Baldo (Arborio is the most commonly found short-grain rice).
Second, add chicken stock (chicken broth to vegetable broth), a little at a time, to cook the rice.
Finally, stir the rice constantly while it cooks so that it doesn't stick to the bottom of the pot or burn. The string is what gives the risotto a creamy consistency without the addition of cream.
Risotto is a blank canvas for adding a plethora of vegetables and aromatics. See more ideas here.
Once your risotto is ready, it's time to prepare your side dishes to pair with it. Bring the warmth of fall with this collection of 35 best side dishes to serve with your risotto.
Jump to:
What to Serve with Risotto (35 best side dishes) for your next meal
If you love eating risotto, tasty side dishes are the best compliment to the cozy dish. They provide contrasting flavors and textures for a well-rounded meal. When you need a side dish to go with your creamy risotto, whip up one of these tasty recipes!
Savor the perfect fall meal with these 35 best side dishes to accompany your risotto. All these recipes pack incredible flavor in every bite.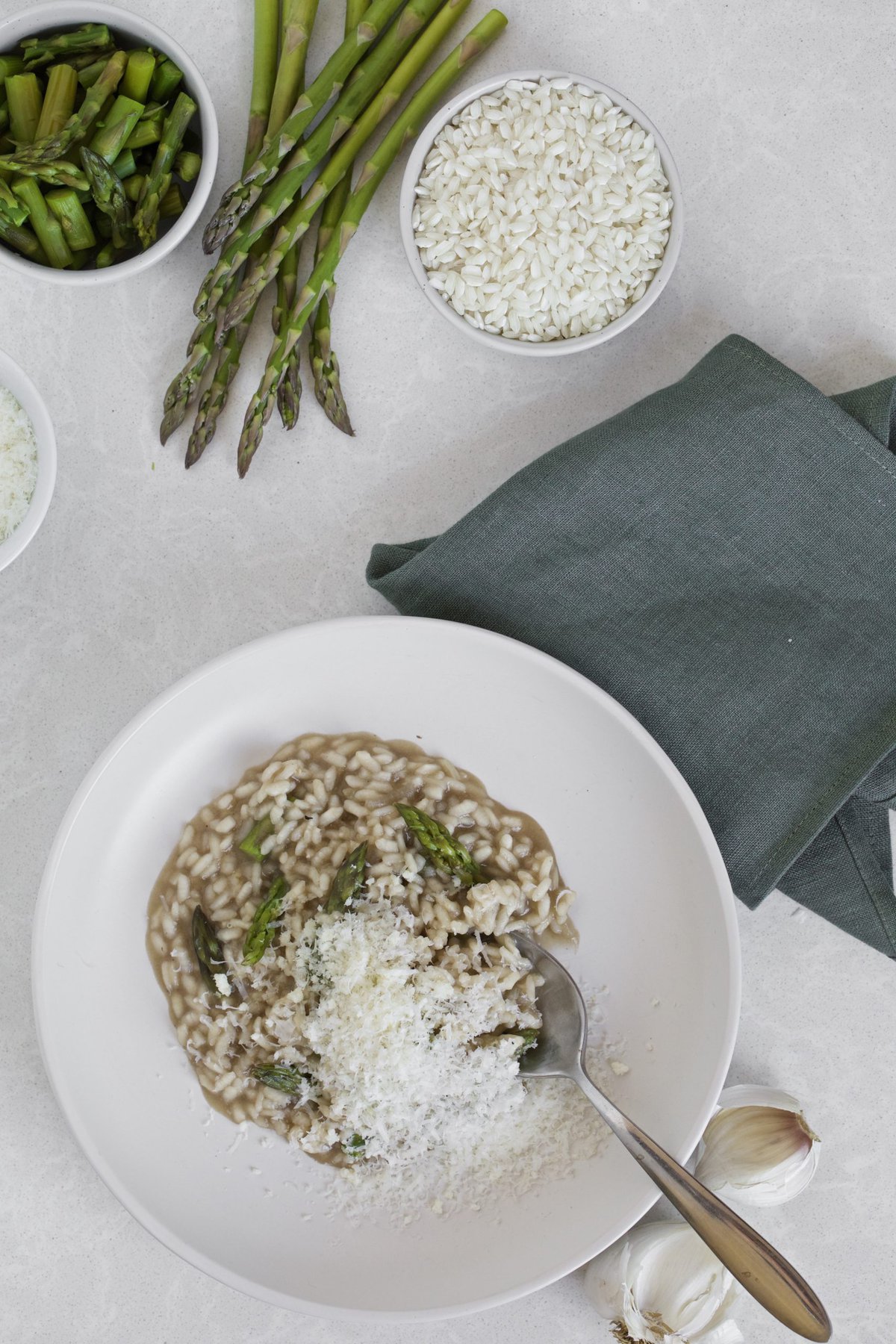 Vegetable Side Dishes to Pair with Risotto
Any variety of vegetable dishes makes an incredible side dish to a risotto dinner. This is a great way to add more colorful and vibrant veggies to your meal.
Here are several warm veggie ideas to eat alongside your risotto meal.
1- Italian Flat Green Beans Recipe (with Tomatoes and Garlic) - Aside from cauliflower and potatoes, sweet potatoes, green beans are also one of the common side dishes in Italian cuisine.
These vegetables taste great with the addition of balsamic vinegar, garlic, and basil. It doesn't take more than 20 minutes to make this Italian flat green bean recipe. An excellent side dish to your homemade risotto.
2- Roasted Smashed Potatoes and Tomatoes with Pesto - These roasted smashed potatoes are golden brown, crispy, and soft on the inside with crispy edges. They're a perfect match for any dinner party, to complete meal and the perfect side dish!
3- Best Italian Oven Roasted Potatoes - Roasted to perfection in the most delicious way, these Italian oven-roasted potatoes are thin, buttery-soft on the inside and crispy on the outside, the perfect side dish for a hearty risotto.
4- Simple Petite Peas - Peas and red onions are a perfect match for any meal! Sweet, tart, hearty and healthy. This is a rich side dish that would be a great addition to any meal.
Best Meat Dishes to Serve with Risotto
Risotto is a really versatile dish that can be paired with so many different flavors and textures.
Here are some of the best meat dishes to pair with this Italian favorite!
5- Best Italian Stuffed Chicken Thighs (Involtini di Pollo)- They're quick and easy to make, a great addition to your risotto meal, and it has a rich flavor that's versatile!
6- Perfect Pork Tenderloin with Fennel - You're going to love this juicy pork tenderloin paired with the delicate, and slightly sweet, flavor of the sautéed shallots and fennel.
7- Dad's Famous Dry Rub Pork Ribs (EASY) - It's super easy to prepare, and the ribs come out fall-off-the-bone tender!
8- Mediterranean Stuffed Pork Chops - You can make these chops with a bone-in or boneless pork chop, but the bone adds more flavor. The meat inside is stuffed with Mediterranean flavors like roasted red peppers, Feta cheese, olives, and dried oregano that taste delicious!
9- Sheet Pan Orange Chicken with Potatoes and Veggies - Orange Chicken is a delicious, easy dish that your whole family will love. It's delicious, easy to prepare, and has a ton of flavor! Also, try a simple Roast Chicken Recipe.
10- BEST Seared Scallops with Lemon Butter Sauce - This scallop recipe is so easy and so delicious. The lemon butter sauce is the perfect match for the seared scallops. Simple, quick, and ready to be enjoyed by everyone.
11- Easy Italian Sausage and Peppers Skillet Recipe - This recipe does not require any fancy ingredients and is a cinch to make. It's a recipe that comes together so easily—you just need to throw everything in the skillet and wait for your meal to cook.
12- Easy Sheet Pan Italian Sausage and Potatoes Dinner - When you find a recipe that everyone loves and that turns out amazing, it's a keeper. To make it even better, it comes together in just 30 minutes. Perfect for weeknight dinners or lazy weekend nights.
Fish Dishes to Pair with Risotto
13- Easy Baked Honey Orange Sesame Salmon - A quick and easy-baked salmon recipe made with simple ingredients that you can put together with just a few minutes of preparation before your oven goes to work. The end result is perfect, juicy salmon that gets a sweet and salty punch from the sesame seeds and orange zest in addition to other spices.
14- Crispy Baked Cod with Panko Recipe - Crispy Baked Cod with Panko is an easy, flavorful, and light dinner meal. Flaky cod fillets topped with seasoned, lemon, garlic, and parsley Panko breadcrumbs then baked to perfection!
15- Best Baked Salmon with Pesto Recipe (Easy) - An easy, healthy, and delicious recipe. It's ready in 20 minutes. You can make it on a busy weeknight when you need something quick to pair with your risotto dinner.
Best Salads to Serve with Risotto
Adding a healthy dose of color to your plates this season, with these fresh salads that go well with the risotto. From light and refreshing greens to hearty and filling grains!
Throw on some good tunes, grab your chef's knife, and pick your green salad in the list below to go with your classic Italian rish dish.
16- Italian Salad with Pears, Walnuts, and Gorgonzola - This salad is a great addition to any dinner party. It's filled with healthy ingredients and the right amount of sweetness and savory, making it a perfect combination to enjoy all week long.
17- Prosciutto Salad with Melon and Arugula Citrus Vinaigrette - This is the kind of salad that will get people talking. It's light, refreshing, and absolutely stunning. In terms of colors, textures, and flavors, this dish is a feast for the eyes!
18- Berry Goat Cheese Salad with Honey Citrus Dressing - When you can't decide which salad to make for your next risotto meal, this is the one for you. It's a nice refreshing combination of berries and greens with a zesty and sweet dressing.
19- Simple Creamy Potato Salad with Herbs - The only thing better than crispy, buttery grilled potatoes is a creamy potato salad with the same flavors. This recipe is simple, with few ingredients. The fresh herbs give this side dish a unique flavor.
20- Best Italian Seafood Salad Appetizer (Insalata di Mare) - What's the best thing about this seafood salad? It's fresh and chock full of flavor. This dish is a classic combination of shrimp, squid, scallops, and mussels with lemon juice, olive oil, and parsley.
21- Italian Fennel, Citrus, Pomegranate and Salad - Brighten your plate with a refreshing and healthy salad that's bursting with flavor. This salad will deliver the most refreshing and zesty flavors. It's a perfect side to any meal.
22- Warm White Bean Salad Arugula Mozzarella - Warm, savory, and filling. This white bean salad made with sweet tomatoes, arugula, and baby mozzarella is bursting with flavors. The perfect side dish for your creamy risotto.
23- Farro Salad Recipe Roasted Peppers and Mushrooms - Whether you're in the mood for a hearty hot or a fresh cold salad, this Farro Salad is sure to hit the spot. It's packed with flavor, nutrition, and a lot of inspiration when you're looking for ways to eat healthier.
Best Appetizers and Bread to Serve with Risotto
Snack on these appetizers and baked goods when you're slurping up your favorite risotto dish. Whether it's a casual snack or a light meal, these easy-to-make recipes are sure to please even the pickiest eaters.
Your dinner party is about to get a lot more fun with these yummy appetizers and baked goods that pair well with the risotto.
24- Easy Soft Italian No Knead Bread - Soft, chewy Italian No Knead Bread with a kick of flavor. Only 6 ingredients, no kneading required!
25- Fast Italian No Knead Ciabatta Bread - A simple bread you can have ready in just 4 hours from start to finish. No special tools or bread baking pans are needed! It's fast, easy, and delicious.
26- Italian Brioche Bread Recipe (Soft and Easy) - This Italian brioche bread is rich, buttery, slightly sweet, tender, and absolutely delicious! The added lemon & orange zest is one way to add extra "zest" to your day.
27- Easy Bruschetta Recipe with Mozzarella and Tomato Basil - It's appetizer time! Next time you're craving an easy bruschetta recipe, try this easy version made with tomatoes, mozzarella, and basil. They're light, colorful, and super flavorful. Perfect for pairing it with any risotto dishes!
28- No Knead Italian Focaccia Bread - You don't want to miss the easiest No Knead Focaccia bread recipe that is going to blow your mind! This is the easiest No Knead Focaccia bread recipe, that you are going to fall in love with. This focaccia is super easy and simple to make, it tastes so delicious and fresh.
29- Fast Italian No Knead Ciabatta Bread - With just simple ingredients, you can make this Italian bread in under 4 hours. No special equipment is needed. It's so easy that even a beginner could do it!
Best Desserts to Serve with Risotto
There's no better way to round out a meal than with a sweet dessert. Whether it's something simple and fresh, or a rich chocolate treat, these dessert recipes will make any Italian dinner complete.
Risotto and dessert. You don't need to be Italian to know what's best at the end of an Italian meal. Whether you want something rich or cool, these dessert recipes are great to make and serve at the end of your meal.
30- Kefir Honey Panna Cotta Italian Recipe (Easy) - The perfect balance of healthy and sweet meets the smooth texture of a traditional panna cotta. Made with kefir and honey, this dessert is the ultimate indulgence!
31- Creme Caramel Custard Flan Recipe (Italian) - A rich, smooth, and decadent Italian Flan with a layer of custard topped with caramel sauce. It's the perfect dessert for special occasions or when you just want to treat yourself!
32- Heavenly Angel Food Cake (Strawberries and Cream) - Feel like you're walking on clouds with this heavenly angel food cake. Enjoy the sweet, delicate taste of strawberries and cream!
33- Vanilla Cake Roll with Cream and Berries - Don't you just love a Swiss Roll? A cake that is soft, fluffy, light, and full of deliciousness. And this cake bakes in just 10 minutes!
34- Puff Pastry filled with Italian Cream - Bring out your inner Martha Stewart with this easy, show-stopping dessert—flaky puff pastry, smooth lemon vanilla cream filling, and berries!
35- Easy Italian Pear Cake Recipe (Torta di Pere) - Get in the mood for fall with this easy dessert. Made with fresh pears, creamy yogurt, and butte!
Whether you are hosting a risotto dinner party or having a romantic dinner I know this What to Serve with Risotto (35 best side dishes) post will help make any risotto meal extra special!
Enjoy!
If you try any of these recipes- make sure to leave a star review on the recipe post! I'm excited to hear from you.
Make sure to tag me on Instagram @cucinabyelena. I hope you loved it! To get more ideas follow me on Pinterest.