What to Serve with Scallops (40 Best Recipes) - A perfect scallop dish is light, fresh, and mouthwatering. And when it comes to scallops, nothing beats a simple and quick recipe that will be ready in no time, just like this BEST Seared Scallops with Lemon Butter Sauce.
These are the best ways to serve scallops, from appetizers to entrees. Whether you're in the mood for something light and simple or go big with a decadent main course, we've got you covered! You might also love these recipes for What to Serve with Cod (50+ Best Side Dish Recipes)!
More delicious seafood recipes: Stuffed Salmon Recipe with Shrimp and Crab, Easy Crab Cakes Recipe (no egg), Homemade Shrimp Scampi Fettuccine, Crispy Baked Cod with Panko Recipe, and Easy Blackened Cod Recipe.
Scallops are the perfect seafood for many reasons—their delicate texture, sweet taste, and pale color make them a versatile ingredient that's easy to pair with various flavors. Here are some delicious recipes to try!
How to Choose the Best Scallops in the Market
If you want to serve scallops on the table, always buy from a reputable fishmonger who can advise you on the best type of scallop for your kitchen.
Fresh-caught scallops are best, but if you can't get them fresh, then frozen scallops will do the trick!
Remember to thaw them in a bowl of cold water for 10-20 minutes or overnight in the refrigerator. Make sure to thoroughly pat them dry with a paper towel before searing them, as they are prone to absorbing extra liquid.
Jump to:
What to Serve with Scallops (40 Best Recipes) to Complete your Seafood Meal Experience
Regarding seafood, scallops are one of the most popular choices. They're high in omega-3 fatty acids and low in calories, making them a perfect option for anyone looking to lose weight or maintain their health.
These delicate little creatures are packed with flavor and can be cooked in various ways that will delight your guests.
This article will provide you with the 40 best side dishes to serve with scallops at your next dinner party or event.
So whether you're looking for something light and healthy, or something more extravagant and elaborate, we have you covered!
Scroll down to find the recipe that interests you most, and start cooking!
And if you are a meat lover, we also have side dishes recommendation for you, see this 65+ Best Side Dishes to Serve with Prime Rib post!
Appetizers
We are looking for an easy, delicious way to kick off a lasagna dinner. These are some favorite appetizers that go great with them. There are infinite possibilities when it comes to serving appetizers with scallops.
No matter what type of appetite you're trying to satisfy, there's a perfect appetizer waiting for you. Whether you're looking for something light and refreshing, or something more substantial, the options are endless.
Here is a list of some popular appetizers that work well with scallops!
1-Baked Zucchini and Tomato Bruschetta - A delicious appetizer that can be easily made in just minutes. It's perfect for parties, potluck dinners, or even a quick snack.
2- Simple Artichoke Soup Italian Recipe - The next time you're looking for a light appetizer, this artichoke soup is perfect for you! It's hearty and creamy, with a texture you'll love. Serve it as a light dinner or alongside your scallop dish.
3- Easy Creamy Polenta Recipe Authentic Italian - A healthy partner to your favorite scallop dish. Quick, easy, and fresh to try.
4- Grilled Asparagus Spears - A quick, easy and healthy appetizer for your next get-together.
Salad Recipes
Salad recipes are a great way to get your daily fruits and vegetables. They're also packed with healthy fats and fiber, so they'll keep you feeling full for hours.
5- Fennel and Orange Salad - Classy, elegant, and easy to make. This Italian fennel, orange, and pomegranate salad with hazelnuts will brighten your table this winter season!
6- Arugula salad with apple pistachios and parmesan cheese - This healthy and delicious appetizer or side dish comes together quickly and can be made ahead of time.
7- Spinach Pomegranate Salad - A healthy, easy-to-make salad perfect for summertime. Combining fresh vegetables and fruits with a vinegary dressing makes this salad satisfying and flavorful.
8- Berry Goat Cheese Salad with Honey Citrus Dressing - This one will take your taste buds on a delightful journey if you like salads.
9- Tomato Cucumber Salad with Feta Cheese - A fresh, light, and easy salad that's perfect for any season.
10- Tossed Salad with Pine Nuts- Vitamin-packed and easy to make, this tossed salad is the ideal addition to any meal.
Pasta Recipes
There are endless possibilities for pasta recipes that pair well with scallops. Whether you're in the mood for a hearty dish or something more delicate, there is sure to be a recipe here that will hit the spot.
11- Red Peppers pasta - This roasted pepper and garlic marinated in olive oil pasta is everything you could want from a bowl of pasta. And it only takes a few simple steps to make at home.
12- Lemon Caper Pasta - A fresh, bright, zesty pasta dish with creamy ricotta lemon caper sauce and scallions for an unexpected twist.
13- Angel Hair Pasta - Delicious pasta made with fresh ingredients and healthy carbs. Best paired with this tomato sauce.
14- Butternut Squash Ravioli in Brown Butter Sauce - The ravioli melts in your mouth, and the nutty brown butter sage sauce complements the ravioli in a comforting way.
15- Leftover Fried Spaghetti - This baked spaghetti is perfect for using up the leftovers from your favorite pasta with tomato sauce or if you have some extra pasta left over from last night's pasta dinner.
16- Creamy Pasta with Cherry Tomatoes - A delicious creamy pasta dish with juicy cherry tomatoes, it's the perfect side dish!
17- Cacio e Pepe - Time to bring authentic Italian taste to your kitchen with this easy pasta recipe!
Bread Recipes
There are endless ways to enjoy seafood, but one of the simplest is by serving it with bread. Here are a few delicious bread recipes that pair perfectly with scallops.
18- Italian Focaccia with Apples and Cheese - This healthy and delicious brie and herb focaccia is a crowd pleaser that's as easy to make as flip your lid and a great way to pair with your cooked scallop.
19- Italian Focaccia with Tomato and Fresh Herbs - A sweet and savory bread recipe just for you! The best side dish for your buttery scallops recipe.
20- Italian Brioche Bread- This sweet bread is the perfect breakfast, brunch, or dessert.
21- Fast Italian No Knead Ciabatta Bread - No special tools are needed to get started on the best loaf of bread you'll ever eat.
22- Easy Soft Italian No Knead Bread - Soft and fluffy, this no-knead bread has all the flavor of a rustic loaf with none of the work. It's the perfect quick fix for busy weeknights, weekend brunches, or any special occasion!
Soup Recipes to serve with Scallops
Countless soup recipes can be paired with fresh scallops. However, our favorites include tomato, clam chowder, and lobster bisque. Each has its unique flavor profile that is sure to please your palate.
Whether you're looking for a hearty bowl full of nutrients or something light and refreshing for a summer meal, these soup recipes will satisfy you!
23- Vitamix Tomato Soup Recipe - A fresh twist on the classic tomato soup everyone loves. This light and creamy tomato soup is the perfect cold-weather recipe to add to your fall meal plans or as a side dish to your pan-seared scallops.
24- Tomato Parmesan Bisque - This easy, quick, and creamy tomato parmesan bisque is a perfect way to get your veggies in your next meal.
25- Clam Chowder - Nothing goes better with a scallop than a big bowl of clam chowder to complete your seafood delicacy cravings.
26- Simple Artichoke Soup Italian Recipe - This easy, healthy recipe is the perfect choice when you're craving something simple and satisfying.
27- Lobster Bisque - Dive into this cozy bowl of creamy lobster bisque.
28- Scallop Chowder - The warmth of the scallop and the comfort of a creamy and thick soup.
29- Italian Pastina Soup Recipe (with Chicken broth) - Comforting and healing, this soup recipe is made with wholesome ingredients, including pastina pasta and chicken broth.
Vegetables and Fruits
Hundreds of delicious vegetable recipes can be served with fresh and delicious scallops. Here are a few to get you started!
30- Longhorn Steakhouse Crispy Brussels Sprouts Recipe - An amazingly simple recipe, these crispy Brussels sprouts are sure to be a crowd-pleaser. They're perfectly tender and flavorful, with a sweet and spicy taste that will leave all your guests wondering where you got the recipe.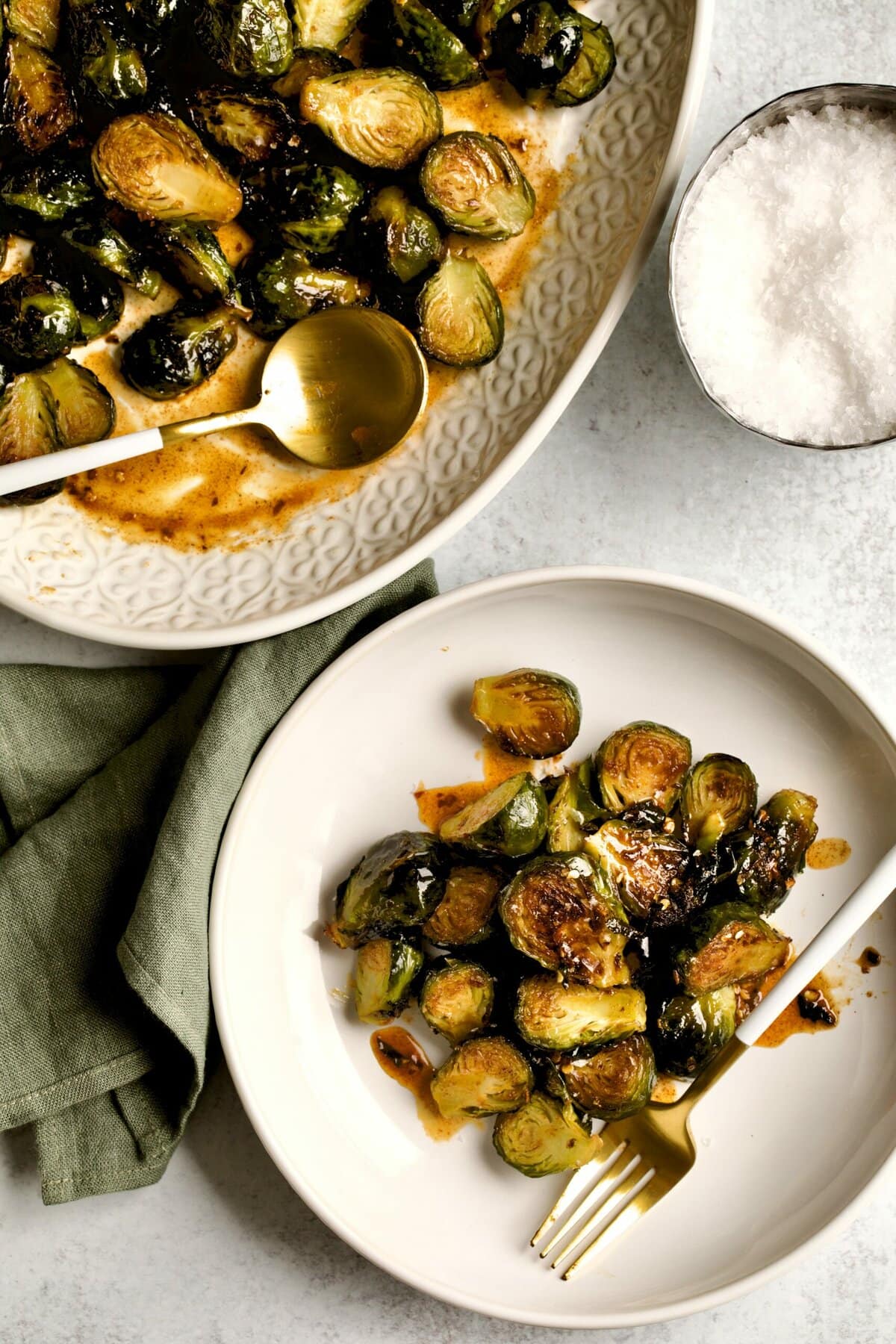 31- Red Skin Mashed Potatoes (with Roasted Garlic) - This classic holiday side dish is a staple at family get-togethers and is the perfect accompaniment to your bay scallops recipe.
32- Mashed Potatoes with Caramelized Onions - A simple and healthy side dish for your scallop recipe.
33- Lemon-Garlic Lima Beans - A simple, healthy side dish that is surprisingly delicious.
34- Mango Avocado Salsa - Mango Avocado Salsa is the best of both worlds. The sweetness and flavor of mango combined with the creaminess of avocado in this cool and creamy salsa recipe.
Meat and Seafood Recipes
With scallops being such a popular seafood dish, it's important to pair them with recipes that are both delicious and healthy.
That's why we've put together this list of meat and seafood recipes you can serve with scallops.
We've covered you whether you're looking for a light meal or something more substantial.
So whether you're in the mood for something simple or more complex, please scroll down and check out our list of delicious and healthy meat and seafood recipes!
35- Crispy Calamari Air Fryer Recipe (Easy and Light) - Lighten up your fried calamari by air frying it. This healthier version of an Italian family favorite is simple to make and makes for a show-stopping presentation!
36- Homemade Salty Pancetta - Fresh and tasty! A homemade salty pancetta is made with 100% Italian artisanal pork back fat, making it a delicious addition to any meal.
37- Steak with Cauliflower Puree - The meaty flavor of the steak and the rich taste of the cauliflower puree complement each other nicely. It's also the perfect side dish for your buttery scallops recipe.
38- Instant Pot Baby Back Ribs - juicy and tender, with a gentle fall-off-the-bone texture. With just a sprinkling of spices, these ribs come together in minutes and cook on complete moistness without drying out.
39- Steamed Mussels and Clams with White Wine - Make this delicious mussels and clams recipe tonight for a quick, easy dinner. It's overflowing with big flavor and comes together in less than 30 minutes in one pot!
40- Stir-Fried Beef with Sweet Corn - Succulent, tender beef with your favorite vegetables is stir-fried with a delicious sauce in a wok. It's so tasty and healthy!
Whether you want to make sweet scallops or bacon-wrapped scallops, this What to Serve with Scallops (40 Best Recipes) post will help satisfy your seafood cravings.
Enjoy!
If you try any of these recipes, leave a star review on the recipe post! I'm excited to hear from you.
Make sure to tag me on Instagram @cucinabyelena. I hope you love it! To get more ideas, follow me on Pinterest.
Print
What to Serve with Italian Sausage and Peppers (40+ Best Side Dishes)
Instructions
See the post for all side dishes to serve with sausage and peppers. Enjoy