What to Serve with Cod (50+ Best Side Dish Recipes) - Cod is a versatile and healthy white fish that must be served with equally delicious sides!

I've assembled a list of the 50 best side dishes to serve with cod, and they all pair beautifully with my Blackened Cod, Panko-Crusted Cod, or any of your other favorite recipes.
If you are a meat lover, you can also check out our 65+ Best Side Dishes to Serve with Prime Rib post. And we also have 45 Best Side Dishes to Serve with Flounder if you prefer seafood!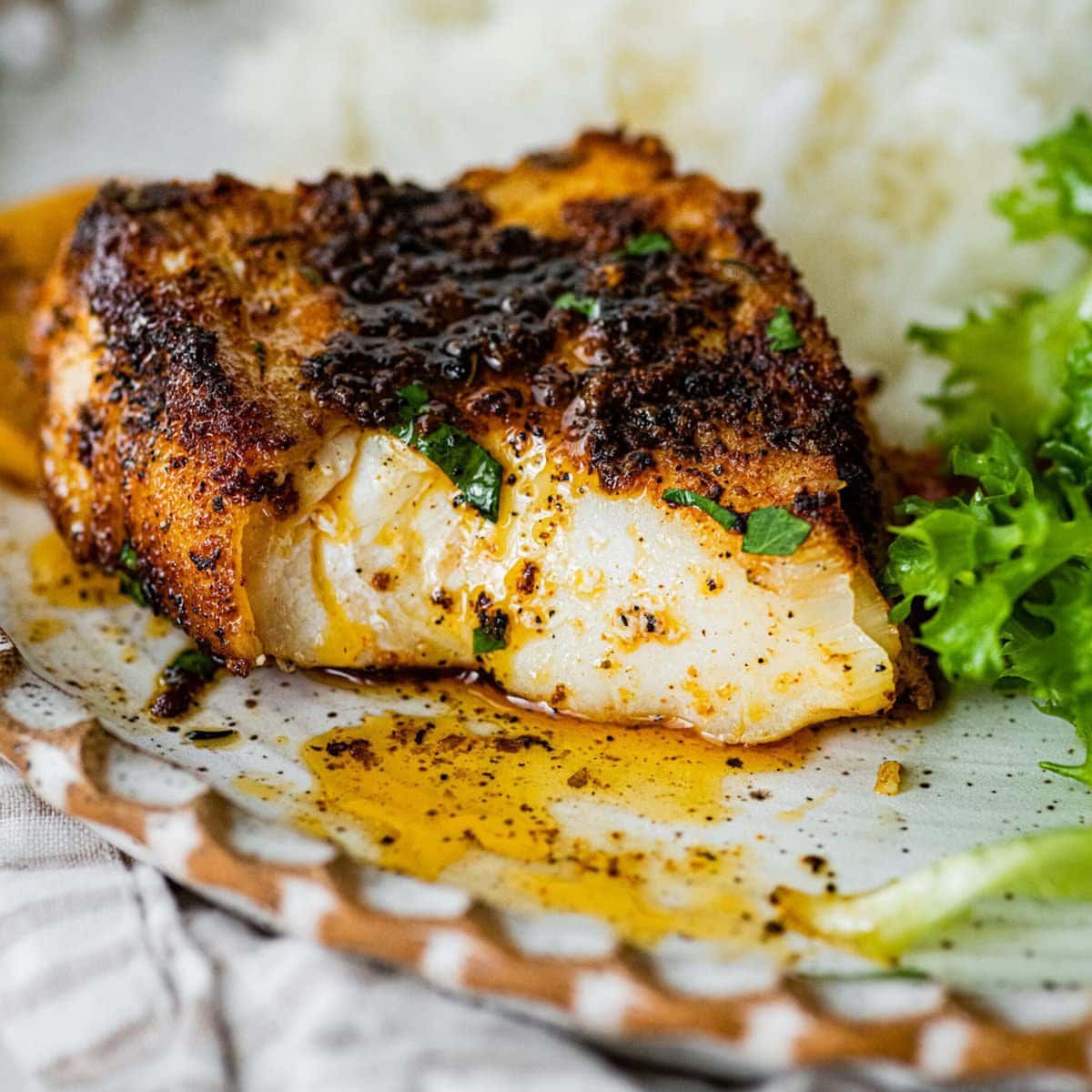 Appetizer Side Dishes
1. Hush Puppies - Fried dough is the perfect way to start any fish meal!
2. Baked Crab Cakes - Is there a more fitting way to start a seafood feast than with crab cakes?
3. Bruschetta - a gorgeous easy appetizer that screams summer and goes oh-so-nicely with garlic butter baked cod.
4. Phyllo Spinach Dip Cups - Crispy phyllo dough cups filled with spinach and feta dip.
5. Zucchini Fritters - Bind grated zucchini with flour, egg, herbs, and garlic, then pan fry and dip in whipped ricotta.
6. Grilled Endive Wedges - Brush endive with olive oil, salt, pepper, and garlic, char on the grill for 5 minutes then serve drizzled with balsamic vinegar.
7. Prosciutto Wrapped Melon with Arugula - Prosciutto and melon are a classic Italian antipasto that is served in restaurants across Italy and now America
Vegetable Side Dishes to Serve with Cod
Cod is a rather mild fish that takes on the flavor of the ingredients its prepared with, so the possibilities are endless when it comes to tasty side dish pairings.
Vegetables with lots of flavor go so well with cod and are the perfect way to complete a healthy meal.
8. Simple Steamed Asparagus Recipe - A simple side dish with a few fresh ingredients and ready in only 10 minutes!
9. Honey Glazed Carrots - Sweet carrots with a simple glaze are a perfect match for cod.
10. Roasted Brussels Sprouts - Crunch, sweet, and spicy, these sprouts are a great option for any fish dinner.
11. Green Beans with Garlic and Lemon - Season with garlic, shallot, and a squeeze of lemon in a baking dish and pop into the oven for an easy recipe on those busy weeknights.
12. Sauteed Zucchini and Onion - Something a little different and a great option to serve with any of your favorite recipes.
13. Simple Petit Peas - A quick and easy side dish to serve with cod for a light dinner.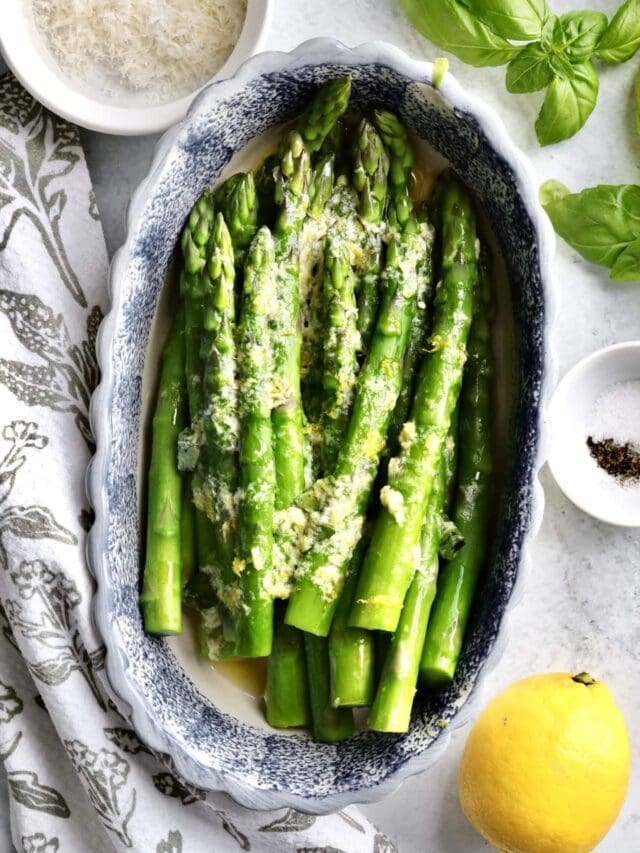 14. Coleslaw - This creamy, rich southern staple goes great with crispy fried cod.
15. Italian Flat Beans - This Italian green bean dish with tomatoes and garlic are one of the healthiest, tastiest and easiest side dishes.
16. Stuffed Zucchini - Tender bites of zucchini flavored with parmesan, onions, and breadcrumbs.
Potato Side Dishes to Pair with Cod
Potatoes are always a hit and I have a few recipes that pair so well with perfectly cooked, flaky cod.
17. French Fries - Potato wedges baked with olive oil until golden brown pair fantastically with this fresh fish.
18. Smashed Herb Potatoes with Aioli - The crunchy texture of these potatoes makes an excellent companion for all the best cod recipes.
19. Red Skin Mashed Potatoes - Creamy potatoes with a strong garlic flavor and cod prepared in a cast iron skillet are the perfect combination!
20. Lemony Asparagus and Potato Salad - One pot recipe that sneaks some greens into this decadent, creamy potato dish.
21. Crispy Potato Stacks - Slice potatoes thin, season with whatever you prefer, stack in muffin trays and bake until crispy.
Pasta Side Dishes to Serve with Cod
Any excuse for pasta, right? Fish is no exception and everyone knows that carbs are a big part of a healthy diet! Use this Pasta Server for serving and see this post to know How Long to Boil Spaghetti (pasta)- Perfect Every Time.
22. Authentic Italian Polenta - An easy, fool-proof polenta recipe that is comforting and versatile.
23. Roasted Red Pepper Pasta - This sauce requires no cooking - unless you count using your blender!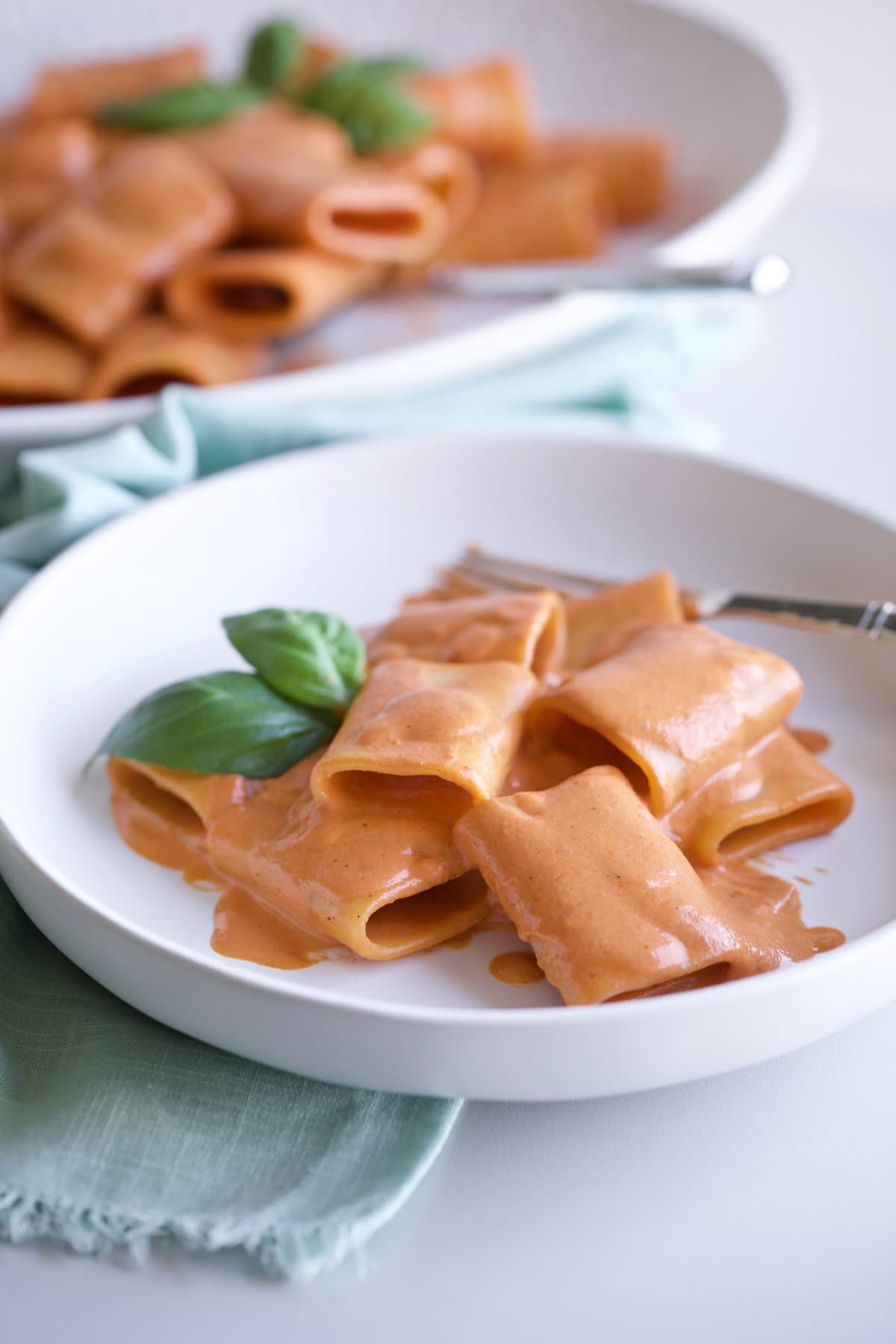 24. Crockpot Mac n Cheese - A classic crowd pleaser that you can assemble then forget about until it's time to serve.
25. Lemon Ricotta Pasta with Capers - A briny caper and lemon sauce married with the creamy ricotta create a sensational dish to go with your main dish.
26. Angel Hair Pasta with Tomatoes, Garlic, and Herbs - An easy pasta dish with fresh ingredients pair well with cod and a green salad.
27. Pasta with Salsa Fresca - Chop fresh tomatoes, basil, and garlic, mix together with good quality olive oil, then toss with pasta and Mangia! The easiest tomato sauce you'll ever make.
28. Greek Style Pasta Salad - A 20 minute masterpiece packed with flavor and healthy veggies that you can make ahead of time!
29. Orzo Skillet with Sun Dried Tomatoes and Artichokes - Omit the shrimp (or keep it if you like!) and make this on the side the next time you serve cod.
Rice and Grain Side Dishes to Pair with Cod
30. Creamy Parmesan Rice - This cheesy, savory rice is the perfect side dish for cod cooked with lemon juice and black pepper. (You can also substitute brown rice for white)
31. Coconut Rice - Basmati rice cooked in coconut milk, chopped bell peppers, jalapenos, and carrots.
32. Roasted Butternut Squash Risotto - This delicious risotto will warm you up and give you all the cozy feels.
33. Spanish Rice - Consider serving side dishes like Spanish rice infused with tomato and chili pepper alongside your Pacific cod.
34. Roasted Butternut Squash, Kale and Cranberry Couscous - This side is really fast to make plus it can be enjoyed hot or cold along with garlic butter cod.
35. Spiced Red Lentils - Lentils cooked with stock and spices like turmeric, coriander, and cumin makes a great base for the mild flavor of cod.
Traditional Italian Lentils are another wonderful lentil dish.
Sauces to Serve with Cod
If you're drawing a blank on how to cook your cod filets, this section has sauces that can be used as marinades or served as a dipping sauce on the side.
36. Walnut Arugula Pesto - This vegan beauty is the perfect sauce for cod on the grill or baked in the oven.
37. Lemon Butter Herb Sauce - Swap the sea bass out for cod and you have an easy dinner that packs a punch.
38. Cajun Dijon Mustard - Mix dijon mustard, your favorite cajun seasoning blend, and olive oil and voila, a spicy, tangy fish marinade perfect for cod in the air fryer.
39. Avocado Crema - For something a little different than the traditional tartar sauce, top spicy fish tacos with an avocado crema sauce and your guests will be begging for more!
40. Pollo Asado - A chipotle based marinade with lime and orange juice that goes just as well with fish as it does with chicken.
41. Spicy Curry Sauce - There are so many types of curry from around the world and cod is perfectly suited for any number of them! It goes exceptionally well with the spicy varieties.
Salads to Serve with Cod
Salads are a great way to get more vegetables on the dinner table for your family. These fresh and flavorful salads are a great accompaniment to cod fish any day of the week!
42. Cucumber, Avocado, and Mango Salad - Definitely not the most traditional way to serve salad with fish but absolutely one of the most delicious! Serve it with this Italian Balsamic Vinaigrette Dressing Recipe!
43. Arugula, Apple, and Pistachio Salad with Parmesan Crisps - The perfect combination of salty, and sweet, this apple and pistachio salad comes together quickly.
44. Goat Cheese Salad with Lemon Dressing - From the creamy texture of chèvre cheese, a tangy sweet from the olives and carrots, and light dressing to wrap it all together this salad is simple and bright.
45. Microgreens Salad with Citrus Vinaigrette - Microgreens and radishes tossed with a lime and olive oil dressing.
46. Berry Goat Cheese Salad - A sublime salad that awakens the taste buds with bright flavors of the berries and a sweet, tangy dressing.
Dessert to Serve with Cod
I'd argue that absolutely no meal is complete without a dessert course. Make any of these confections for your family and friends and I guarantee they'll be asking for the recipe!
47. Sicilian Cannolis - These crunchy, creme filled pastries are the perfect contrast for a soft, flaky fish like cod.
48. Chiacchiere di Carnevale - Slightly sweet and crispy Italian fried pastries made and eaten for carnival season in Italy.
49. Zeppole - Every culture has their version of a doughnut but the Italian version happens to be my favorite!
50. Italian Ricotta Pie - This pie is traditionally served at Easter and features a creamy ricotta filling flavored with lemon, vanilla, and almond.
51. Almond Biscotti - This dessert is not overly sweet and best enjoyed dunked in hot chocolate or coffee after a meal.
52. Angel Food Cake - Light, fluffy, and absolutely delicious. You can switch out the classic strawberries for any fruit of your choice.
53. Best Cheesecake - My tried and true cheesecake recipe that you can customize with the toppings of your choice.
Whether you're enjoying it pan seared or oven baked, this What to Serve with Cod (50+ Best Side Dishes Everyone Will Love) post will definitely help you pick out the perfect side dish for your fish!
Enjoy!
Make sure to leave a ⭐️star rating on the recipe card and comment below if you make the recipe. I love to connect with you through my recipes.
I would love for you to tag me on Instagram @cucinabyelena so I can see your delicious Italian recipes. To get more ideas, follow me on Pinterest.