We love pork chops in my house, so today, I'm sharing the 55 best sides for pork chops. You can start with my guides below on how to perfectly cook your chops!
My Favorite Pork Chop Recipes
Stuffed Pork Chops- How to Cook Stuffed Pork Chops Recipe in the Oven- Indulge in succulent stuffed pork chops with a savory herb and apple filling. This easy oven-baked recipe guarantees juicy, flavorful pork chop perfection! These are a family favorite recipe.
How to Cook Thick Pork Chops - It's easy to cook 2-inch thick pork chops that are juicy, tender, and moist. Seasoned with a special dry rub of spices and brown sugar to add extra flavor.
How to Cook Thin Pork Chops - My tried and true method of cooking thin or boneless pork chops without drying them out. These juicy chops make an excellent main course in very little time!
Mediterranean Stuffed Pork Chops - Bone in pork chops stuffed with feta, red peppers, olives, and herbs. These have the absolute BEST flavor, and you can serve them with a variety of side dishes.
Appetizers to Serve with Pork Chops
Crispy Baked Polenta Fries - These oven baked fries are seasoned with herbs and coated with Parmesan cheese. They have a crispy exterior and creamy interior. One of the best sides for pork chops.
Stuffed Zucchini - These little bites of zucchini are tender, flavorful, and packed with delicious zucchini, onion, and olive oil flavor. An easy and healthy side dish.
Air Fryer Calamari - A healthier version of an Italian classic, these crispy squid rings are always a hit. This is an easy recipe that's sure to impress and definitely one of the best sides for pork chops.
Zucchini Fritters - An easy recipe made with a few simple ingredients. Dip them in whipped ricotta and- trust me, you can't stop at one. You don't even have to feel guilty because these are a great option for healthy sides.
Baked Spinach Artichoke Dip - Loaded with fresh spinach, artichokes, and 3 cheeses. The whole family will love this appetizer because it has such great flavor
No Knead Ciabatta Bread - Super fast and easy to make and the perfect thing to serve with the spinach artichoke dip above!
Salads to Serve with Pork Chops
Tuna Nicoise Salad - combines fresh ingredients, a well-balanced flavor profile, a tangy dressing, and various textures. These elements come together to create the perfect salad. It's so good it could easily be a main dish.
Octopus Salad - A harmonious blend that is refreshing and satisfying: sweetness of the octopus, the earthiness of the potatoes, and the zing of the light lemon dressing.
Orange and Fennel Salad - A gorgeous display of simple and fresh ingredients. The pop of color from the citrus adds a bright touch with an extra punch of vitamin C.
Panzanella Salad - This is a Tuscan dish that combines stale or toasted bread, fresh ripe, juicy tomatoes, good quality olive oil, a splash of vinegar, and fresh basil.
Berry & Goat Cheese Salad - Mixed greens, fresh berries, goat cheese, and a bright, citrusy dressing with toasted almonds for crunch. One of the best sides for any meal! Serve this salad with your favorite savory pork chops.
Veggie Sides
Butternut Squash Casserole - Roasted sweet butternut squash and chewy wild rice, aromatic leeks, and a medley of savory herbs and topped with a layer of melted Gruyere cheese. Serve with pork chops for an easy dinner!
Crispy Brussels Sprouts - These sweet & spicy brussels sprouts remain tender with the perfect crispy edges. Even picky eaters will like these and they are such a classic side dish!
Eggplant Caponata - a Sicilian vegetable dish bursting with rich, bold flavor is one of the perfect sides for pork chops and one of my favorite side dishes.
Italian Style Stuffed Peppers - Halved peppers filled with any of a variety of fillings, often including meat, vegetables, cheese, rice, or sauce. These could be a main course or easily one of the best side dishes.
Sauteed Zucchini - A truly delectable medley of zucchini, onion, and herbs. Light and satisfying, this is the perfect side dish to serve with your favorite pork chop recipe. It's also easy enough to make for busy weeknights.
Cauliflower with White Sauce - This Cauliflower Casserole is baked in a white sauce (bechamel) with a parmigiano and bread crumb topping for a crunchy layer of cheesy goodness. Even your kids will think this is a tasty side dish.
Honey Glazed Carrots - These honey-glazed carrots transform simple carrots into a delicious side dish to remember. A very easy side dish to prepare!

Roasted Green Beans - Trade your green bean casserole out for these roasted green beans. It's a delicious way to enjoy fresh green beans. Flavored with shallot, garlic, lemon juice + lemon zest.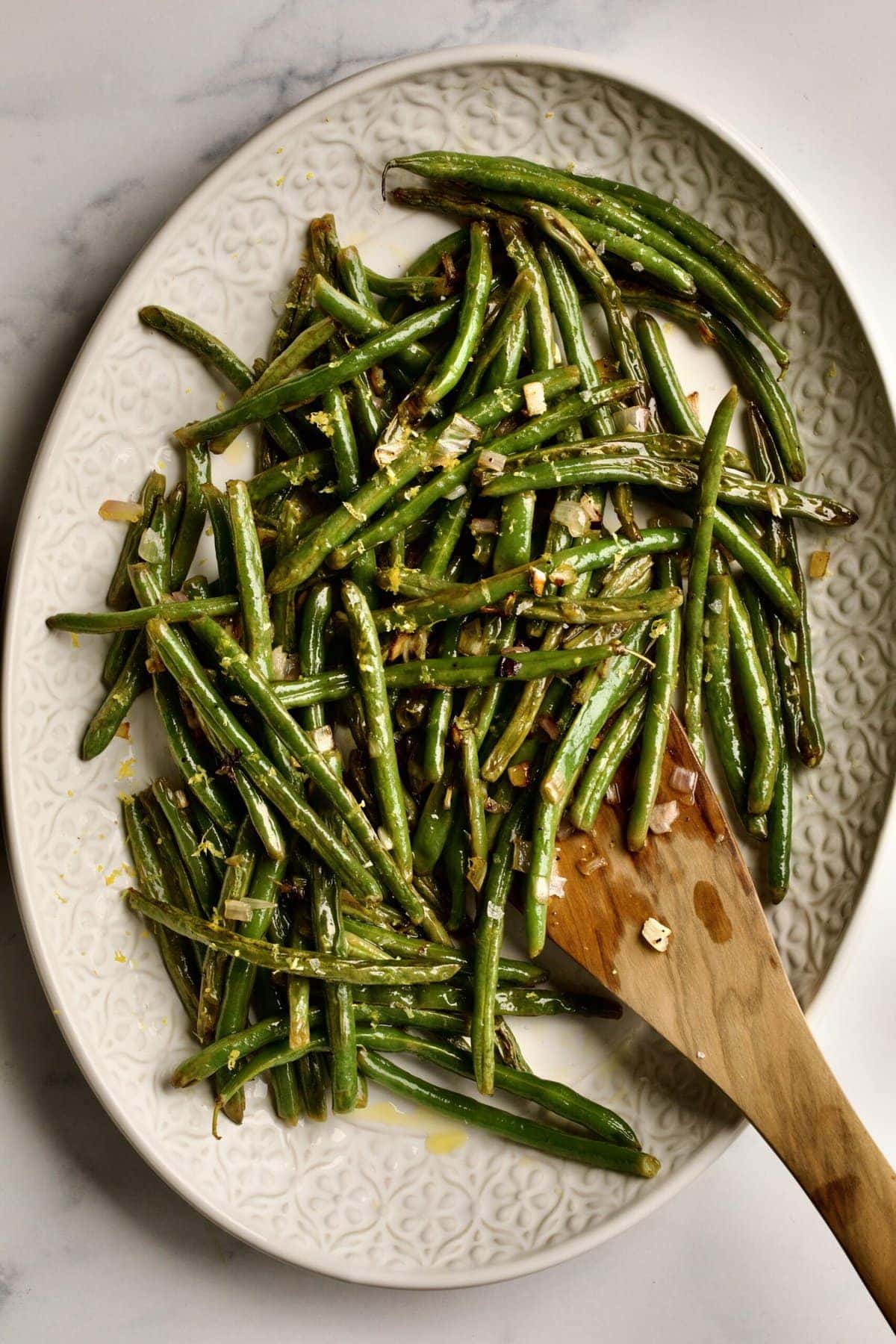 Soups
Autumn Squash Soup - A delicious blend of butternut squash, and pumpkin simmered in a savory broth with coconut cream and warm spices. This would be a great side to your delicious pork chops. Also very easy to make in an instant pot.
White Bean Soup - From its inviting aroma to its rich, hearty Italian taste, my Tuscan White Bean Soup captures the essence of humble Italian cuisine in a single spoonful! This makes a great addition to any meal.
Zuppa Toscana - Crispy bacon, potato, and kale plus all the amazing flavors you crave in authentic Zuppa Toscana: crushed red peppers, diced white onion, bacon, garlic, broth, heavy cream, potatoes and kale. This in your slow cooker!
Tortellini in Brodo - Tortellini en brodo (in broth) is a traditional first course for our Italian Christmas Eve dinner or Christmas Day lunch. An easy and delicious meal that takes little time to prepare and enjoy at any time of the year.
Potato Side Dish Recipes
Mashed Potatoes with Caramelized Onions - Creamy mashed potatoes (made with no cream!) topped with caramelized red onions; this is a perfect, easy side dish for any style of pork chop.
Lemony Asparagus and Potato Salad - A super easy and delicious one pot recipe that sneaks the bright, spring flavor of asparagus into this decadent potato salad. A great side dish every one will like!
Garlic Smashed Potatoes - Smashed potatoes that create more surface area to get crispy in the oven and served with a delicious aioli for dipping. You could also try this with sweet potatoes because it's such a simple side dish.
Roasted Pesto Potatoes & Tomatoes - Tomatoes and potatoes covered with pesto and baked until crispy then topped with fresh basil. Comes together in about 30 minutes - leaving you plenty of time to make your favorite pork chops.

Au Gratin Potatoes - An indulgent side dish or main course. The creamy sauce infuses the tender potatoes with a rich, savory flavor perfectly complemented by the melted cheese.
Pasta Sides for Pork Chops
Fregola Sarda Pasta - A harmonious blend of tender zucchini, perfectly cooked Fregola Sarda pearls, and a medley of melted cheeses. This goes great with juicy pork chops!
Simple Angel Hair Pasta - This 20 minute recipe is fresh and satisfying; a light sauce of olive oil, garlic, fresh basil, and parsley coat the pasta and then we top it with parmesan cheese and cherry tomatoes.
Lemon Ricotta Pasta - Lemon Ricotta Pasta with Asparagus is simple, fresh, and tastes like spring! The creamy ricotta and pop of lemon with garnish of mint and basil leaves is delightful!
Pumpkin & Parmigiano Pasta - Savory herbs- reosemary, sage, and thyme meets salty butter and freshly grated parmigiano to create a versatile sauce. Add a sprinkle of toasted pine nuts for that extra crunch and nutty flavor.
Tortellini Pasta Salad - A delicious, crowd-pleasing, and easy to make tortellini salad is a great way to change up the classic pasta salad with fresh vegetables and a simple homemade dressing.
Easy Sides to Serve with Pork Chops
Butternut Squash Risotto - Creamy risotto with roasted squash, sage, and brown butter. One of my favorite sides but could easily be a meal on it's own.
Italian Frittata - This frittata is packed with spinach, white onions, farm fresh eggs, ricotta cheese, and fresh parmigiano cheese! This is always a popular choice for an easy meal at my house.
Pasta and Chickpea Soup - One of Rome's most iconic winter dishes; hearty chickpeas and tender small pasta cooked in a tomato-rich broth. Big flavor from minimal effort.
Gnocchi in Red Pepper Sauce - This sauce encompasses big and bold flavors, a little creamy, slightly spicy, pinch of herb, and fresh roasted red peppers!
Italian Rice Salad - A refreshing and colorful dish made with tender short-grain white rice mixed with various fresh vegetables, herbs, a light dressing, and boiled eggs.
Ratatouille Tartine - A beautiful and traditional way to serve all your summer veggies in one dish.
Desserts
Soft Amaretti Cookies - a soft and chewy cookie with a touch of lemon zest. These cookies are easy to make and absolutely delicious!
Baked Cinnamon Apples - Sliced apples are bathed in a luscious caramelized cinnamon sauce and baked to tender perfection, creating the ultimate autumn dessert.
Italian Pear Cake - Made with creamy yogurt, luscious butter, and fresh pears this cake will soon become a family favorite!
Chocolate Pastry Cream - Chocolaty, creamy, smooth, and rich this Chocolate Italian Pastry Cream is the best filling for crostata, pastries, cakes, and more!

Chocolate Olive Oil Cake - This Chocolate Olive Oil Cake is wonderfully moist, rich, and bursting with chocolate flavor.
Pies
Fresh Peach Pie - juicy peaches create a delicate and fragrant filling for our classic flaky, buttery crust recipe. Definitely whip this up the next time you have company over for dinner!
Apricot Galette - Buttery pie crust filled with apricot puree and baked to absolute perfection. The best part of dinner!
Sardinian Pardulas (Ricotta Cakes) - Little pastry circles stuffed with soft ricotta cheese, flavored with lemon and orange peel and saffron, then decorated with colored sprinkles or simply with powdered sugar.
One Crust Rhubarb Pie - A must make spring recipe with the most flaky, buttery crust filled with a sweet and jammy rhubarb filling. This dessert is easily the best thing about any dinner!
Banana Cream Pie - Light, creamy, and dreamy, this custard is made from scratch on the stovetop and is surprisingly easy to prepare and worth every minute.
Blueberry Mini Pies - With the perfectly flaky, buttery crust filled with a juicy sweet blueberry interior, these little pies with have you coming back for seconds and thirds.
No Bake Desserts
Italian Fruit Salad - This is one of those dishes that proves sometimes simple is the best option. It's a quick and easy way to showcase the abundance of fresh fruits while creating a beautiful dessert.
Frozen Lemon Bars - This dessert tastes like lemon gelato with a graham cracker crunch that replaces an ice cream cone. Perfect and easy way to finish out your pork chop dinner.
Pistachio Cream - Smooth and creamy with a real pistachio flavor- once you make this version of pastry cream with a pistachio twist, you will be hooked.
Frozen Dipped Bananas - One of the easiest desserts you'll ever make that everyone will love. This is also so much fun to make with kids because everyone can personalize their to their own tastes.
Strawberry Tiramisu - A light, beautiful, and refreshing twist on the classic Italian dessert made with fresh strawberries, whipped cream, mascarpone, a hint of orange, and ladyfingers.
Classic Panna Cotta - Panna cotta is a classic Italian dessert that is creamy, silky, and luxurious. This classic Italian recipe is a fantastic make-ahead dessert for dinner parties or an afternoon treat.

I hope you try some of these recipes and find something new that you and your family will love!
Make sure to leave a ⭐️star rating on the recipe card and comment below if you make the recipe. I love to connect with you through my recipes.
I would love for you to tag me on Instagram @cucinabyelena so I can see your delicious Italian recipes. To get more ideas, follow me on Pinterest.